Marketplace
A listing of featured products.
NEW SOFTWARE BEEFS UP LASER CAPABILITY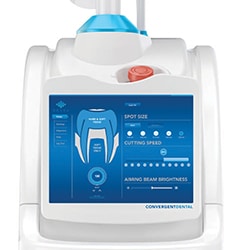 Convergent Dental (844-467-6532; convergentdental.com) releases Solea SW 3.1.1 software, featuring updated algorithms that control how the Solea CO2 laser system cuts hard and soft tissue. With the new software, the Solea laser is said to facilitate the onset of analgesia more effectively than before, while offering exceptional cutting speed. The software upgrade is available free to all Solea customers with an active service contract.
FATIGUE-RESISTANT ENDODONTIC FILES
Brasseler USA (800-841-4522; brasselerusa.com) is adding the XP-3D Shaper to its endodontic product line. This specially engineered debridement instrument features a serpentine design and flexible core (#30/.01) that are resistant to cyclic fatigue. Once a glide path is established,the XP-3D Shaper can reportedly clean the entire canal without the need for multiple files. Packaged in single-use sets of three files, XP-3D Shapers can be used with any endodontic handpiece, including Brasseler's EndoSync System.
VERSATILE DUAL-CURE CEMENT DEBUTS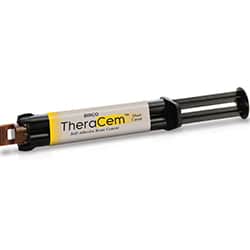 Bisco (800-247-3368; bisco.com) introduces TheraCem, a dual-cure, calcium- and fluoride-releasing self-adhesive resin cement that's indicated for luting crowns, bridges, inlays, onlays and prefabricated metal/nonmetal/fiber posts. The cement is said to provide high radiopacity, easy cleanup, and a strong bond to zirconia and most other substrates.
UNIVERSAL COMPOSITE OFFERS STRENGTH AND ESTHETICS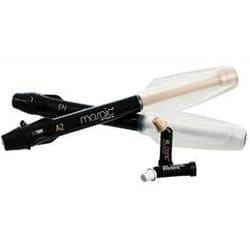 Ultradent's (800-552-5512; ultradent.com) Mosaic universal composite helps clinicians create lifelike restorations. This material can be used in basic or complex restorative cases because its nanohybrid formula combines the strength required for posterior applications with the esthetics needed for anterior use. Mosaic universal composite is offered in 20 shades and provides shade matching using single-, double- or multiple-layer techniques. It's available in 4-gram syringe or 0.2-gram unit-dose packaging.
ECONOMY-PRICED, LIFELIKE DENTURE TEETH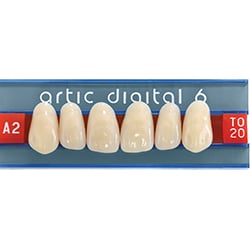 Heraeus Kulzer (800-431-1785; kulzerus.com) announces its Artic Digital Denture Teeth — digitally designed and manufactured versions of the most popular molds in the company's Artic line of economy-priced denture teeth. Designed to work with the company's My Digital Denture system, Artic Digital Denture Teeth promise an exceptional fit. Artic Digital anterior teeth are multilayered and appear lifelike, permitting seamless adaptation to existing dentition and complete dentures. The posterior teeth are said to provide superior function, an accurate intercuspal relationship and complete occlusion.
TAP INTO THREE-WAY IMAGING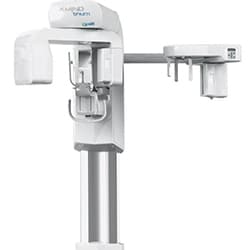 The new X-Mind Trium imaging unit from Acteon North America (800-289-6367; acteongroup.com) offers clinicians a selection of wide fields of view (110×80, 80×80, 60×60 and 40×40) to make it easier to focus on specific regions of interest. The X-Mind Trium is said to facilitate osseointegration by allowing immediate volume measurement and bone density assessment. It provides high-quality diagnostic images with 75-μm-voxel resolution. Scans are produced in STL format for export into surgical guide design software. The device can be upgraded from panoramic mode to three-dimensional cone beam computed tomography, and is also compatible with a cephalometric arm.
VARIABLE-LENGTH X-RAY HOLDER ROD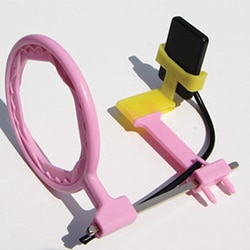 The new ClikStik X-ray holder rod from ClikTech (877-251-8594; clikray.com) works with popular handheld X-Ray units, such as the Nomad and MaxRay. Because circular backscatter shields can interfere with traditional ring and rod systems, the variable-length ClikStik lets users align the ring perfectly with the patient and scatter shield. ClikStik accommodates bite blocks for film, photostimuable phosphor plates and digital sensors from most manufacturers. ClikTech notes that a full mouth series can be taken with a single rod, ring and ClikStik.
IRRIGATION AND ULTRASONIC ACTIVATION IN ONE DEVICE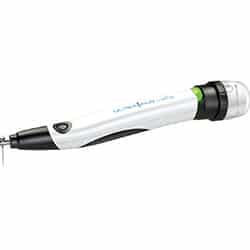 Vista Dental (877-418-4782; vista-dental.com) introduces UltraFlo, a compact, cordless unit that combines irrigation with ultrasonic activation. This piezoelectric ultrasonic device is said to improve canal cleanliness as it irrigates and activates at the same time. The UltraFlo features quick-connect 20-ml reservoirs that can be filled with the medicament of choice.
UPGRADED IMAGING UNIT DELIVERS CLINICAL CLARITY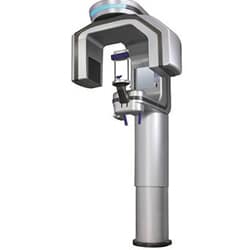 The new Excelsior cone beam computed tomography unit from PreXion (855-773-9466; prexion.com) couples a small focal point (0.3 mm) with a 0.1–0.2 voxel size, 1024 volume size, and a 360-degree gantry rotation. According to PreXion, advances have been made in the X-ray tube, flat panel detector and PreXion software (the latter of which can be integrated into a practice's existing network without specialized hardware). Thanks to these design upgrades, the company says the system can deliver 30% lower radiation exposure without compromising image quality.
HYBRID CERAMIC MATERIAL PROMISES NATURAL ESTHETICS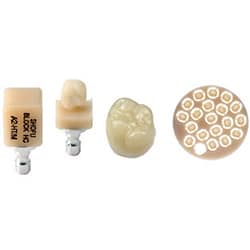 Shofu (800-827-4638; shofu.com) now offers Blocks & Disks HC, a hybrid ceramic for chairside restorative procedures using CEREC technology. Available in multiple shades and translucencies, this highly esthetic material mimics the translucency and fluorescence of natural teeth, so it seamlessly blends with surrounding tissue. Designed for fast milling and high wear resistance, the product has broad applications — including inlays, onlays, bridges, veneers, and anterior or posterior full-contour crowns.
ADAPTABLE GUTTA-PERCHA POINTS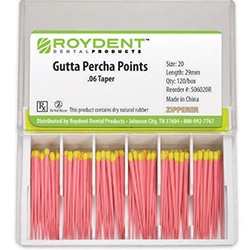 Gutta-Percha Points by Roydent (800-992-7767; roydent.com) can be used with lateral, vertical or thermal condensation techniques. Available in multiple sizes, the points are stiff enough to resist bending in canals, while their elasticity facilitates adaption to canal walls. Designed for exceptional radiopacity, they're said to facilitate single-cone obturation.
ONLINE PORTAL ENHANCES DOCTOR-LAB COMMUNICATION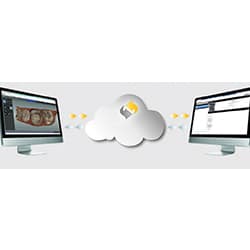 CS Connect from Carestream Dental (800-944-6365; carestreamdental.com) makes it easy to transfer STL and DICOM digital impression files to the lab. CS Connect is integrated with Carestream's imaging software —which eliminates the need to launch additional applications — and DICOM and open STL data are available for the lab to download within minutes. In turn, this allows instant verification of data sets by the lab. In addition, CS Connect offers 14 days of cloud storage for each uploaded data set.
From Decisions in Dentistry. April 2017;3(4):58–59.