Marketplace
Products that practically sell themselves.
SOFT TISSUE LASER PROMISES PREDICTABLE PERFORMANCE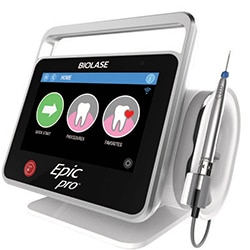 The Epic Pro, the newest member of Biolase's (888-424-6527, biolase.com) Epic family of soft tissue lasers, features super pulse technology for precise tissue cutting and real-time automatic power control to enhance speed and consistency during surgery. It also uses preinitiated, bendable and disposable tips with new Smart Tip technology to ensure tip performance and quality. This device is said to provide predictable, minimally invasive solutions for soft tissue management.
HOME MONITORING TECHNOLOGY TRACKS SLEEP BREATHING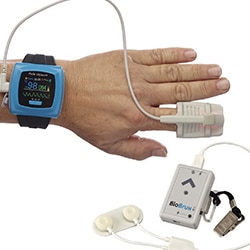 Whip Mix (800-626-5651, whipmix.com) is introducing the GEM pulse oximeter screening system to its wellness line for dentists interested in treating sleep disordered breathing. This new home-monitoring system uses cloud technology to transmit readings from the patient's home to the dental office for processing and storage. The GEM assesses the functioning of the airway using oxygen saturation (i.e., SpO2) and variations in heart rate to help measure how well the airway functions during sleep. The device can be upgraded to the GEM Pro with the addition of the BioPlux Amplifier. This option is for practitioners who wish to include bruxism measurements with airway screening. The GEM Pro also provides readings for body position and audio records of snoring.
SYSTEM UTILIZES APICAL NEGATIVE PRESSURE TECHNIQUE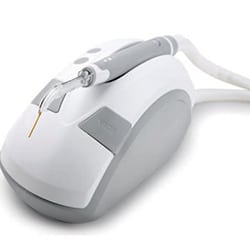 Kerr Endodontics (800-537-7123, kerrdental.com has launched the Endovac Pure. This irrigation system combines a portable base unit with a sterile-packed cartridge and an ergonomic controller for ease of use. Designed for the apical negative pressure technique, the Endovac Pure removes debris and bacteria from the canal's apical third and provides a continuous flow of endodontic irrigants, while minimizing the risk of extrusion beyond the apex.
HIGH-SPEED HANDPIECE FOCUSES ON EFFICIENCY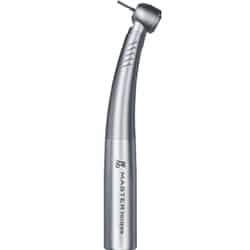 The MASTERtorque LUX M8900 L high-speed handpiece from KaVo (800-275-5286, kavousa.com) is designed with features and power that allow dental professionals to work quickly and efficiently. At 23 watts, the M8900 L provides practitioners with 20% more power than KaVo's GENTLEsilence 6500BR. Offering quiet, 57-decibel operation, the M8900 L is equipped with Direct Stop Technology that helps stop the bur in less than a second when the clinician steps off the foot control, reducing the potential for soft tissue damage. This technology is also said to prevent drawback of aerosols and debris, increasing the life of the turbine and improving hygiene.
SILVER DIAMINE FLUORIDE AVAILABLE IN UNIT DOSE DELIVERY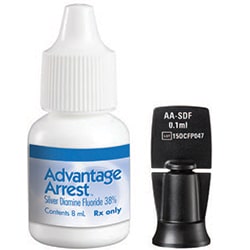 Advantage Arrest silver diamine fluoride 38% from Elevate Oral Care (877-866-9113, elevateoralcare.com) is now available in a 0.1-ml ampule delivery system. Said to provide immediate relief from dentinal hypersensitivity, silver diamine fluoride kills cariogenic pathogens and provides valuable clinical feedback by staining caries lesions. Advantage Arrest is also available in 8-ml bottles.
From Decisions in Dentistry. March 2017;3(3):53.