Providing Oral Health Care in Medical Settings
An ongoing discussion in health care reform is the difference between access to care and utilization of care.
An ongoing discussion in health care reform is the difference between access to care and utilization of care. As states expanded access to Medicaid benefits under the Affordable Care Act, more families and individuals gained access to care; for various reasons, however, not everyone who gained benefits used them. Oral care through Federally Qualified Health Centers (FQHCs ) is one example of how access alone may not improve health outcomes. As a condition for federal funding, FQHCs must provide dental screenings. Yet in 2015, only 21.4% of FQHC patients received oral health services (Figure 1).1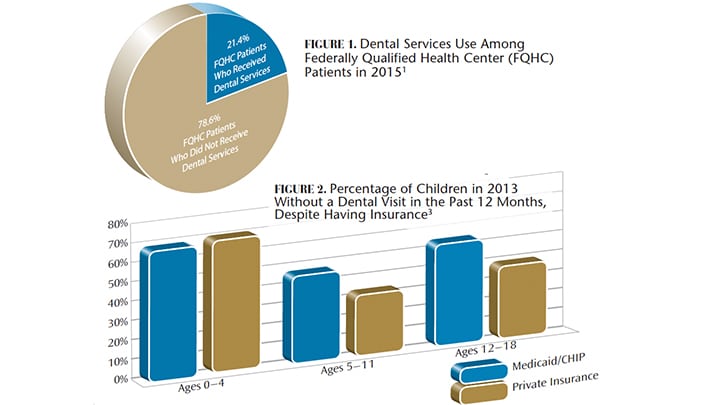 If the goal in expanding access to care is to improve health, understanding why patients don't utilize benefits is an important piece of the puzzle. A key barrier to care is a lack of communication between medical providers who recognize an oral health problem and the dental teams patients are referred to. One way to improve oral health in the broader population is to break down the silos between medical and dental practitioners by providing both types of care in the same setting. If dental practices are colocated with medical practices — or even incorporated into medical practices — utilization of dental care improves. In 2014, for example, the U.S. Preventive Services Task Force, which grades treatments and services for the purpose of determining what will be covered by Medicaid or Medicare, gave a B rating (its second highest mark) to having primary care providers apply fluoride varnish to infants and children up to age 5.
Of course, significant barriers exist in integrating dental treatment into primary care medicine. For starters, dental and medical electronic health records are not readily compatible, and current coding systems do not allow easy billing for dental care alongside medical services. In addition, turf battles between the health care professions create cultural, as well as legal scope of practice barriers to dentists and medical providers working together as a team.
That said, fear that medical professionals might steal patients is only a concern if the population that would begin receiving preventive dental care at medical offices is the same as that which receives such services at dental offices. With oral care utilization essentially flat since 2008,2 it's possible that patients receiving dental services at medical offices could represent a new patient population (i.e., adults and children who are currently not using the care they have already have access to). And with more than half of kids ages 12 to 18 insured through Medicaid and the Children's Health Insurance Program not having visited a dentist in a year (Figure 2), this could well be the case.
---
REFERENCES
U.S. Health Resources and Services Administration. 2015 Health Center Data: National Data. Table 3A: Patients by age and gender; Table 4: Selected patient characteristics. Available at: bphc.hrsa.gov/uds/datacenter.aspx?q=dl. Accessed February 22, 2017.
Wall T, Vujicic M. No Growth in U.S. Dental Spending in 2013. Available at: ada.org/~/media/ADA/Science and Research/HPI/Files/HPIBrief_1214_4.ashx. Accessed February 22, 2017.
Medicaid Access in Brief: Children's Dental Services. Available at: macpac.gov/wp-content/ uploads/ 2016/ 06/Childrens-access-to-dental-services.pdf. Accessed February 22, 2017.
From Decisions in Dentistry. March 2017;3(3):54.