CROWN PLIERS OFFER A STRONG BUT GENTLE GRIP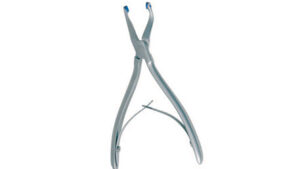 Paradise Dental Technologies (800-240-9895; pdtdental.com) introduces the Crown Removing Pliers to its surgical instruments line. The pliers are designed with replaceable tips that provide a solid grip without damaging metal, resin or ceramic surfaces. In addition, they can be used with PDT's adhesive powder to increase grip. Crown Removing Pliers can be ordered with a single set of replacement tips, or in a kit with five sets of tips and 10 grams of adhesive powder.
NEW COMPRESSOR DEBUTS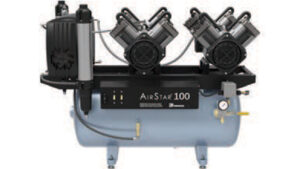 The AirStar 100 is the latest addition to Air Techniques' (800-AIR-TECH; airtechniques.com) compressor line. This unit can support up to 14 users and employs a threephase voltage supply for maximum energy efficiency. The compressor's Membrane Dryer Technology quadruple filters air — once at the compressor head, twice at the dryer, and again as it leaves the tank — to reduce the chance of bacteria entering the patient's mouth. In addition, the compressor heads are designed with longstroke, Teflon-bonded pistons and brass-lined cylinder technology for long service life.
UNIVERSAL COMPOSITE DELIVERS STRENGTH AND LIFELIKE ESTHETICS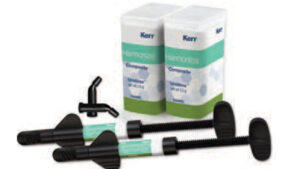 Harmonize by Kerr Restoratives (800-KERR-123; kerrdental.com) uses ART: Adaptive Response Technology — a nanoparticle filler network — to help dentists achieve durable, lifelike restorations. This universal composite diffuses and reflects light much like human enamel, leading to a chameleon effect for blending and excellent esthetics. The particle size and structure are designed to allow easy polishability and high gloss retention. The adaptive viscosity of Harmonize is said to deliver easy handling and shaping — without sticking or pullback.
NEWLY FORMULATED GEL RELIEVES XEROSTOMIA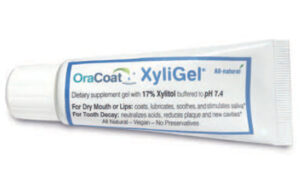 OraCoat, a division of OraHealth (877-672-6541; oracoat.com), has launched an updated version of XyliGel. Formulated with natural ingredients, XyliGel coats the oral cavity with 17% xylitol and oral lubricant to help relieve the symptoms of xerostomia. XyliGel stimulates salivary production, and the gel is buffered to 7.4 pH, so it's nonacidic. Indicated for day and nighttime use, the vanilla-flavored gel is also said to reduce plaque and caries.
FOUR-FOLD MASK AVAILABLE IN THREE LEVELS OF PROTECTION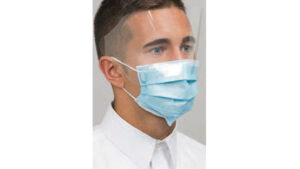 The redesigned Defend Level 1, 2 and 3 Face Masks from Mydent (800-275-0020; defend.com) comply with American Society for Testing and Materials (ASTM) guidelines and feature a new four-fold design for improved breathability. Level 1 masks (ASTM low barrier) are for procedures such as exams, cleanings, impressions and orthodontic work. Level 2 masks (moderate barrier) are suitable for restorative procedures, prophylaxis and limited oral surgery and endodontic work. Level 3 masks (high barrier, shown with shield) are designed for therapies such as implant placement, crown preparation, and periodontal or complex oral surgery.
DENTAL WORKSTATION COMES FULLY EQUIPPED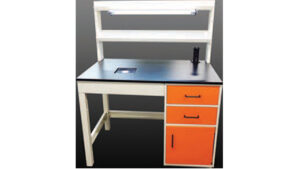 Handler (908-233-7796; handlermfg.com) offers the new Pro Tech Lite PTL-1 workstation for labs and dental offices. The bench comes fully assembled and features a stainless steel work surface protector, pop-up duplex power supply with twin USB ports, two storage drawers, a hidden "down draft" suction inlet (with screen and shield), and an easy-to-access dust collector with a highefficiency particulate air filter. The workstation can be ordered with or without a two-tier shelf with retractable LED lighting.
MIXING TIP FEATURES BENDABLE CANNULA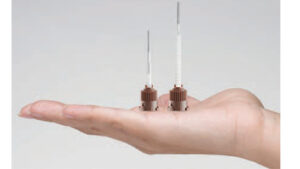 Sulzer Mixpac (603-893-2727; sulzer.com) introduces its T-Mixer Colibri, a mixing tip for impression materials, filling root canals and cementation. Equipped with a rotating and bendable cannula for precise application of materials, the T-Mixer Colibri is designed to allow for an ergonomic posture and homogenous application. Sulzer reports the tip uses up to 40% less material than helix mixing tips. It is compatible with all 2.5- to 10-ml Mixpac cartridges.
FLUORESCENCE TECHNOLOGY DETECTS ORAL LESIONS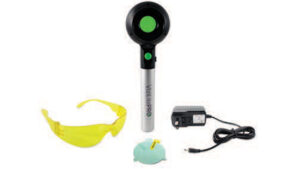 The ViziLite PRO Oral Lesion Screening System from DenMat (800-433-6628; denmat.com) uses fluorescence technology to detect epithelial dysplasia. The cordless device utilizes five shortwave, violet-output LEDs to generate biofluorescence and enhance visualization in the oral cavity. An optical viewing filter improves contrast between healthy and abnormal tissue. Featuring an ergonomic handle, the ViziLIte PRO is equipped with a lightweight aluminum housing that eliminates the need for an internal fan, thus ensuring quiet operation.
SUTURE DESIGNED FOR EASY HANDLING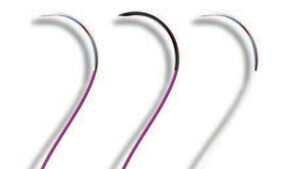 Resorba Glycolon, distributed by Osteogenics (800-796-1923; osteogenics.com), is a dental suture material made of polyglycolic acid and polycaprolactone. The monofilament structure promises exceptional handling properties, does not wick bacteria, and allows for atraumatic passage through tissue. Glycolon reportedly maintains 50% of its tensile strength for up to 13 days. It is available with black 300-series stainless steel needles to enhance visualization in the oral cavity.
FAST-ACTING PRECLEANER IS NONCORROSIVE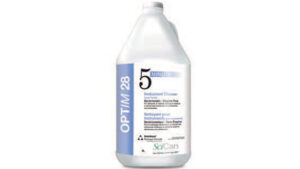 With OPTIM 28, SciCan (800-572-1211; scicanusa.com) promises a fast-acting instrument precleaner that's safe for staff and the environment. The solution is used prior to disinfection and sterilization. OPTIM 28 is designed to complement various instrument processing techniques — including automatic machine, ultrasonic or manual cleaning. This enzyme-free, low-foam and odorless solution boasts a five-minute cleaning time, and is formulated to be effective against proteins, carbohydrates and lipids. It is also noncorrosive when used at the right dilution.
SELF-ADJUSTING PIT AND FISSURE SEALANT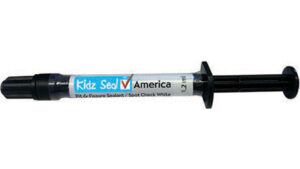 Kidz Seal-America is a pit and fissure sealant from Taub Products (800- 828-2634; taubdental.com) that can be used in a dry or wet field. The sealant is self-adjusting so no additional occlusal adjusting is needed. This tooth-integrating material — which Taub bills as ideal for public health sealant programs, school-based programs and pediatric dentistry — will not allow microleakage and promises long-lasting retention. It is sold in packages of four 1.2-ml syringes and 20 tips.
LITHIUM DISILICATE MATERIAL ALLOWS QUICK PROCESSING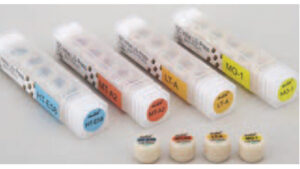 GC America (800-323-3386; gcamerica.com) has debuted GC Initial LiSi Press, a lithium disilicate pressable ceramic with proprietary High Density Micronization technology that's suitable for a variety of restorations. Designed for quick processing, it features high flexural strength (450 MPa) and lithium disilicate microcrystals that fill the entire glass matrix structure. In addition, reportedly there is virtually no reaction layer when divested. This new ceramic promises rich colors with high fluorescence, and the material and color are said to retain stability after repeated firing.
From Decisions in Dentistry. January 2017;3(1):58-59.