Marketplace
A listing of featured products.
CAD/CAM KIT SIMPLIFIES RESTORATIVE PROCEDURES
Shofu (800-827-4638; shofu.com) introduces the new BurButler CADMaster kit. The universal computer aided design/computer aided manufacturing (CAD/CAM) system combines 25 diamond-filled abrasives of all shank, head and grit sizes in one BurButler. The kit is designed to allow clinicians and lab technicians to contour, finish and prepolish restorations fabricated from CAD/CAM restorative materials. It includes Dura-Green silicon carbide stones for adjusting, Dura-White aluminum oxide stones for finishing, and Dura-Green DIA vitrified bonded diamond stones for contouring and finishing. Also included are Cera-Master and CeraMaster coarse diamond-impregnated silicone polishers for use in two-step polishing, and ZilMaster diamond polishers for a multistep system for contouring, finishing, prepolishing and polishing zirconia and lithium disilicate restorations.
PREMIUM DIAGNOSTIC AND DENTAL HYGIENE INSTRUMENTS
Premier (888-773-6872; premusa.com.com) offers PremierAir, a series of diagnostic and dental hygiene instruments that features well-balanced, nonslip ergonomic handles that require minimal pressure to control, thus reducing hand fatigue. PremierAir's rugged polymer handles ensure a long working life, and the explorers are described as providing excellent tactile sensitivity and sharp points for quick detection of caries, calculus and irregularities. PremierAir probes have recessed, dark markings that are designed to be easy to read and resistant to wear.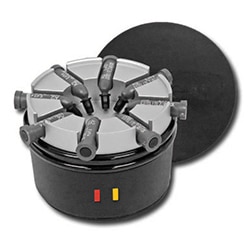 COMPOSITE WARMER TRAY UPGRADE
AdDent (855-211-3413; addent.com) has announced an upgrade to its standard tray for the company's Calset Composite Warmer. The new tray can hold eight composite compules, whereas the original design held only four. In addition, the tray fits on top of the Calset heater base and can be purchased separately or as a complete Calset kit.
LATEST SENSOR TECHNOLOGY
KaVo Kerr (888-275-5286; kavo.com) announces the release of the DEXIS Titanium sensor. Designed to provide confidence in diagnosis and enhance workflow efficiency, DEXIS Titanium reportedly captures consistent, high-quality images with excellent contrast across a broad spectrum of radiation levels, especially at lower doses. The device's SMART technology includes a sensor motion-activation feature that allows clinicians to expose images without touching the computer.
DIMA PRINT MATERIALS ADDED TO PORTFOLIO
Kulzer (800-431-1785; kulzerUS.com) has added 10 dima print materials to its portfolio of seven resins designed for use with its cara Print 4.0 3D DLP printer. Four of the new materials are denture-base resins and six are denture-teeth resins. The Print Denture Base materials are light-curable resins indicated for fabrication and repair of full or partial removable dentures and baseplates.
PINK CURING LIGHT IMPROVES CONVERSION
Vista Dental (877-418-4782; vista-dental.com) offers the Valiant Pink curing light. Using a combination of red and standard blue light, the pink light is said to significantly improve the degree of conversion and microhardness of dental composites. This multispectral curing light is also said to generate less heat than standard curing lights. Valiant lights come equipped with a transilluminator for detecting fractures, cracks and residual caries. Each device is packaged with two rechargeable batteries.
ADVANCED RESIN-MODIFIED GLASS IONOMER CEMENT
VOCO (888-658-2584; vocoamerica.com) introduces Meron Plus QM, a paste-to-paste resin-modified glass ionomer cement in VOCO's QuickMix syringe. The QuickMix Syringe and paste-to-paste formula ensure easy delivery, while the material's ability to accept a tack-cure allows quick cleanup of excess material. Featuring excellent physical properties, Meron Plus QM reportedly provides outstanding adhesive values to both dentin and high-strength ceramic materials to create a secure and reliable bond, even in moist fields.
SAFETY EYEWEAR DEBUTS
Palmero Healthcare (800-344-6424; palmerohealth.com) introduces ProVision safety eyewear, nine unique styles that serve dental professionals and patients on multiple levels. Palmero's ProVision eyewear protects against spray, splash and spatter, eliminates blue light exposure, and protects from high-impact flying projectiles that can cause eye damage. Featuring a wraparound design for full coverage, all of the styles are comfortable enough to ensure compliance.
SENSOR HOLDERS AID ACCURATE POSITIONING
Dentsply Sirona's (844-848-0137; dentsplysirona.com) XCP-DS FIT universal sensor holders are designed to stretch quickly and fit any brand of size 0 to 2 sensors. With fewer parts, the design simplifies positioning and creates less storage clutter. The company suggests the use of XCP-DS FIT with its autoclavable three-in-one XCP-ORA Arm and Ring for accurate imaging.
ZIRCONIA AND METAL PRIMER SUPPORTS EXCELLENT ADHESION
Ultradent (800-552-5512; ultradent.com) introduces Peak-ZM Zirconia and Metal Primer. Designed to provide excellent adhesion between zirconia and metal surfaces and the luting material, Peak-ZM primer contains a blend of monomers, including 10-methacryloyldecyl dihydrogen phosphate, which is said to increase bond strength five times compared to using resin cement alone. It is available in 4-ml bottles (300 uses) and 1.2-ml syringes
MOUTHRINSES AND MORE
Act/Sanofi (800-366-6833; actfluoride.com/professional) provides a wide range of solutions for patient care and home care through its ACT brand of mouthrinses and products for pediatric and adult patients. For example, ACT offers a line of dry mouth products to help provide a soothing option for patients, including the new ACT Dry Mouth Gum. Kids will enjoy the pleasant taste of ACT's new Arctic Blast Anticavity Rinse and Wild Watermelon Kids Anticavity Rinse.
MULTIFUNCTION RADIOGRAPHY UNIT INTRODUCED
J Morita (877-566-7482; morita.com/usa) now offers the Veraview X800, a multipurpose imaging unit with three-dimensional (3D), panoramic and cephalometric capabilities. The X800 automatically sets the optimal beam angle — horizontal for 3D or raised 5° for two-dimensional panoramic images. It's this slight upward projection for panoramic imaging, the company says, that enhances image quality by eliminating potential superimposition of anatomical structures. For 3D imaging, a horizontal beam minimizes distortion and reduces metal artifacts. The unit offers up to 11 fields of view (FOV) covering dental and maxillofacial areas. This model also features Morita's 3D Reuleaux Full Arch FOV, as well as a unique zoom reconstruction capability.
ENSURE SUCCESSFUL OBTURATION
DiaDent (877-342-3368; diadent.com) adds Dia-ProT Next gutta-percha and paper points to its line. The new products match and complement the company's existing ProTaper Next rotary file system. Packaged in a convenient and hygienic one-hand slide-open box, Dia-ProT Next paper points are millimeter marked and sold 11 points per box. Dia-ProT Next gutta-percha is packaged 60 per box.
SALIVA EJECTORS INCREASE PATIENT SAFETY
Crosstex International (888-276-7783; crosstex.com) provides backflow protection to keep patients safe from evacuation line cross-contamination with its SAFE-FLO saliva ejectors and high-volume evacuation (HVE) products. Clinicians can select the all-in-one saliva ejector and valve, or add a valve to their favorite saliva ejector or HVE tip.
From Decisions in Dentistry. October 2018;4(10):50–51.