Marketplace
A listing of featured products.
STYLISH AND DURABLE CABINETRY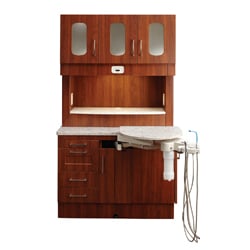 Midmark (800-643-6275; midmark.com) has launched its Synthesis Casework Collection. Offering dental professionals a modern look, the collection combines a contemporary and sophisticated exterior with an highly functional interior arrangement. Featuring a durable steel framework that is built to withstand the rigors of a demanding dental environment, the Synthesis Casework Collection includes treatment stations, side casework and new sterilization features, as well as central stations.
CAPNOGRAPHY ADAPTERS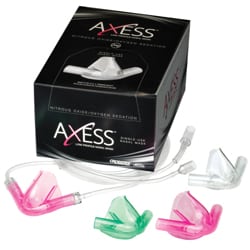 Crosstex/Accutron (888-276-7783; crosstex.com) provides a CO2 capnograph monitor sample line connection for monitoring patient end-tidal carbon dioxide (EtCO2) with Axess Capnography Adapters. Axess capnography sampling draws from within the nasal mask, measuring patient EtCO2 at the source. This adapter is inserted between the Axess nasal mask and scavenging circuit, with the flexibility to connect to either the right or left side of the patient mask — whichever is more convenient for the clinician. Single-use Axess Capnography Adapters are individually packaged to minimize crosscontamination, and the nonlatex material offers protection to patients and staff who have latex allergies.
ORAL RINSE REDUCES BIOFILM ACCUMULATIONS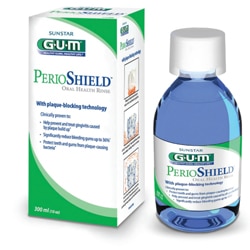 Sunstar (888-777-3101; gumbrand.com) offers GUM PerioShield Oral Health Rinse to help break down plaque, thus making it easier to remove. Recommended for twice-daily use, the rinse contains 0.2% delmopinol to prevent biofilm from adhering to the tooth surface. It also loosens existing deposits, which speeds chairtime during mechanical instrumentation procedures. The company says GUM PerioShield is clinically proven to help reduce plaque and bleeding gingiva by up to 36%.
DISINFECTANT WIPES AND SPRAYS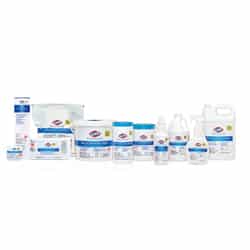 Clorox Professional (800-234-7700; cloroxprofessional.com) provides a comprehensive line of ready-to-use disinfectants with its Reformulated Clorox Healthcare Hydrogen Peroxide Cleaner Disinfectants and Quat Alcohol Cleaner Disinfectant Wipes. These wipes and sprays offer a rapid nonbleach disinfecting time, and are noncorrosive to the hard and soft surfaces commonly found in dental settings. Clorox Healthcare Quat Alcohol Cleaner Disinfectant Wipes are designed for everyday cleaning and disinfecting within health care settings, and boast 2- and 3-minute kill times. These products are said to be free of harsh chemical fumes or odors.
GEL PATCH OFFERS FASTACTING RELIEF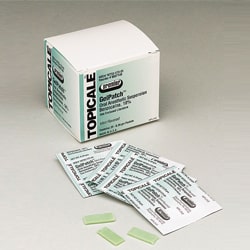 Topicale GelPatch by Premier (888-670-6100; premusa.com) is ideal for use prior to injections, and is also indicated for denture sores and oral ulcers/irritations. Appropriate for patient home use, Topicale GelPatch dissolves gradually and releases benzocaine to anesthetize the surface tissue for up to 20 minutes. The Topicale GelPatch is described as being fast acting, self-dissolving and flexible.
FLOWABLE BULK-FILL COMPOSITE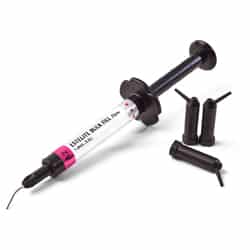 Tokuyama (877-378-3548; tokuyama-us.com) has launched Estelite Bulk Fill Flow, a light-cured, flowable bulk-fill composite. This product utilizes spherical filler technology that helps reduce technique sensitivity. The company reports that no additional layers or composites are needed when restoring preparations up to 4 mm deep. Clinicians will appreciate this bulk-fill product's compressive and flexural strength, high wear resistance, low shrinkage stress, and excellent adaptation. Estelite Bulk Fill Flow also boasts high shade matching, opacity and glossiness to ensure more natural looking restorations.
SINGLE TOOTH ANESTHESIA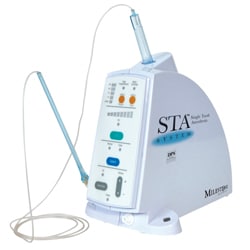 The Wand from Milestone Scientific (866-236-7741; milestonescientific.com) is a singletooth anesthesia system that's designed to enable bilateral mandibular treatment in one visit. In addition, the anterior middle superior alveolar and palatal-anterior superior alveolar nerve block injection reportedly facilitates smile-line assessment at time of treatment. Said to eliminate collateral numbness, this computer-assisted system for local anesthesia reduces patient anxiety by providing a more comfortable injection experience. Featuring three speeds that deliver precisely tailored flow rates, it provides rapid onset so clinicians can quickly start treatment.
ERGONOMICALLY DESIGNED HIGH-SPEED HANDPIECE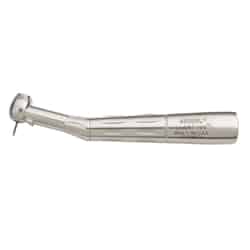 The 430 Torque joins the DentalEZ (866-383-4636; dentalez.com) Star Dental line. This new high-speed handpiece is ergonomically designed and features stainless steel construction and a durable, yet stylish, satin finish. Equipped with a double bucket rotor design and dual air control for maximum airflow to the turbine, its coaxial water spray reportedly optimizes water pressure to minimize heat. Its small head design provides superior oral accessibility and operator visibility. Twenty-seven watts of power enables fast and precise tooth preparation.
ROOT CANAL PREPARATION CREAM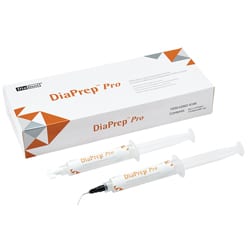 DiaDent (877-342-3368; diadent.com) introduces an ethylenediaminetetraacetic acid (EDTA) paste, DiaPrep Pro. Indicated for root canal debridement, microbicidal treatment within the canal, pulp remnants dissolution, and clearance of dentinal tubules and apical areas, DiaPrep Pro effectively removes the smear layer, softens dentin, and facilitates the removal of calcified obstructions. Urea hydrogen peroxide reacts with sodium hypochlorite to produce oxygen bubbles that flush out debris within the canal. In addition, the EDTA paste is said to be easier to place into canals than EDTA liquid solution.
SINGLE SYSTEM SHAPING AND OBTURATION
Dentsply Sirona Endodontics (800-662-1202; dentsplysirona.com) has combined two of its products to create a single-system solution, the GuttaCore for WaveOne Gold system. This combination brings together the benefits and predictability of WaveOne Gold canal shaping with the three-dimensional fill of GuttaCore. The GuttaCore for WaveOne Gold obturators are sized and color-coded to precisely match the WaveOne Gold reciprocating files. The system is said to allow clinicians to effectively obturate challenging cases with the ease of a single insertion. GuttaCore obturators feature a cross-linked gutta-percha core that sends the warm, flowable material three-dimensionally to precisely follow canal anatomy.
HELP FOR SENSITIVE PATIENTS
Vista Dental (877-418-4782; vista-dental.com) expands its line of take-home products with its new Desensitizing Gel. This potassium nitrate and fluoride gel quickly relieves dentinal hypersensitivity associated with whitening, or temperature and chemical changes. The fast-acting, viscous gel stays in place and is easily dispensed through the included tips. It is packaged in kits of four or 40 1.2 ml prefilled syringes.
IN-HOUSE DENTAL PLAN PLATFORM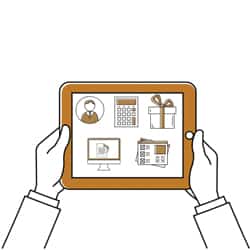 Ascension Dental (888-957-8444; myloyaldentalplan.com) has launched the My Loyal Dental Plan Platform to provide dental practices with up to 10 offices a means to create their own proprietary, regulatory compliant, and professionally administered in-house dental plan for uninsured, self-pay patients. Its intuitive technology offers step-by-step guidance on how to customize the plan's enrollment rates and member discounts. It is available in 46 states, but is not currently available in California, Washington, Montana, and Vermont.
FILES HELP NEGOTIATE COMPLEX CANALS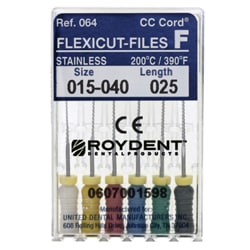 Designed for endodontic procedures, Roydent (800-992-7767; roydent.com) offers Flexicut Files. Sold six to a pack, Flexicut Files feature three sharp edges that ensure maximum cutting efficiency. A triangular cross section facilitates negotiation of curved canals, while the conical, noncutting tip is said to easily follow complex canal anatomy. The pre-applied silicone stops are color coded by length.
From Decisions in Dentistry. January 2018;4(1):54-55.