Marketplace
Products that practically sell themselves.
BLADE EJECTS WITH NO-HANDS SLIDING MOTION
PDT Inc. – Paradise Dental Technologies (800-240-9895; pdtdental.com) introduces the newest addition to its line of handcrafted surgical instruments, a Scalpel Handle with Ejectable Blade. A single-motion sliding action ejects the blade, eliminating the need to touch the blade and protecting users against sharps injuries. Handcrafted in Germany from surgical steel, the handle features an advanced ergonomic grip and easily dissembles for cleaning and sterilization.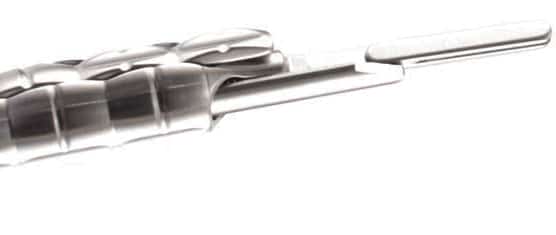 RESTORATIVE BUILT FOR SPEED AND DURABILITY
Aiming to reduce chairtime, 3M Oral Care (800-634-2249; 3m.com) has launched Ketac Universal Aplicap Glass Ionomer Restorative, designed to get patients on their way quickly with a fluoride-releasing restoration strong enough for long-term use. Ketac Universal Aplicap is self-adhesive and self-curing, with no need for conditioning, coating or lightcuring steps. The material's low stickiness adds to the ease of handling. It can be used for restricted stress-bearing Class I and II restorations, thanks to its compressive strength and surface hardness. It also can be placed in bulk, eliminating the need for layering. The restorative is available in an Aplicap delivery system with a new nozzle design that gives dentists better access to deep cavities. It is available in six shades.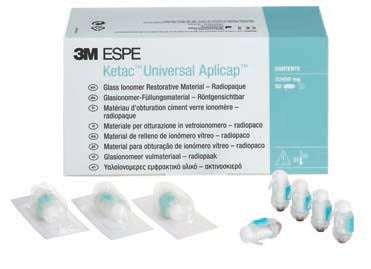 PRECISE AND PREDICTABLE BONDING AGENT
New from Coltene (330-916-8800; coltene.com), One Coat 7 Universal is a versatile bonding agent that promises high-quality, predictable results for self-etch, selective-etch or total-etch adhesive restoration techniques. A drop of liquid is said to bond lightcuring filling materials easily and efficiently. With a single bonding layer it promises consistently high bonding strength, excellent marginal sealing and marginal integrity. A new ergonomic triangular 5ml bottle is designed for ease of use and precise dispensing of the product — up to 300 uses per bottle. It also is available in single-dose units.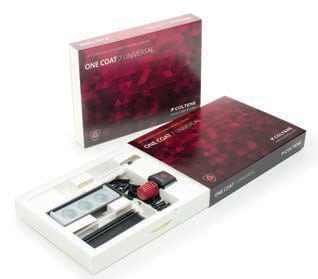 CLEANSING GEL FORMULATED TO STAY IN PLACE
GoCHx is a thin non-alcohol-based restorative cleansing gel recently released by Taub Products (800-828-2634; taubdental.com). Containing 0.8% chlorhexidine, GoCHx can be used for all dental restorations, including implant crowns, abutments, and components. GoCHx gel is said to stay where it is placed and can be used on final restorations before insertion. The product has low viscosity and is water soluble.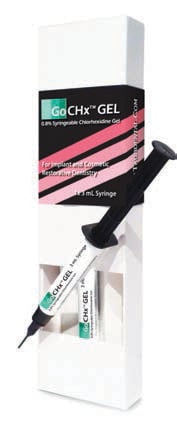 A NEW OPTION FOR GUIDED BONE REGENERATION
Under the Creos brand, Nobel Biocare (800- 322-5001; nobelbiocare.com) has expanded its regenerative solutions portfolio, adding Creos Xenogain, a deproteinized bovine bone mineral matrix for guided-bone and guided-tissue-regeneration procedures. Bone substitutes in the Creos Xenogain range have a slow resorption rate and act as long-lasting scaffolds, maintaining space for bone regeneration. Creos Xenogain — available in a variety of sizes and application methods — builds on Nobel Biocare's noncross- linked resorbable collagen membrane, Creos Xenoprotect, which is said to offer excellent vascularization behavior and tissue compatibility as well as prolonged protection of the graft site.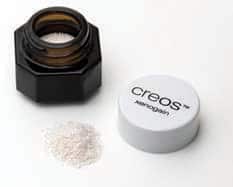 ACCESSORY TAKES HASSLE OUT OF FILLING AUTOCLAVES
In partnership with Vista Research, SciCan (800-572-1211; scicanusa.com) introduces VistaPure AutoFill, billed as a maintenance-free solution to filling autoclaves with distilled water — enabling hands-free convenience. VistaPure AutoFill accessory kits work with all VistaPure systems and can be installed on any Statim 2000, Statim 5000, or Bravo autoclave. This accessory is said to be efficient (no more staff time spent filling autoclaves), convenient (no more storing distilled water), and easy (no more spills while filling autoclaves manually). VistaPure AutoFill also prevents cyclefault errors caused by forgetting to fill reservoirs.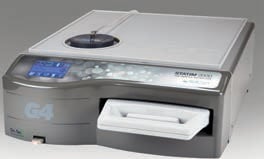 CAMERA DESIGNED FOR ERGONOMICS AND FUNCTIONALITY
Air Techniques (800-AIR TECH; airtechniques.com) debuts CamX Elara, a new intraoral camera. The CamX Elara boasts a sleek design that combines ergonomics with functionality. Sturdy and lightweight, the camera fits in any practitioner's hand. CamX Elara features a capture-upon-release feature as well as a tactile image capture confirmation. A motion sensor automatically turns the camera on and off. CamX Elara features eight white LEDs and stays in focus from 5 to 35 mm, eliminating the need for further adjustments.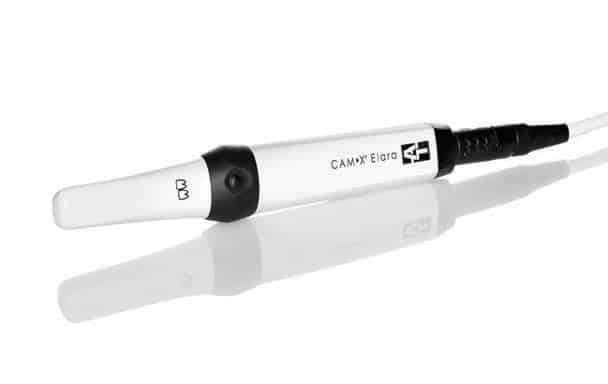 NOTE PADS HELP ORAL SURGERY PATIENTS HEAL
QuickSplint (800-760-0526; quicksplint.com) has unveiled the Healing Note Pad, a companion to its flagship product, the QuickSplint interim dental splint. QuickSplint can be fabricated chairside in five minutes and is designed for use up to six weeks. It serves to provide first aid for acute jaw pain, as a diagnostic tool for bruxism or other parafunction, as a deprogrammer, and as a protective and stabilizing splint after oral surgery. The new Healing Note Pad provides specialized postoperative instructions for patients prescribed QuickSplint as a healing aid. The package contains 50 patient tear-off sheets, available in English and Spanish.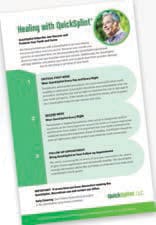 HANDPIECE SYSTEM PROMOTES CONFIDENCEL
Brasseler USA (800-841-4522; brasselerusa.com) has unveiled the EndoSync Endodontic Handpiece System, featuring the EndoSync Cordless Micromotor and the EndoSync A.I. Apex Locator. Connecting the Micromotor to the Locator provides a variety of controls for confidence and safety. The Micromotor includes Optimized Torque Reverse technology, torque slowdown, and an Apical Action mode, designed to seamlessly connect to the Locator. The light, ergonomic design of the EndoSync is said to provide superior access and reduce hand fatigue. When synchronized with the Locator, the display of the EndoSync changes color depending on the location of the file inside the canal, promoting safe instrumentation.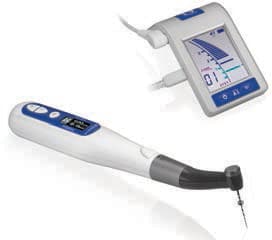 CAD/CAM MATERIAL SUSTAINS FORCE
Vita North America (800-828-3839; vitanorthamerica.com) has announced the launch of Vita Enamic Implant Solutions CAD/CAM Block, said to feature clinically proven force absorption for successful implant treatment. According to Vita, studies have demonstrated that Vita Enamic crowns absorb 71% more mastication force than zirconia restorations, and more force than glass ceramic or gold alloy — increasing the long-term survival of dental implants. Vita Enamic boasts a dominant ceramic structure infused with polymer to deliver the same material properties of natural dentition, and elasticity similar to that of a natural tooth. With no furnace required after processing, Vita Enamic minimizes chairtime.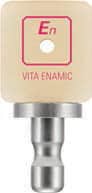 TREATMENT CENTER GOES LEFT OR RIGHT
Intego Pro Ambidextrous is a new treatment center from Dentsply Sirona (800-877-0020; dentsplysirona.com). This treatment center offers an ergonomic workflow for right- and left-handed dentists, who all benefit from flexible, positionable components. A conversion mechanism allows a switch from right to left and vice versa, reportedly in less than 15 seconds. As a result, Intego Pro Ambidextrous saves treatment time. The treatment center offers ErgoMotion lumbar support and the possibility of a complete sanitation unit to optimize workflow and the patient experience.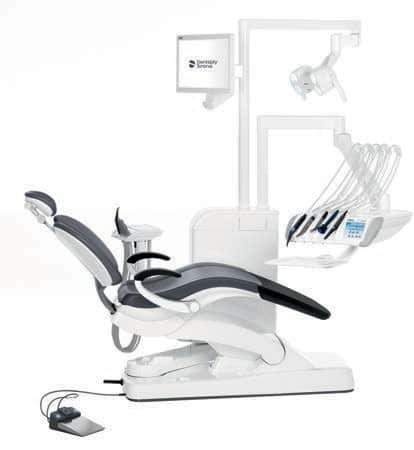 From Decisions in Dentistry. September 2016;2(09):59.