HYDROPHILIC IMPRESSION MATERIAL
Heraeus Kulzer (800-431-1785; heraeus-kulzer-us.com) presents Flexitime Xtreme 2, a single-unit impression solution with a wild berry aroma. With a 30- to 90-second working time, it is suited for common single-unit impressions. It also boasts enhanced physical properties, including hydrophilicity, tear strength and toughness. High-contrast colors help clinicians distinguish between viscosities.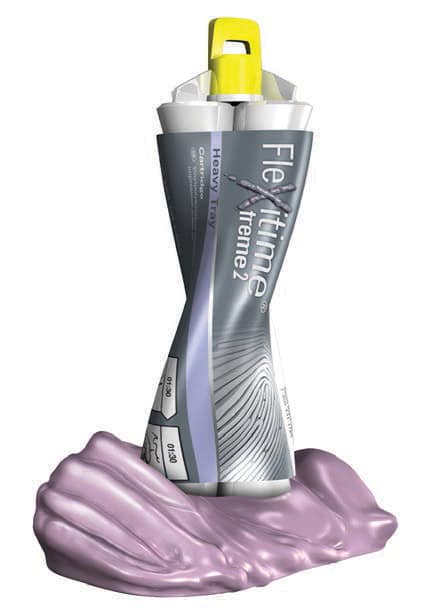 LOUPES OFFER PROTECTION AND STYLE
Promising lightweight, comfortable and fashionable loupes, SurgiTel (800-959-0153; surgitel.com) announces the addition of the latest Oakley frames. Oakley has teamed with SurgiTel to release the Flak 2.0 (upper photo) and Radar EV sports frames, which are available in a variety of colors. Among the highlighted features are a wraparound design that protects against debris and liquids, multiple lens choices, balanced weight distribution, and nonslip ear socks and nose pads. These loupes also offer pantoscopic tilt for enhanced ergonomics.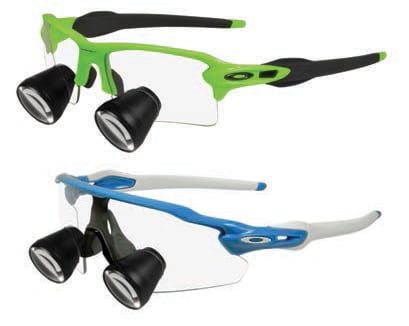 COMPOSITE RESTORATIVE UTILIZES GIOMER TECHNOLOGY
Shofu (800-827-4638; shofu.com) has launched Beautifil II Gingiva and Enamel resin composites, each formulated with proprietary Giomer technology that releases and recharges fluoride, inhibits plaque buildup and neutralizes acids. Beautifil II Enamel composite is available in four enamel shades: highvalue translucent, translucent, low-value translucent and amber — which can be layered and blended. The material also comes in gingiva shades of light pink, dark pink, orange, brown and violet. These tones are based on Shofu's Ceramage line, a nanoceramic indirect composite, designed for artisan restorations of anterior regions.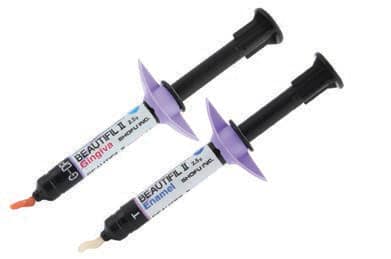 SALIVA EJECTOR HELPS ENSURE A DRY FIELD
The Lingua-Fix Saliva Ejector from Zirc (800-328-3899; zirc.com) holds a patient's tongue in a steady position while providing a dry, visible working field for dental teams. With a built-in chin lock, this hands-free, singleuse isolation device is effective for low-volume evacuation. Offering a large suction area and smooth edges, the Lingua-Fix facilitates isolation and evacuation, while contributing to a comfortable patient experience.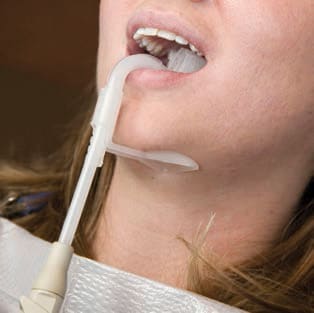 ROOT CANAL SEALER DEBUTS
Dentsply Sirona Endodontics (800-662-1202; dentsply.com) has released ProRoot ES endodontic root canal sealer, made from an enhanced formulation of the company's ProRoot MTA root repair material. Bioinductive for cementum, ProRoot ES is said to support tissue regeneration and seal the root canal biologically to prevent bacterial microleakage. Dentsply Sirona reports that the sealer has been proven dimensionally stable and stimulates a hard-tissue covering over the apical foramen, while enabling repair of periradicular tissues. The waterbased, easy-mix formula creates a smooth, stringy consistency to facilitate handling, and provides flexible working time.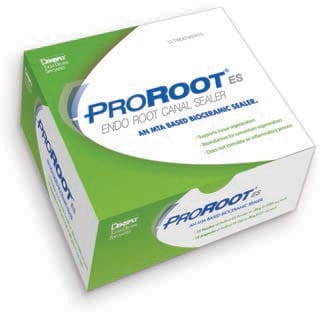 EASILY PLACED BARRIERS PROVIDE EFFECTIVE ISOLATION
Sugi Butterfly is a nonsterile cotton fiber and cellulose barrier. New from Kettenbach (877-532-2123; kettenbachusa.com), it is said to absorb oral fluids up to 20 times its weight while providing tissue isolation. Available in large and small sizes, this lint-free, shred-resistant barrier reportedly will not inadvertently contaminate restorative procedures. Easily placed and removed, it's designed to provide a dry field and keep the patient comfortable.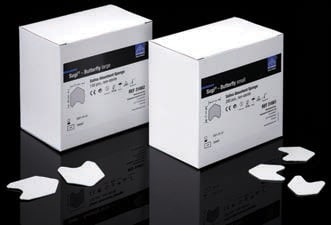 STERILIZERS ALLOW DATA MONITORING
Cefla Medical Solutions (704-598-0020; cefladental.com) now offers the Mocom B Futura and B Classic in the United States. According to Cefla, the two units are known to dentists in Europe as safe, high-performance, user-friendly sterilizers. The B Futura (shown) allows Ethernet or Wi-Fi connections. It can be monitored via computer, and users can download cycle reports. It offers delayed start and extra drying functions, and can store information from 1000 cycles. Equipped with an intuitive graphic display, the B Classic is said to optimize run time, and has an internal memory that can store 500 cycle reports.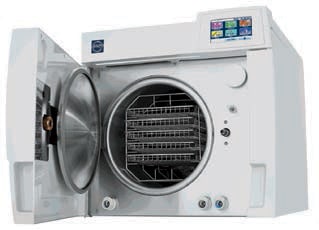 SMART TECHNOLOGY COACHES PATIENTS IN REAL TIME
Using Smart Sensor technology, the new Sonicare FlexCare Platinum Connected from Philips (800-203-3344; usa.philips.com) tracks toothbrushing in real time. It syncs with a free smartphone app to create a personalized mouth map, helping users identify missed spots while being coached on technique. The brush monitors each area of the mouth without a camera, giving users the freedom to move while brushing. A SmartTimer feature helps ensure that users brush for two minutes, while the BrushPacer prompts them to move to the next area. And to protect gingiva, sensors warn when too much pressure is applied. A touch-up feature directs patients back to any missed spots immediately after brushing.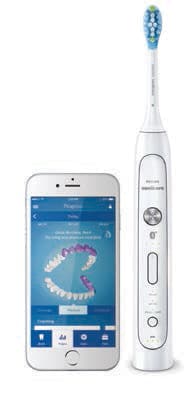 HYBRID RETAINER COMBINES CLASSIC AND THERMOFORM FEATURES
New from Great Lakes (800-828- 7626; greatlakesortho.com), the Hybretain orthodontic removable retainer combines the features of a traditional retainer with a thermoformed retainer. This clear hybrid promises retention, esthetics, durability, wear resistance and patient comfort. Designed with no occlusal acrylic and minimal palatal acrylic to maximize comfort, Hybretain uses a distal-to-canine crossover wire for stability, and a distal wrap wire for added retention.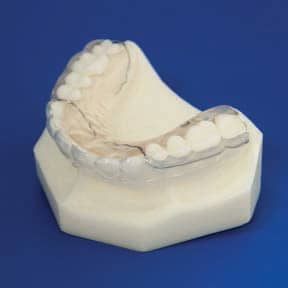 ADAPTER DELIVERS SAFE SUCTION
RJC Products (651-271-0863; safe-flo.com) introduces the Safe-Flo Adapter, which is used to convert a high-volume suction line to a size that accepts a saliva ejector. This is beneficial when an ultrasonic scaler is in use, and allows a dental assistant to use an extra high-volume suction line to help the dentist when lowvolume suction is being used. Clinicians will also appreciate the fact that the patient can close his or her mouth without fear of backflow from the suction line.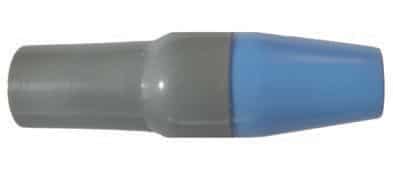 PROBE SYSTEM DESIGNED TO BE GENTLE
Hu-Friedy (800-HU-FRIEDY; hu-friedy.com) has launched its Colorvue Biotype Probe System. A reliable, easy and gentle solution for classifying gingival biotype as thin, medium or thick, the color-coded system aids in the selection of appropriate treatment protocols. Safe for use on patients with implants, the resin tips are designed to be used up to 30 times, and fit in Hu-Friedy's ergonomic Satin Steel handle.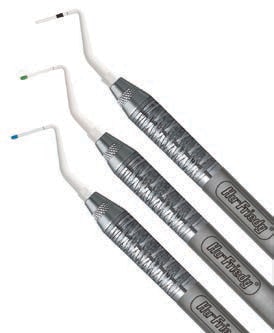 MOLDABLE TRAYS SIMPLIFY ADAPTATION
A moldable stock impression tray, Zest Anchors' (800-262- 2310; zestanchors.com) Chairside Massad Edentulous Low Temp Impression Trays are designed to allow superior full-arch impressions with as much detail as a custom tray. Said to be ideal for fabricating locator overdentures, these thermoplastic trays are easily formed and adapted in the mouth. The multiple maxillary and mandibular sizes fit a range of patients. Zest Anchors' ergonomic tray design features low vestibular borders, release areas for muscle attachments, contoured posteriors, and retention slots and grooves.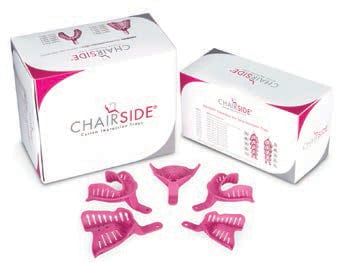 From Decisions in Dentistry. July 2016;1(09):52–53.