Local Anesthetic Delivery System Allows Pain-Free Injections
Calaject's computer-assisted delivery helps eliminate the pain and ergonomic issues associated with local anesthetic injections.
Clinical dentistry is hard on our bodies. Back, shoulder and neck issues are pervasive among dentists, so I am always searching for technologies and techniques that can help preserve my body and increase career longevity. During my 19 years in clinical practice, I have identified local anesthesia administration as one of the most significant pain points in my day. Fortunately, my discovery of Calaject — a computer-assisted local anesthetic delivery system — has completely transformed my practice, helping both my patients and me alleviate one of the greatest pains in dentistry, the local anesthesia injection.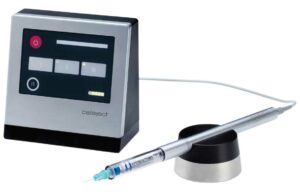 ERGONOMIC CONTROL AND EASE
Introducing the Calaject system has allowed me to practice with much more comfort and ease than I have ever experienced while using a manual syringe. One of its best features is the ability to hold the handpiece with a pen grip, which eliminates hand fatigue and increases control of the needle upon insertion. In addition, the handpiece is weighted perfectly, allowing effortless balancing of the unit during administration of the solution. The foot pedal advances the plunger with precise consistency while allowing control of aspiration and changes in the rate of the plunger. The unit also features an autoclavable barrel to hold the anesthetic carpule and is compatible with any syringe needle tip you desire.  
Calaject allows me to administer the most comfortable anesthesia for my patients while positioning my body to be essentially at rest. The patient experience is outstanding, as there is no pain upon insertion or deposition of the solution into the tissue. Patients consistently ask how I was able to get them numb without a needle. When I explain that I did use a needle, they are beyond impressed.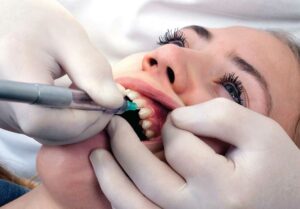 BUILD AND GROW YOUR PRACTICE, PAIN FREE
The Calaject system is an incredible win-win for my patients and me. Calaject takes away the greatest fear our patients have walking into our offices — the needlestick! Offering ergonomic control and ease, it also eliminates wear and tear on the clinician's body. There is no doubt this form of computer-assisted anesthetic delivery has helped me build and grow my practice, efficiently and pain free.
Directa
800-537-8765
directausa.com
From Decisions in Dentistry. February 2022;8(2):23.