Learn How to Dominate Full-Arch Case Production
Top implant clinicians will unite in Miami for The Closing Institute's inaugural Full-Arch Growth Conference.
For the first time, Progressive Dental Marketing and The Closing Institute are holding an annual symposium to share never-before-seen secrets to dominate full-arch case production in your market. The Closing Institute's Full-Arch Growth Conference will be held September 23–24 at the luxurious Fontaine­bleau Miami Beach Resort in Florida. The Closing Institute is bringing the best speakers from both inside and outside of dentistry to present key strategies designed to dramatically grow your practice.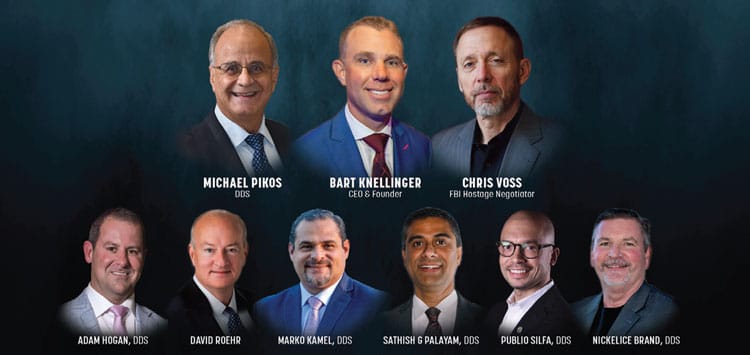 NEVER-BEFORE-HEARD TOPICS FROM FULL-ARCH CASE EXPERTS AND BUSINESS LEADERS
Bart Knellinger, founder and CEO of Progressive Dental Marketing and The Closing Institute, is the keynote speaker, hitting on the first three topics listed here. His seminars will be followed by eight special guest presentations.
Developing a Culture Embracing Sales — A look at how the dental industry has historically viewed the topic of sales and sales training — and why everything has changed.
The Double Edge Sword of Growing Your Practice — In-depth strategies and solutions for the most common challenges clinicians face when growing and scaling full-arch case production.
Creating an Impactful Sales Machine — An exploration of product innovation and creation, and effective techniques for crafting the close, and establishing a dominant marketing strategy.
From 0 to 55+ Full-Arch Cases Per Month — Marko Kamel, DDS, shares insights on implementing a streamlined process to maximize efficiency in all aspects of a dental implant office in order to scale production in volume.
Digital Workflow Evolution — Adam M. Hogan, DDS, teaches seminar participants how to achieve quality, consistency and profitability at scale using a proven digital workflow system.
Robotic Surgical Technology — Sathish G. Palayam, DDS, an expert at using Yomi by Neocis, details how this minimally invasive robotic-assisted technology has taken his practice to the next level.
39-Year Evolution of the Business of Full-Arch Cases — Michael A. Pikos, DDS, a world-renowned oral surgeon, presents for the first time his 39-year evolution of the business of full-arch case treatment.
Cutting-Edge Financial Funding in Unknown Economic Times — David Roehr, CEO of Proceed Finance, will educate attendees on flexible patient financing options and how to increase approval rates.
Smile Visualization and Patient Motivation — Publio Silfa, DDS, will go in-depth about how to use technology to create powerful and compelling visualization before and after the close.
Practice Evolution From General Dentistry to 30+ Full-Arch Cases per Month — Nickelice Brand, DDS, reveals how he shifted his practice from a general dental office to a dental implant center.
The Art of Negotiation by a Top FBI Hostage Negotiator — Chris Voss, an international FBI negotiator and speaker, presents the best negotiation and influence techniques.
CONCLUSION
Dominate the full-arch case industry in your area by joining us at The Closing Institute's Full-Arch Growth Conference in Miami Beach on September 23–24. This conference is as much for team members as it is for doctors, and will empower office managers, treatment coordinators, patient advocates, receptionists and more. Achieving a high level of success in full-arch case rehabilitation requires a team that's united by a common goal — and motivated to surpass that goal!
PROGRESSIVE DENTAL MARKETING
727-677-9758
From Decisions in Dentistry. August 2022;8(8)21.