7 Habits of Successful Implant Restorative Dentists
This short series will explore clinical considerations and techniques to ensure long-term success in dental implants restored with cemented appliances.
This is the first piece in a short series that will parallel the "7 Habits of Highly Effective Implant Clinicians" articles, which covered clinical approaches to screw-retained implant restorations. These new installments will examine techniques for restoring implants with cemented prostheses.
Wilson's1 2009 paper was the first of many to expose the relationship between excess cement and peri-implant disease. In a similar vein, this article will explore how cements can negatively affect peri-implant tissues — and how to avoid these complications.
It should be stated from the outset that the "ideal" implant cement does not exist. Consequently, this series is intended to guide the clinician in the selection of the most appropriate cement, abutment design, restoration abutment margin site, and technique to minimize any ill effects from residual cement.2–5
HABIT 1: SEEK FIRST TO UNDERSTAND
Although tooth cements have been used successfully for more than 100 years with few biological issues, the same cannot be said for cemented implant restorations. Cement-induced peri-implant disease has a multifactorial etiology and is a known cause of implant failure. One of the most important differences between cementation's effects on teeth versus implants relates to their respective biological connection to the soft tissues.6
The tooth attachment system has a series of fiber bundles (Sharpe's fibers) that holds the soft tissue firmly in place. These consist of multiple fiber bundles inserting into root cementum, producing distinct "compartments" (think of spokes on a wheel) that limit disease progression.
Implants have no Sharpe's fibers or cementum on their surface. Thus, the peri-implant tissue connection offers fragile adhesion due to a hemi-desmasomal connection. The fiber bundles that are present encircle the implant (like a hula hoop), providing only one compartment. This is why peri-implant disease is noted to exist 360 degrees around the implant, compared with more distinct periodontal disease found at localized sites in teeth.7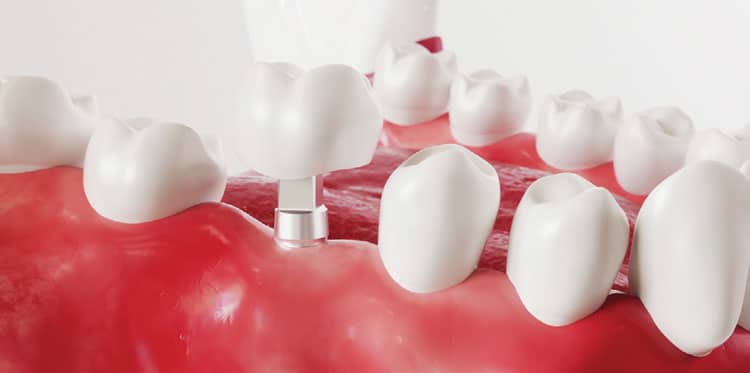 Another important difference involves the sulcular tissue. Directly adjacent the implant is always mucosa — which is not keratinized, highly permeable to chemicals, and offers a limited blood supply for tissue repair. In comparison, the tooth sulcus has an excellent blood supply from the periodontal ligament, as well as surrounding tissue, that provides a means for tissue repair. The sulcular tissue is parakeratinized, and so it resists infiltration to a far greater degree than mucosa.
HABIT 2: CONSIDERATIONS FOR THE CEMENT MARGIN SITE
When contemplating any cemented implant restoration, one of the first considerations is the crown and abutment margin site, which is the area from which excess cement will be extruded.
A study by Linkevicus et al8 comparing implant crown subgingival margin depths ranging from 0 to 3 mm showed that cement was always present whenever the margin depth was 1 to 3 mm below the gingival tissue, and the amount increased with depth. They also demonstrated that subgingival margins resulted in cement extrusion into the implant sulcus, which, as previously mentioned, has high permeability to materials, including monomers and chemicals found in cements.
Also, due to the singularity of the implant compartment, even if the cement extrudes only at one site, the disease effects have been shown to extend all around the implant.
To limit the risks of cement-induced disease, clinicians are advised to place margin sites at or above the gingival height, where cement volume can be controlled and the implant sulcus protected by some form of barrier, such as a polytetrafluoroethylene bib, as described by Burkhari et al.9
Future installments in this series will cover additional considerations for the successful restoration of dental implants with cemented appliances.
REFERENCES
Wilson TG Jr. The positive relationship between excess cement and peri-implant disease: a prospective clinical endoscopic study. J Periodontol. 2009;80:1388–1392.
Wadhwani CP, Schwedhelm ER. The role of cements in dental implant success, Part I. Dent Today. 2013;32(4):74–79.
Wadhwani CP, Chung KH. The role of cements in dental implant success, Part 2. Dent Today. 2013;32(6):46, 48–53.
Wadhwani C, Goodwin S, Chung KH. Cementing an implant crown: a novel measurement system using computational fluid dynamics approach. Clin Implant Dent Relat Res. 2016;18:97–106.
Rodriguez LC, Saba JN, Meyer CA, Chung KH, Wadhwani C, Rodrigues DC. A finite element analysis of novel vented dental abutment geometries for cement-retained crown restorations. Clin Exp Dent Res. 2016;2:136–145.
Rose LF, Mealey BL, Genco RJ, Cohen DW. Periodontics: Medicine, Surgery, and Implants. St. Louis, Mo: Elsevier Mosby; 2004:613–614.
Wadhwani C, Rapoport D, La Rosa S, Hess T, Kretschmar S. Radiographic detection and characteristic patterns of residual excess cement associated with cement-retained implant restorations: a clinical report. J Prosthet Dent. 2012;107:151–157.
Linkevicius T, Vindasiute E, Puisys A, Linkeviciene L, Maslova N, Puriene A. The influence of the cementation margin position on the amount of undetected cement. A prospective clinical study. Clin Oral Implants Res. 2013;24:71–76.
Bukhari SA, AlHelal A, Kattadiyil MT, Wadhwani CPK, Taleb A, Dehom S. An in vitro investigation comparing methods of minimizing excess luting agent for cement-retained implant-supported fixed partial dentures. J Prosthet Dent. 2020;124:706–715.
From Decisions in Dentistry. August 2022;8(8)20.