July/August 2020 Marketplace
A listing of featured products.
Disinfectant Spray Leaves Protective Barrier
GTech Protection (310-909-7795; GTechProtection.com) now offers GTech Clean, a disinfecting spray formulated to safely and quickly sterilize dental offices and equipment. GTech Clean is a U.S. Environmental Protection Agency-approved, long-lasting spray that reportedly kills 99.9% of bacteria and viruses, including human coronavirus, influenza, mildew, mold and more. The spray is described as leaving a microscopic protective barrier on hard and soft surfaces that continues to kill bacteria and viruses for up to five days. The nontoxic and nonflammable formula is safe to use in most environments, and does not contain ammonia, bleach or alcohol.
Aero High-Volume Evacuation System Debuts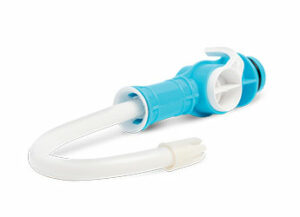 The new Dove AERO HVE from Dove Dental Products (855-800-3683; dovedentalproducts.com) provides high-volume evacuation (HVE) with saliva ejector comfort, allowing the use of traditional instrumentation while eliminating the need for large vacuums or patient-gagging devices. Featuring an external chamber that utilizes the airflow from the HVE to effectively manage aerosol evacuation, Dove's one-way flap design eliminates backflow. This single-use HVE helps increase patient and provider safety by preventing cross-contamination between patients. The Dove AERO HVE is also easy to connect, as it was developed for inline use with traditional operatory equipment.
Expanding Floss Offers a Deep Clean
BURST Oral Care (burstoralcare.com) has added Expanding Black Juniper Berry Floss to its existing line of floss. Juniper Berry contains proprietary technology that expands on contact with saliva, offering patients more surface area for a deeper clean. The floss is coated with charcoal nanoparticles that are adsorptive and antimicrobial. Users will appreciate the pleasant scent of the Juniper Berry Floss, as well as its crisp berry taste.
New Flavor Joins Varnish Lineup
VOCO (888-658-2584; voco.dental.com) has added a new flavor to its Profluorid Varnish offerings. This light, white, transparent 5% sodium fluoride varnish is now available in cola lime to complement VOCO's caramel, mint, cherry, bubblegum and melon flavors. Packaged in an easy-to-use, single-dose delivery system, the cola lime varnish utilizes Profluorid's same quick-uptake formula.
Aerosol Scavenger Helps Keep Operatories Safe
OCTOdent (870-224-0966; octodent.com) has released an extraoral aerosol scavenger that is specifically designed to filter viruses, bacteria and toxic vapors away from the immediate area of the dentist, dental assistant and patient. This unit captures potentially harmful aerosols at the source and cleans the air with a six-stage filtration system. Ideal for use during ultrasonic scaling or when using high-speed handpieces where an oral aerosol vacuum system is recommended or required, the OCTOdent is a mobile, standalone, hands-free device with a flexible suction duct.
Hydrogen Peroxide Rinse Kills Oral Pathogens
DenMat (800-433-6628; denmat.com) has added a Hydrogen Peroxide Oral Rinse to its infection control line. Featuring a fresh mint flavor, this alcohol-free rinse is formulated with 1.5% hydrogen peroxide and xylitol. The foaming action created by the release of oxygen helps inhibit bacterial growth and aids in the removal of debris and healing of minor oral irritation. It is available in half-gallon and gallon bottles, with dispensing pumps for chairside application. The rinse also comes in a handy 16-ounce size that is ideal for patient self-care.
Sterilization Monitor Provides Rapid Results
Ideal for use in busy practices, 3M (888-364-3577; 3M.com) has unveiled a 24-minute, in-house sterilization monitoring solution. The 3M Attest Mini Auto Reader 490M is a compact, easy-to-use unit that makes in-office monitoring practical for dental offices. While results of biologic indicator testing traditionally take anywhere from 24 hours to seven days, the new 3M Attest Mini Auto Reader 490M quickly assures dental teams their sterilizer cycle parameters have been met. Its large, intelligent display features a time-to-result countdown that can be seen from a distance for easy monitoring, and its small footprint makes it ideal for dental clinics.
From Decisions in Dentistry. July/August 2020;6(7):45.