July 2022 Marketplace
A listing of featured products.
WIRELESS SCANNER PROVIDES MORE SCAN DATA
In an evolution of its i700 intraoral scanner, MEDIT (medit.com) has released the i700 wireless, which is a cordless, portable version with the same speed and accuracy of the original device. The i700 wireless offers a smooth and quick scanning experience utilizing next-generation wireless communication technology. Providing realistic color and crisp imaging, the updated design boasts a reversible tip and wider scanning area to allow easy, comfortable scanning at any angle, with no constraints to movement. The camera captures up to 70 frames per second to collect more data with each pass. In addition, a convenient remote control means clinicians can check scan data and show patients without worry of the cross-contamination possible with conventional technology. The i700 wireless runs on MEDIT Link software featuring integration with other digital dentistry providers, as well as the company's Medit Design, Smile Design, Ortho Simulation, Model Builder and Crown Fit apps.
---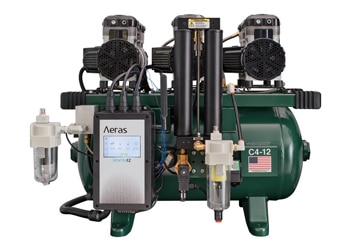 DUAL-VOLTAGE COMPRESSOR OFFERS SELF-MONITORING TECHNOLOGY
With renewed focus on applying innovative technology to solve everyday challenges, DentalEZ (866-383-4636; dentalez.com) has added to its Aeras compressor line by Ramvac. This new model offers dental offices a dual-voltage compressor that is lighter, quieter, and available with 24/7 monitoring at no charge. The new Aeras compressor is up to 22% lighter than previous models, making it easier to install, and the integrated sound shield reduces sound levels up to 16%. Equipped with the same features dentists have come to expect from Ramvac, the powerful Aeras compressor provides clean, dry, oil-free air — all backed by Aeras Intelligence, which is a predictive operational tool engineered to maintain utility room performance. This smart monitoring technology forewarns staff and service teams; it also allows remote diagnosis and eliminates unnecessary service calls.
---

ANTIMICROBIAL BONDING AGENT DEBUTS
The launch of the infinix antimicrobial restorative system by Nobio (844-INFINIX; nobio.com) includes an antimicrobial bonding agent. Designed to work in concert with the matching composite materials, this two-step, self-etch, universal bonding agent offers what the company describes as an antibacterial cavity cleansing effect. Based on Nobio's patented QASi antimicrobial particle technology, the infinix bonding agent joins the company's universal and flowable antimicrobial composites. Featuring enhanced handling and esthetics, the composite offerings will grow later this year with the introduction of an antimicrobial bulk-fill material. Together with the bonding agent, this system is designed to provide long-lasting bacterial inhibition at the restorative margins, reduce tooth demineralization, and, as a result, minimize restoration failure due to secondary caries.
---

FRESH APPROACH TO ORAL WELLNESS
TWICE (smiletwice.com), an oral wellness brand cofounded by Grammy award-winning musician Lenny Kravitz, has launched a suite of science-backed, holistic oral health products designed to help patients maintain a balanced oral microbiome. The new line, which consists of toothpaste, floss, a whitening pen, and Immunity Rinse products, features plant-based ingredients engineered to balance pH and the oral flora. Formulated without artificial preservatives, sweeteners or artificial flavors, the lineup includes a dentifrice enriched with antioxidant vitamins A, E, and aloe vera, as well as a proprietary nano-hydroxyapatite formula made with charcoal and baking soda to support periodontal health. Similarly, Twice floss is coated with dental-grade baking soda for powerful and effective deodorizing during interdental cleaning. Also offered is a manual toothbrush with more than 5000 ultrafine, rounded bristles for superior cleaning.
---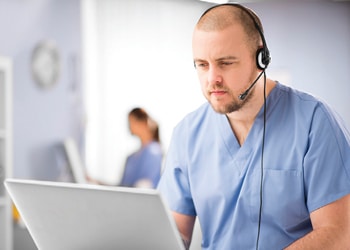 PROVEN PLATFORM ENHANCES PATIENT ENGAGEMENT
As a leading cloud-based patient engagement platform, Rhinogram (423-829-1793; rhinogram.com) helps dental offices communicate with patients via text messaging, video interactions and phone calls to address appointment requests, clinical questions, medical records access and more. This platform seamlessly integrates with most electronic health record and practice management systems to synchronize encrypted patient communications into clinical workflows. Rhinogram's technology makes the office landline textable, offering staff members multiple options for contactless care and extending care to patients with limited access. The platform includes a quick message triage that allows the scheduling team to handle appointments, and billing staff to field financial and insurance queries, while freeing providers to concentrate on treatment. By streamlining administrative processes, as well as pre- and postprocedural care, Rhinogram helps dental teams deliver a superior patient experience.
---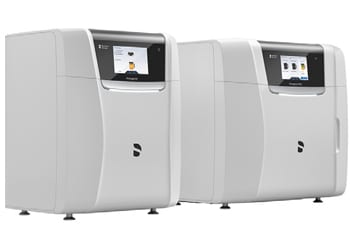 NEXT-GENERATION 3D PRINTING WORKFLOW
As part of its goal to introduce innovations that enhance digital workflows for dentists, dental labs and patients, Dentsply Sirona (844-848-0137; dentsplysirona.com) announces Primeprint, an automated three-dimensional (3D) printing system that turns 3D printing into an efficient application for everyday use. Offering one of the highest levels of automation available, this is a smart hardware and software solution that runs the entire printing process, including post-processing. Designed to deliver reproducible and accurate results, Primeprint streamlines in-office fabrication by simplifying the printing, wash processing and curing steps. Featuring intelligent software control, the system facilitates planning and biocompatible material management to ensure optimal outcomes across a variety of clinical indications.
From Decisions in Dentistry. July 2022;8(7)45.