Guardian Supports Children's Health Fund in $1 Million Partnership for Oral Health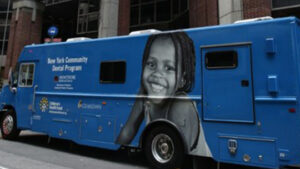 Guardians of the Smile Program Launches with China Anne McClain at NYC Public School
NEW YORK, June 5, 2018 /PRNewswire/ – Today, Kindergarten and 1st grade students at PS 36 Margaret Douglas School in Manhattan will be treated to a special event with actress and singer China Anne McClain to learn about the importance of good oral hygiene. The students will brush and floss giant teeth, among several fun and interactive activities designed to get them thinking about good oral hygiene at an early age. The event launches a nationwide partnership between The Guardian Life Insurance Company of America ® and Children's Health Fund, who have teamed up to ensure children do not fall behind in school because of their dental health. Guardian has committed $1 million to provide quality dental care to children in underserved communities across the U.S. Guardian is a lead sponsor of Children's Health Fund's dental program and the donation will fund screenings, clinics and mobile dental services for children in communities including New York, Washington, D.C., Dallas and Idaho, over the next two years.
Children's Health Fund recently published a review of literature which found that the effects of poor oral hygiene have a negative impact on a child's education leading to increased school absence and lower standardized test scores. Guardian and Children's Health Fund aim to bolster academic performance and quality of life for students throughout the U.S. by providing necessary dental resources and academic programming to teach lifelong oral hygiene habits.
"Guardian believes that children, regardless of geography or income, should have access to dental services that foster good oral health," says Marc Costantini, executive vice president, Commercial & Government Markets from Guardian Life Insurance. "As one of the leading dental insurance providers in the U.S., we have a responsibility to help ensure that all children understand the importance of oral hygiene and have access to dental care."
"This program brings together two organizations that are passionate about giving children the opportunity to be healthy," says Dennis Walto, chief executive officer of Children's Health Fund. "Guardian's support allows us to reach children across the country with comprehensive health services and develop engaging programming that will help teach children and their families about good oral hygiene and the importance of dental health in a fun and integrated way." Walto adds "…children with good oral hygiene practices is definitely something to smile about."
Guardian and Children's Health Fund are rolling out the Guardians of the Smile program to communities across the country to teach students about proper oral hygiene. The program stresses the importance of oral health in the context of a comprehensive and enhanced medical home for children with regular check-ups and timely specialist care when needed.
For more information about the partnership or Guardians of the Smile, please visit: www.guardiansofthesmile.com