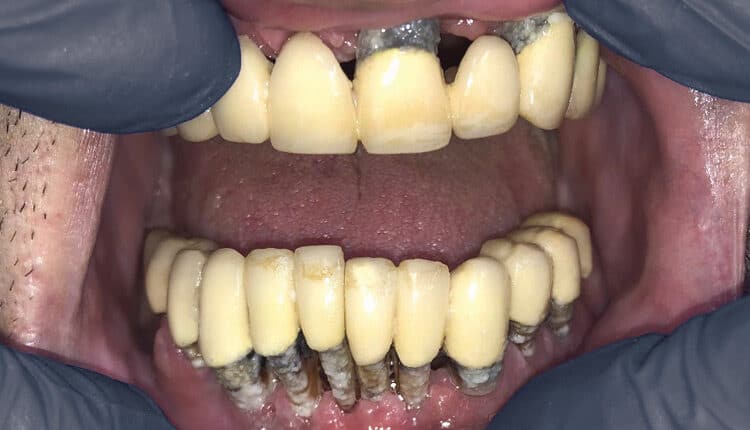 Full-Mouth Reconstruction of a High-Risk Patient
This challenging case involves the full-mouth restoration of a patient presenting with Type 2 diabetes mellitus and a heavy smoking habit.
PURCHASE COURSE
This course was published in the October 2022 issue and expires October 2025. The authors have no commercial conflicts of interest to disclose. This 2 credit hour self-study activity is electronically mediated.
AGD Subject Code: 610
EDUCATIONAL OBJECTIVES
After reading this course, the participant should be able to:
Discuss restoration considerations for full or partial removable dentures, implant-supported overdentures, and fixed, implant-supported dentures.
Describe clinical factors and approaches that can support successful long-term outcomes in full-mouth reconstruction.
Explain the challenges to implant therapy for the patient in this case study.
---
Partial and full removable dentures have long been a staple as replacements for patients who present with multiple missing teeth. They provide a suitable cosmetic and functional appliance that, for many years, was the standard of care when treating a patient who is partially or fully edentulous. Although a denture may allow the patient to smile and chew again, there are inherent problems that arise with long-term use. Several common issues are loss of underlying soft tissue, soft tissue ulcerations, and loss of the underlying bony support. This loss of alveolar structure is due to the lack of physiologic stimulation of the bone that would normally be provided by the teeth if they were present. This lack of stimulation leads to the resorption of the alveolar bone and shrinking of the residual hard and soft tissue platform.
Fortunately, the modern dental implant offers a solution that minimizes or avoids many of the problems associated with removable dentures. Whether using an implant-supported fixed partial denture or an implant-retained overdenture, patients can realize more normal functionality and superior esthetics when compared to conventional partial or full removable dentures. It is common to see a treatment plan known as all-on-four used with edentulous patients where the dentist attaches an upper or lower denture using an acceptable attachment system to four implants in the mandibular and/or maxillary arch. This was the treatment approach outlined in the first article in this two-part series, "Full-Mouth Restoration of a Heavy Smoker With Diabetes", which detailed the diagnosis, treatment planning and bone augmentation for an implant-supported, full-mouth reconstruction.1
While a fixed implant-supported denture usually requires five or more implants, including additional components — resulting in a more complex treatment plan and increased cost — research has shown the use of at least four implants is adequate to support a final removable prosthesis.2
A common complaint from patients is the lack of retention of their removable dentures, especially the mandibular denture. Implant-supported mandibular overdentures have functional advantages in the mastication of food compared to a removable denture with no retentive attachments. One study concluded that patients with implant-supported mandibular overdentures showed moderately greater dietary improvements than those using conventional dentures.3 This increased ability to masticate offers many health benefits and allows patients to be confident their teeth will not move while biting into solid food. Other advantages include not needing to use adhesive products to retain a traditional denture and knowing the denture will not fall out unexpectedly. These benefits let patients enjoy a healthier and more robust diet thanks to the added stability.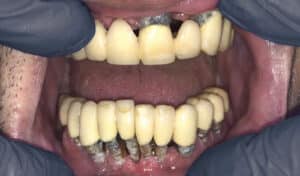 When compared with traditional, soft tissue-supported dentures, patient satisfaction significantly increases with the use of implant-supported overdentures. This includes cleaning ability, general satisfaction, ability to speak, comfort, esthetics and stability.4 Borges et al5 compared mandibular fixed prostheses with mandibular implant-supported overdentures and reported that overdentures are more cost-effective, require fewer implants and components, and can also be less surgically demanding. While the researchers found that fixed rehabilitation for mandibular edentulous patients is well accepted, they also observed mandibular overdentures are no less efficient than a fixed prothesis in terms of clinical outcomes.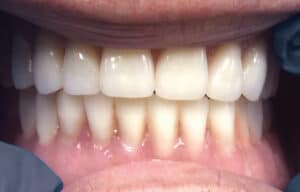 Fixation of implant-supported and implant-retained overdentures can be accomplished in several ways. Initially, some type of O-ring was used since they were easy to place/replace and were available in many levels of retention. Since then, several companies have developed other attachment designs that are widely used in the stabilization of implant-supported/retained overdentures. Current popular attachments have been shown to be superior to O-rings,6 telescopic crowns and bar attachments.7 Medium retention attachments provide favorable retention during axial (vertical) and nonaxial (anterior and lateral) dislodging.7 Similar to the O-ring, the newer attachments are easy to use, come in various retentive styles, and provide adequate retention for use with an overdenture, stabilizing the denture both for esthetics and function.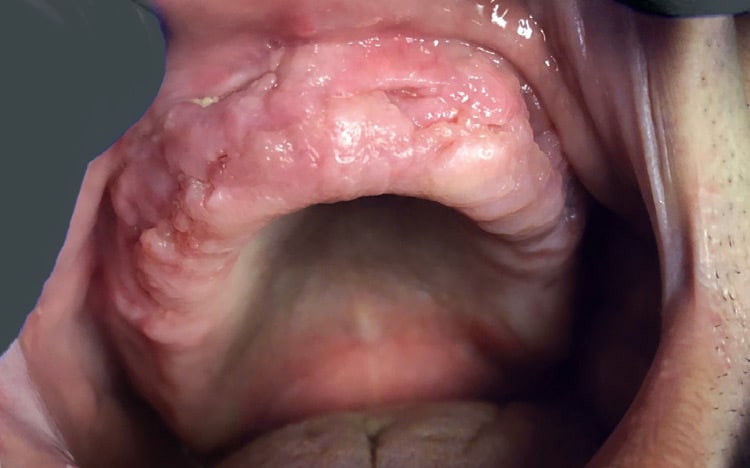 CASE REPORT
A 51-year-old male presented for an initial exam and consultation in April 2021 (Figure 1). His medical and dental history revealed that, in addition to frank periodontal disease exhibiting gross soft and hard tissue loss, the patient had two significant medical issues that could influence the eventual treatment plan: Type 2 diabetes mellitus and a habit of smoking two packs of cigarettes per day. His medical and dental evaluation was presented in the first article in this series (August 2022),1 and the final treatment plan for maxillary and mandibular implant-supported dentures was accepted. With the understanding the patient had to quit smoking at least two weeks pre-implant placement and eight weeks post-implant placement and remain vigilant with his diabetes medication, extraction of all existing teeth was completed in June 2021. At the extraction appointment, substantial bone grafting in both arches was accomplished, along with the placement of four mandibular implants and immediate temporary dentures (Figure 2).1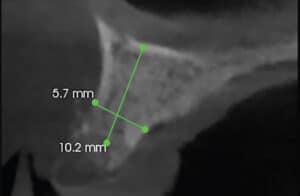 The patient was seen on a monthly basis to check the fit of his temporary dentures and observe any issues that might arise after the removal of his maxillary and mandibular teeth, placement of the mandibular implants, and bone grafting. At his November 2021 check-up appointment, the residual maxillary ridge appeared to be healthy and of adequate volume (Figure 3). Radiographic imaging confirmed the residual grafted maxillary ridge in the areas where the implants were to be placed was more than adequate to accept the fixtures (Figures 4 through 7).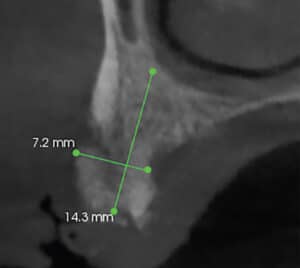 In anticipation of the placement of his maxillary implants the following month, the patient was given prescriptions for the surgery. Because this would be another extensive surgical procedure, the patient was prescribed clindamycin and a methylprednisolone dose pack, along with 800 mg ibuprofen and 5/325 oxycodone/acetaminophen, as needed. He was once again reminded to stop smoking at least two weeks before implant placement as a presurgical precaution and remain smoke-free for eight weeks following placement to ensure the best chance of osseointegration of the maxillary implants. In contrast to his first surgical appointment, the decision was made that no preoperative or operative diazepam would be used for this surgery.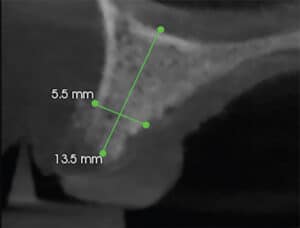 Six months after his extensive initial treatment, the patient returned in December 2021 for evaluation and placement of the maxillary implants. He reported that his A1c level remained at 5.8 and that, as instructed, he stopped all smoking after his November appointment. Consequently, the decision was made to move forward with the treatment plan to place four maxillary implants. Under local anesthesia, the soft tissue was reflected and the existing non-resorbable membrane was removed, revealing an adequate maxillary ridge (Figure 8).
Based on the current clinical and recent radiographic information, four overdenture implants were placed in the following areas: site #4 (3.4×10 mm), 7 (2.9×12 mm), 10 (3.4×12 mm) and 13 (3.4×10 mm). Since there was only 10 mm of bone height present in site #4, an immediate vertical sinus lift was done at the time of implant placement (Figure 9). This resulted in adequate vertical bone height to place the implant. The final alignment of the four maxillary implants was verified using surgical direction indicators (Figure 10). Next, 2 mm collar attachments were placed on each implant, the soft tissue was approximated, and interrupted non-resorbing polytetrafluorethylene sutures were used to close the surgical site (Figure 11). The existing temporary maxillary denture was adjusted to adapt to the implants and the patient was dismissed.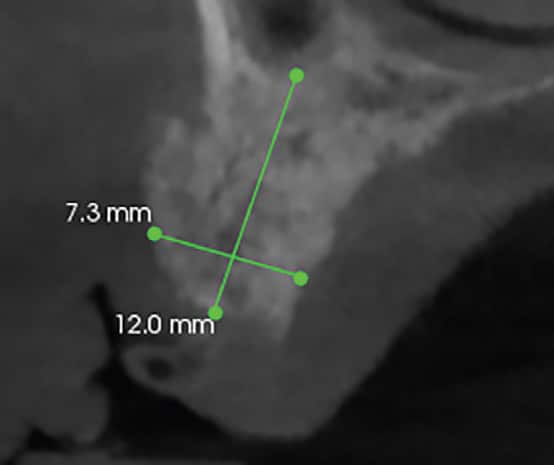 POST-PLACEMENT EVALUATION
The patient returned in January 2022 for a post-placement check-up. There were no apparent areas of irritation from the temporary maxillary denture and the surgical site was healing within normal limits. The cone beam image taken at this visit revealed that all implants looked acceptable (Figure 12). He was scheduled for monthly follow-up appointments and reminded not to smoke until at least the end of the month, and then minimally after that.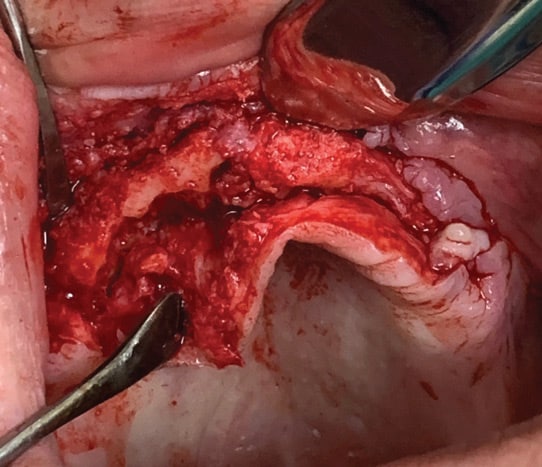 At his monthly recall appointment in early April, the maxillary temporary denture was relined with a soft tissue liner to fill any voids created by shrinkage of the soft tissue during the healing process. Impressions were taken in order to fabricate the final maxillary and mandibular implant-retained denture frameworks. At his May appointment, the metal frameworks were tried in, and new vertical dimension measurements were established, along with occlusal relation records. This information was sent to the dental laboratory for fabrication of the final implant-retained dentures.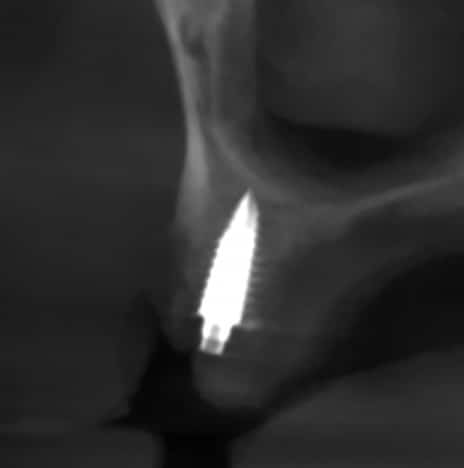 In June 2022, the patient returned for the final placement of his full maxillary and mandibular implant-retained dentures. The maxillary and mandibular soft tissue and exposed implant attachments appeared to be within normal limits (Figures 13A and 13B), so the decision was made to move forward with the seating of the final dentures. The final intaglio surfaces of the maxillary and mandibular dentures are shown in Figures 14A and 14B. After seating the dentures, several minor occlusal adjustments were made. Because the attachments provided significant retention, he was given detailed instructions in the placement and removal of his dentures. In addition, the patient received specific oral hygiene instructions on the proper cleaning of his dentures and attachment areas. The final results are shown in Figures 15A and 15B.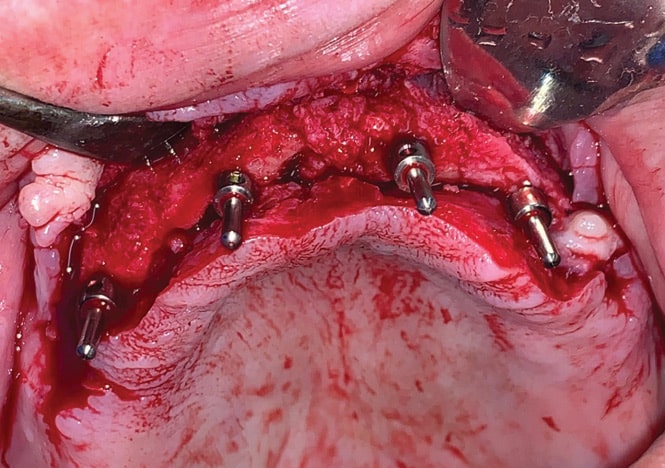 The patient expressed satisfaction with the outcome. The transformation from his initial appearance in April 2021 to this final restored state in June 2022 can be seen by comparing Figure 1 and Figure 15B. He was scheduled to return to make any needed adjustments and/or a minor reline, if needed.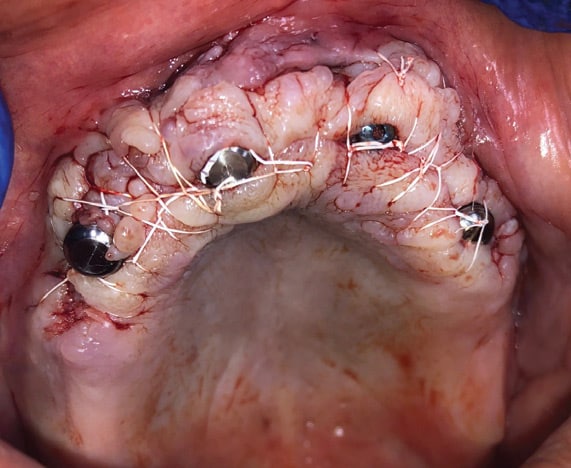 In July 2022, the patient returned to the office, at which time additional minor occlusal adjustments were made. He was scheduled for a routine three-month check-up and instructed to call if he had any questions, discomfort, or issues with the new dentures. In addition, the patient was informed of the need for follow-up appointments every three to four months to monitor his oral hygiene and reline the dentures, as needed.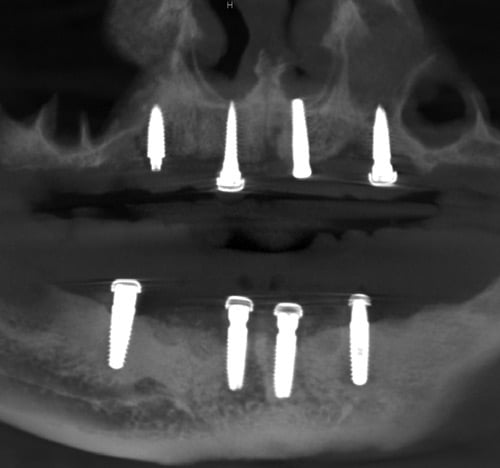 SUMMARY
This two-part series presents the treatment of an extremely difficult case from both a dental and medical perspective. Most dental practitioners would not be interested in treating a patient presenting with the gross breakdown of all existing dental treatment, especially when the patient also has diabetes and smoking as risk factors. If uncontrolled, this patient's inherent systemic disease, diabetes, could significantly increase the failure of oral care in general, and, more specifically, present a 20% failure rate for implant therapy.8 In addition, a long-term heavy smoking habit can also inhibit oral tissue health. Smoking is considered the highest risk factor in the osseointegration of dental implants, with a reported 37% failure rate8 — especially if it is not stopped prior to implant placement and during the initial eight-week post-placement healing phase. The combination of these two risk factors typically leads to immediate failure of implant integration following placement. It can also negatively affect other procedures involving the oral tissues, such as periodontal surgery.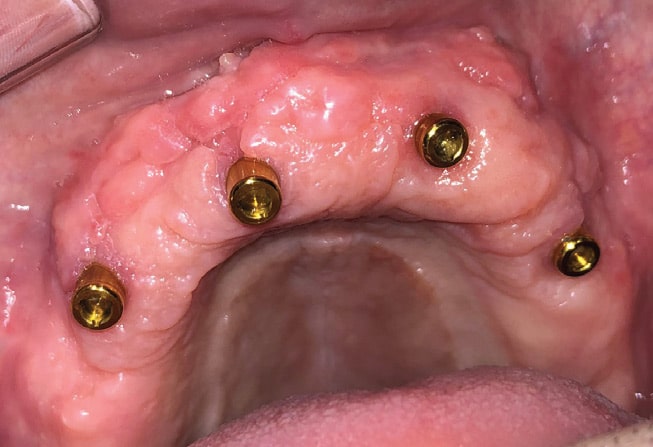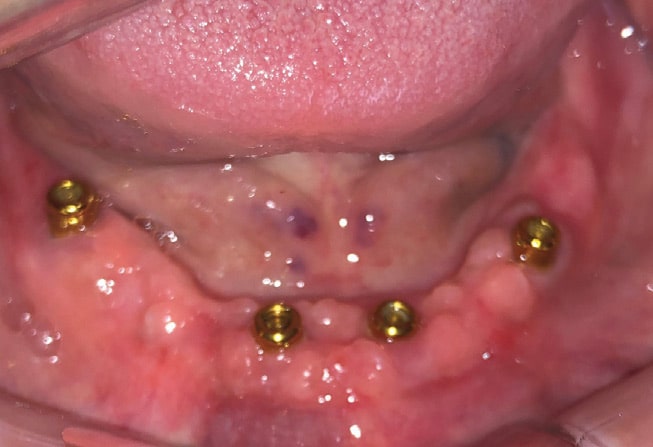 Educating at-risk patients about the negative effects that uncontrolled diabetes and/or smoking can have on oral health and the success of their proposed therapy is as important as the treatment itself. Together with the medical team, dental providers play a pivotal role in a patient's overall health and, in many cases, can be a key factor in minimizing chronic disease and potential life-threating issues.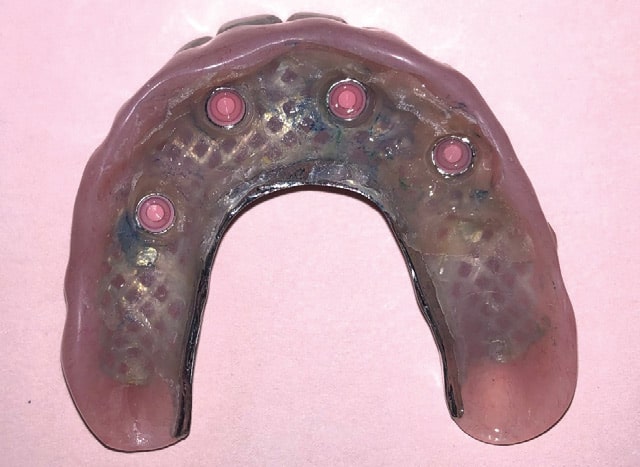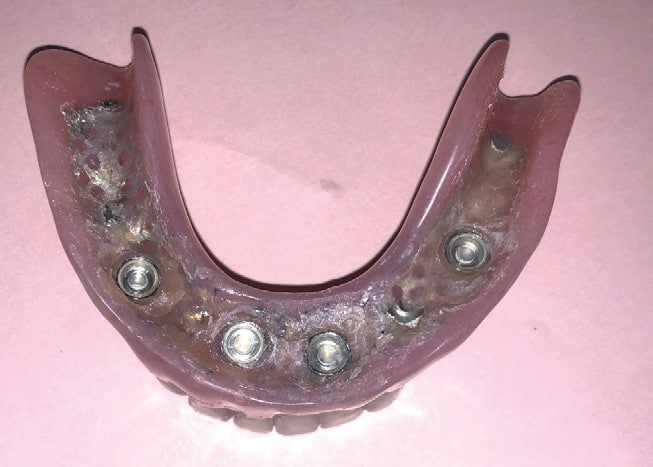 As was seen in this case, the patient's complicated and extensive treatment resulted in an acceptable functional and esthetic outcome. This was only obtained through consideration of his medical and dental issues, along with the modification of his smoking habit and management of his A1c level. Hopefully, this treatment will produce lifelong changes in the patient's overall health, comfort and appearance.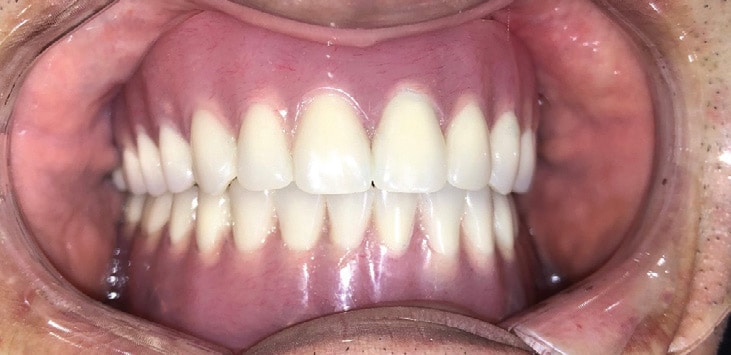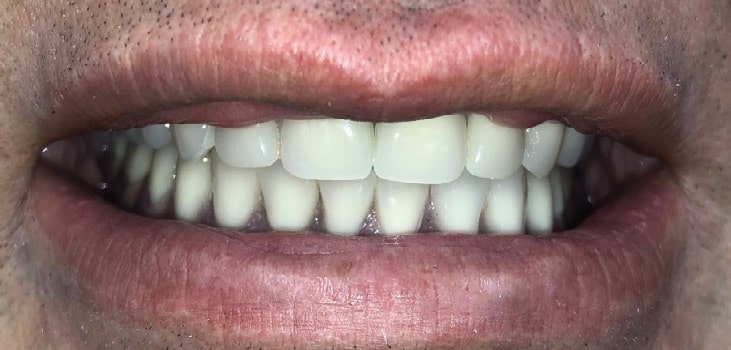 REFERENCES
Hottel TL, Chirla C. Full-mouth restoration of a heavy smoker with diabetes. Decisions in Dentistry. 2022;8(8):30–33.
Messias A, Nicolau P, Guerra F. Different interventions for rehabilitation of the edentulous maxilla with implant-supported protheses: an overview of systematic reviews. Int J Prosthodont. 2021;34:s63–s84.
Moynihan PJ, Elfeky A, Ellis JS, Seal CJ, Hyland RM, Thomason JM. Do implant-supported dentures facilitate efficacy of eating more healthily? J Dent. 2012;40:843–850.
Zembic A, Wismeijer D. Patient-reported outcomes of maxillary implant-supported overdentures compared with conventional dentures. Clin Oral Implants Res. 2014;25:441–450.
Borges GA, Barbin T, Dini C, et al. Patient-reported outcome measures and clinical assessment of implant-supported overdentures and fixed protheses in mandibula edentulous patients: A systematic review and meta-analysis. J Prosthet Dent. 2022:127:565–577.
ELsyad MA, Elhaddad AA, Khirallah AS. Retentive properties of O-ring and locator attachments for implant-retained maxillary overdentures: an in vitro study. J Prosthodont. 2018;27:568–576.
Zou D, Wu Y, Huang W, et al. A 3-year prospective clinical study of telescopic crown, bar, and locator attachments for removable four implant-supported maxillary overdentures. Int J Prosthodont. 2013;26:566–573.
Singh R, Parihar AS, Vaibhav V, Kumar K, Singh R, Jerry JJ. A 10 years retrospective study of assessment of prevalence and risk factors of dental implant failures. J Family Med Prim Care. 2020;9:1617–1619.
From Decisions in Dentistry. October 2022;8(10)28-31.