Ergonomically Optimal Loupes Support Proper Practice Posture
By encouraging an ideal working posture, LumaDent's ErgoPrism loupes help eliminate the musculoskeletal stress of daily practice.

Procedural outcomes and clinical efficiency both depend on clinicians having a clear view of the field of operation. ErgoPrism loupes from LumaDent accomplish all this and more by allowing operators to maintain ergonomically optimal positioning during care. ErgoPrism's patented design enables practitioners to work with a neutral posture, which means the joints are not bent or twisted into unnatural positions. This reduces stress on the musculoskeletal system and also requires minimal energy, so providers are not physically exhausted at the end of each shift (Figures 1A and 1B).
INVEST IN CLINICAL HEALTH
Maintaining a neutral posture is more important than many clinicians realize, as it affects breathing and blood flow, not to mention the pain and wear caused by either not using magnification at all, or choosing traditional loupes that require providers to bend the neck and back.
ErgoPrism loupes help oral health professionals maintain proper positioning by effectively eliminating the concept of declination angle. Thanks to LumaDent's roof pentaprism technology (Figure 2), that concept is obsolete, as the loupes allow clinicians to maintain an ideal position without bending or straining.
This technology also reduces eye strain. While traditional loupes require clinicians to look down through the oculars, ErgoPrism oculars allow providers to use the loupes in a more natural way. They support stress-free care because users view the oral cavity by looking in a forward, neutral direction rather than down. This minimizes eye fatigue and even cervical strain.

SUPERIOR OPTICAL SYSTEM
ErgoPrism's long optical length not only provides higher magnification than traditional Galilean loupes, the optical-grade glass also ensures a crystal-clear view of the working area from edge to edge. Equally helpful, the loupes offer an adjustable focus-distance feature that's great for minor adjustments when changing procedures, patients or operatories.
LumaDent's innovative design means clinicians can see more than the unaided eye in two important ways. First, the prism construction provides a wider field of view than traditional Galilean loupes. Secondly, ErgoPrism supports an ergonomic posture that moves the head 2 to 4 inches further from the working area than conventional loupes would allow. This means the loupes are able to magnify more working area than traditional loupes. An additional benefit is improved infection control, as being further from the working area reduces the risk of contamination.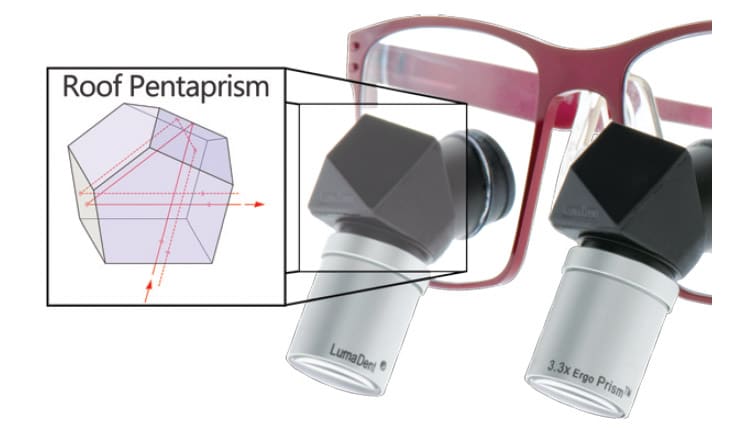 CONCLUSION
Not only is the view through these loupes superior to traditional designs, peripheral vision is enhanced as well. Customizing ErgoPrism loupes to each user's specifications allows a greatly expanded peripheral view. This means it's easy to look outside of, or around, the oculars because they don't block vision as do ordinary loupes.
Available in through-the-lens magnification levels of 3.3x, 4.3x or 5.0x, light weight, compact, and prescription-compatible ErgoPrism loupes combine powerful magnification and ergonomic efficiency that support superior clinical outcomes. LumaDent's new design allows a neutral practice position that reduces eye strain, as well as neck and back pain. And that's a recipe for a happier, longer, and more productive career.
LUMADENT
775-829-4488
From Decisions in Dentistry. September 2022;8(9)26.