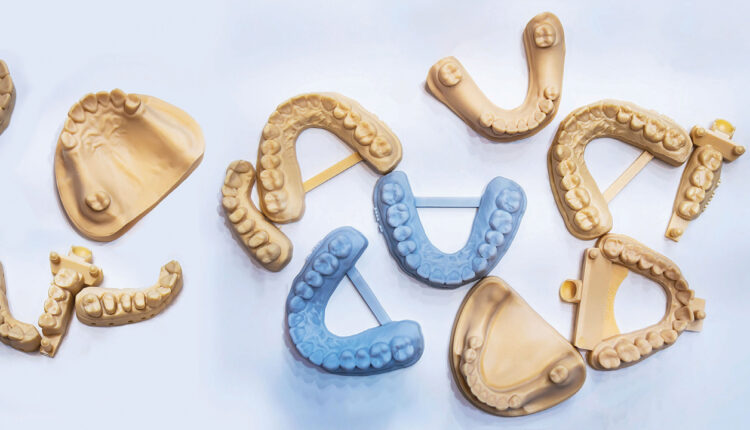 Embracing the
3D Revolution
Chris Griffin, DDS, FAGD, shares his decade-long journey as an early adopter of three-dimensional printing technology
The world of dentistry has undergone a revolutionary transformation with the advent of three-dimensional (3D) printing technology. Early adopters like Chris Griffin, DDS, FAGD, a dedicated dentist and technology enthusiast, recognized the potential of 3D printing to revolutionize dental practices. In this article, we explore his journey as an early adopter of 3D printing technology and how it has transformed his practice.
The Impetus for Early Adoption
When asked about the motivation for becoming an early adopter of 3D printing in dentistry, Griffin humorously shared, "I was a big Star Trek fan and it always amazed me when they used a replicator to make food and other items out of thin air. I argue that a 3D printer is basically a Star Trek replicator — as long as the things you need are crowns, dentures, nightguards, models, etc. The concept of transforming a vat of liquid into something unique that can be used by individuals to better their health still boggles my mind."
Driven by the desire to offer better health solutions to his patients and intrigued by the freedom that 3D printing offered, he became an advocate of the technology.
Early Days of Three-Dimensional Printing in Dentistry
In 2013, Griffin decided to explore 3D printing in dentistry, even before 3D scanners were widely available. He invested $25,000 in a 3D printer, despite limited applications at the time due to the lack of United States Food and Drug Administration-approved resins for permanent use.
After a lot of trial and error, Griffin and his team made some headway. "We developed a technique where we would actually scan an existing denture in my cone beam and export that image to software that converted the image into a 3D model we could send to the 3D printer. I even gave a lecture on that process in 2015 in what I believe was the first ever lecture on 3D-printed dentures to a crowd in Nashville.
"In 2020, I again made a huge investment of time and resources into 3D printing. I took some time off that year, which gave me the chance to dive back into the technology and upgrade my 3D printing in every area of my practice. Now we print multiple items every single day," he explained.
Applicability for Different Dental Practices
With such a wide range of applications, most dental practices may want to consider making this investment. Griffin noted, "I honestly don't know of any practice type that couldn't benefit from incorporating some 3D printing into their workflow. We have a robust general practice and offer a wide variety of services, from nightguards to indirect resins and everything in between.
"Fee-for-service practices also use 3D printing for high-end procedures, such as implant procedures or full-mouth makeovers. Medicaid-based practices use 3D printing to conserve lab fees for dentures. Any practice that wants to get away from alginate and stone can scrap their stone lab when they invest in a digital scanner and a 3D printer."
"While making such a significant investment may not be appealing to dentists who are nearing retirement, investing in 3D printing will only make that practice more valuable and more attractive to potential buyers," Griffin surmised.
Recouping the Investment
A major stumbling block to some dentists is concern regarding how quickly they will see a return on their investment.
Griffin had some good news on this front, "In 2020, when I got really serious about 3D printing, I purchased a printer and a curing unit for $10,000. Remember, this was 2020 and there very few places to find help in learning how to implement different procedures, much less how to use the most effective systems on each procedure. Still, I was able to recoup that investment over 21 days on eight cases.
"It sounds hard to believe, but I account for every penny and that time frame worked out even with me making tons of mistakes. If I knew then what I know now, I believe I could have made back my investment in 2 weeks or less. The savings are truly amazing."
Role of Trained Staff
In Griffin's practice, a dedicated dental assistant, who is trained in all aspects of 3D printing and supporting technologies, controls the in-office 3D printing lab.
"Her adoption of that role in my office has been so successful that I believe every practice should appoint a 3D technology auxiliary and it's likely to be the next recognized auxiliary in dentistry. It just makes everything run much more smoothly when one staff member takes the lead. Of course, all clinical staff, including dental hygienists, are trained in these technologies," explained Griffin.
Expanding Applications of 3D Printing
In-house 3D printing provides dentists with unprecedented control over the workflow and cost. By reducing lab bills and producing appliances more quickly, dentists can increase case acceptance and offer more competitive fees, resulting in improved patient satisfaction and loyalty.
One of the significant benefits of in-house 3D printing is the ability to offer clear aligners independently. Griffin reveals that producing their own clear aligners has become the most common procedure for which they use 3D printing in his practice. The overhead reduction from making aligners in-house allows them to offer substantial savings to their patients, leading to a surge in aligner cases.
He further shares that the versatility of 3D printing extends to fabricating nightguards, surgical guides, and both temporary and permanent crowns. The technology has also made it possible to create immediate or interim dentures with ease and precision, benefitting patients who require such solutions.
"We have used physical impression techniques and analog lab processes in this profession for a century or better. Make no mistake, converting to a digital powerhouse utilizing 3D technologies is a complex change," Griffin surmised. "There will always be pushback from staff when these types of changes occur. You need to make sure that you have a vision for what you want to accomplish from installing these new technologies. Beyond that, you need to provide training to give your team the skills they need for success. Make sure they have all the resources they need to put them in an environment for success and I also encourage my dentists to find a way to reward their team for making this change a success. Remember, once you master 3D printing in your practice, the sky is the limit."
Conclusion
Thanks to early adopters like Griffin, 3D printing technology has become a game-changer in the dental industry. The ability to produce high-quality, cost-effective dental solutions in-house has not only benefited dental practices financially but also allowed them to provide better care to patients. As this technology continues to advance, the dental community is embracing its potential for even greater innovations and improvements in patient care. Embracing 3D printing in dentistry is not just about being at the forefront of technological advancements, it is about enhancing patient experiences, improving efficiency, and elevating the standard of care. The future of dentistry is undoubtedly intertwined with the limitless possibilities of 3D printing.
Practice Stats
---
Griffin Dental Group
Located in Ripley, Mississippi, a Rural Town of 5,000 People
Medium-Volume Practice
Member of Three Preferred Provider Organizations
Goal to Become Completely Fee-for-Service in the Future
One Dentist with Nine Team Members
---
From Decisions in Dentistry. September 2023; 1(8):20-22