SoftSmile Makes its International Debut at 2023 TPAO Congress
SoftSmile will highlight how the industry can significantly improve the treatment of complex cases and empower orthodontic professionals to own their digital treatment planning workflow. For the first time ever, SoftSmile will offer live demos of VISION, its automated treatment planning software, in the German market to demonstrate its ease of use and lifelike graphics.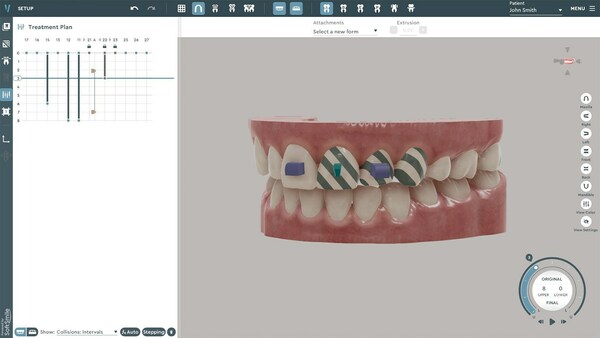 At the heart of SoftSmile's TPAO showcase is the VISION Web Portal, an innovative platform designed to augment digital workflows and revolutionize treatment planning. This cutting-edge portal offers many benefits to orthodontic professionals:
Unique Algorithms: Proprietary AI ensures confidence in the proposed treatment plan.
Efficiency: Save time with efficient communication between patients, doctors, and techs.
Ease: Seamlessly manage cases and adjust treatment plans.
Flexibility: Design custom workflows with a variety of services and integrations.
Compatibility: VISION works with all 3D printers so doctors can print aligners in-house.
Cost-Effective: Doctors pay per case, eliminating hidden fees or monthly subscriptions.
Enhanced Patient Engagement: Patients can see before-and-after images helping them to visualize anticipated results.
Traditionally, professionals had to outsource various parts of the clear aligner development processes with long lead times and costly design and fabrication costs. The advent of advanced digital treatment planning software like VISION and the latest 3D printing technology means industry professionals can choose how to approach their design and manufacturing process.
About SoftSmile Inc
SoftSmile is a New York-based technology company that helps orthodontists deliver custom, high-quality, and affordable treatment to their patients. Established in 2020, SoftSmile designs and develops an advanced, AI-driven orthodontic software that applies innovative algorithms based on sound biomechanical and mathematical principles in a user-friendly interface. This product gives orthodontists unparalleled control and precision of the treatment they deliver to their patients. SoftSmile was created by doctors, for doctors. Learn more at https://softsmile.com/.