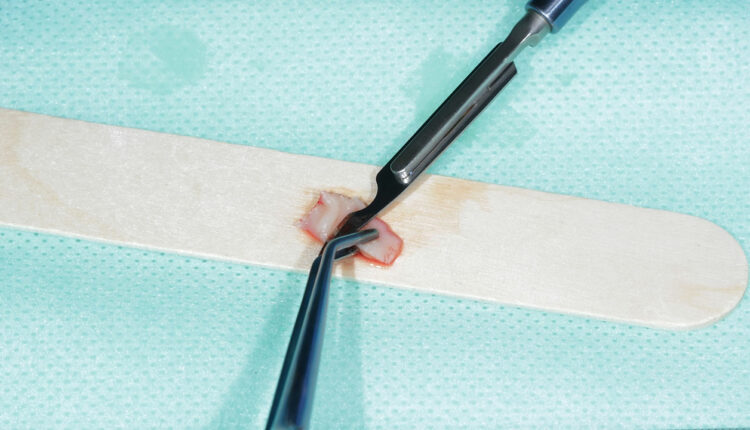 Enhancing Patient Comfort and Healing in Gingival Grafting
This technique can be highly effective and need not cause unnecessary pain to the patient.
Gingival grafts have been used for decades to stop recession (Figure 1 and 2), augment tissue to prevent recession around restorations1 (notably around recently placed restorations), and to facilitate brushing when the tissues are thin, sore and receding (Figure 3 and 4). Originally reported by Sullivan and Atkins2 in 1968, these grafts remain effective and poplar today, but can be associated with postoperative pain and complications from an open palatal wound if not managed carefully.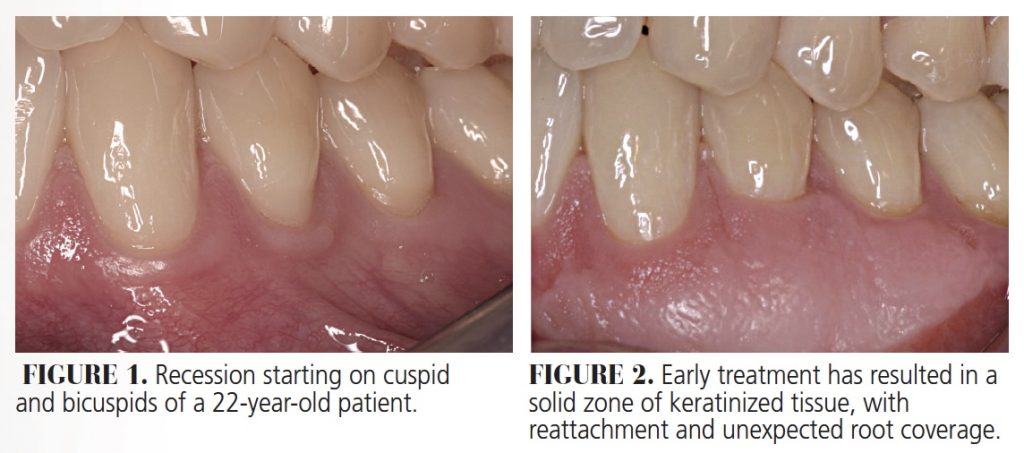 At times, patients push back against a recommendation to undergo gingival grafting from the palate. Patients report having heard worrisome stories about painful experiences and difficulty eating due to discomfort from the palatal donor site. Complications have also been long reported and should not be dismissed.3 The good news is that palatal discomfort no longer needs to be a reality. Clinicians can, with confidence, reassure patients that a comfortable experience is possible by using the straightforward approach described in this paper.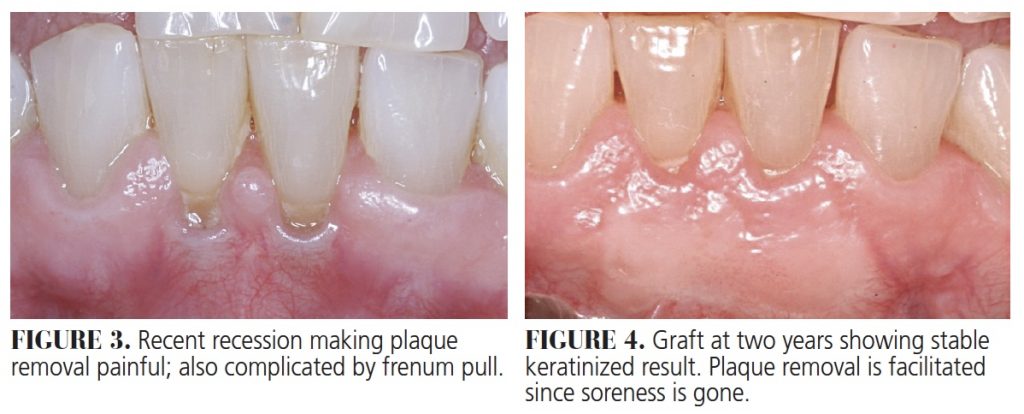 This technique has been reported by others and shows the benefits of using a palatal stent, plus a collagen wound dressing, to manage postoperative pain and complications following gingival grafting.4 Otherwise, reports have indicated that grafting can result in bleeding, pain and possibly slower-than-hoped-for healing.5 Consequently, when patients express objections and fear, some oral health professionals are hesitant in recommending these procedures. When grafting is clinically indicated, the use of a palatal stent and collagen dressing will minimize the possibility of a periodontal dressing falling off the palate, exposing the wound and leaving patients unhappy.
Researchers at Gazi University in Turkey investigated several methods for managing palatal comfort,5 including use of an Essix retainer, collagen fleece and low-level laser therapy. The collagen (as used in their study) was held in place with sutures. Each approach was hypothesized to improve comfort and healing.
REFERENCES
Wennstrom J. Mucogingival therapy. Ann Periodontol. 1996;1:671–701.
Sullivan HC, Atkins JH. Free autogenous gingival grafts. Principles of grafting. Periodontics. 1968;6:121–129.
Brasher WJ, Rees TD, Boyce WA. Complications of free grafts of masticatory mucosa. J Periodontol. 1975;46:133–138.
Nettem S, Nettemu SK, Singh VP, Nayak SU. Free gingival graft: an effective technique to create healthy keratinised gingiva. Indian J Menodent Allied Sci. 2018;6:30–34.
This information originally appeared in Kohner J. Maintaining palatal comfort following gingival grafting. Decisions in Dentistry. 2020;6(10):10-12.