W&H Launches the Piezomed Module: a Breakthrough in Oral Surgery
W&H's (800-265-6277; wh.com) new Piezomed module is a game-changer in piezo surgery that can be used in conjunction with clinicians' existing Implantmed Plus as a simple add-on solution. With this innovation, W&H is breaking new ground in surgical applications. This modular system combines expertise from different fields to create entirely new treatment options in the periodontal and oral surgery specialties, including implant surgery.
Adaptable to the user's specific requirements, the Implantmed Plus by W&H is now a true all-arounder thanks to the new Piezomed module that combines an implantology motor and piezo surgical unit in one device. This means the Implantmed can be used with the Piezomed module to cover several surgical applications.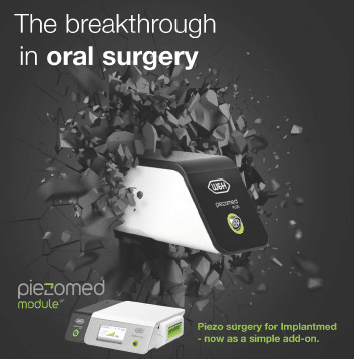 With its Piezomed Plus and Piezomed Classic, W&H has two modules available to meet all piezo surgery needs. Featuring standardized operation that simplifies clinical workflows, this modular system's contra-angle handpieces allow procedures to be performed with unrivalled precision, while the wireless foot control ensures greater comfort and freedom of movement. By combining implantology and piezo surgery capabilities in a single system, W&H's easy add-on ensures seamless transition between the two technologies.
Visit W&H's Booth 126 at the 2023 Academy of Osseointegration Annual Meeting on March 16–18 in Phoenix, Arizona, for a product demonstration — or schedule an appointment with its knowledgeable team of experts. 
Click to learn more about the Piezomed module and to download a Clinical & Application eBook.