Dental Ergonomics Book Published by Decisions in Dentistry Contributor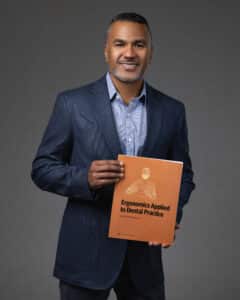 Decisions in Dentistry contributor Juan Carlos Ortiz Hugues, DDS, CEAS, has just published Ergonomics Applied to Dental Practice, a 132-page book that's designed to help oral health professionals avoid common musculoskeletal disorders that can not only cause discomfort and fatigue — but also cut short a career if not addressed and corrected. This book teaches dental teams how to prevent these disorders by adopting the four principles of dental ergonomics: knowledge of body biomechanics; using an ergonomic stool; implementing four-handed dentistry; and working with magnification. These principles aim to keep the body in a comfortable neutral posture throughout the working day, enabling dentists to practice and live pain-free.
Ortiz Hugues shares insights into the implementation of these principles in his Decisions' Continuing Education article "The Importance of Ergonomics in Dentistry" (January 2023 issue), available here.