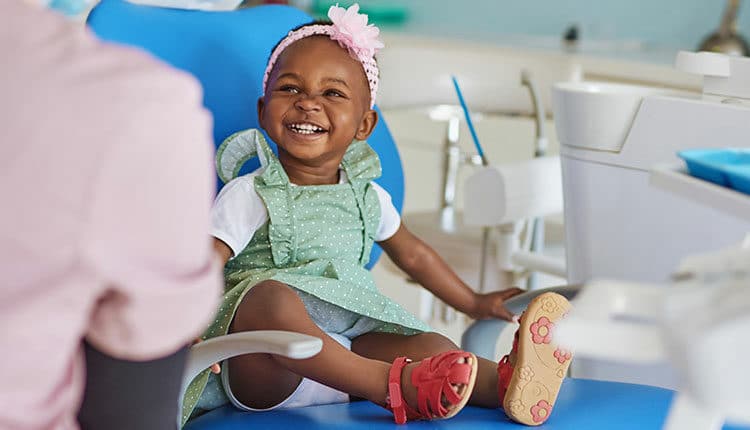 Children's Oral Healthcare Begins With Better Access to Essential Services
A call-to-action to increase access to dentists and dental hygienists in underserved communities
February is Children's Dental Health Month, marking a time to highlight oral health's link to overall health and build healthy lifelong routines. A key reason for establishing good dental hygiene practices at a young age is to prevent common dental issues such as caries—among the most common chronic diseases for children.
As a precursor to permanent teeth, it is important to take care of the primary dentition, as this is critical to not only a child's well-being, but also the healthy development of the permanent dentition. Poor oral health in children increases the risk of developing other chronic diseases and illnesses, particularly among those in underserved communities. This can negatively impact a child's social interactions, school attendance, and academic performance. It is important for parents and caregivers to ensure that children have access to regular dental check-ups and proper oral hygiene education.
BARRIERS TO ORAL HEALTHCARE
The first step in maintaining healthy primary teeth is developing a consistent oral hygiene routine. At six months of age or with the eruption of the first tooth, parents and caregivers should brush the child's teeth twice a day, floss daily, and establish a dental home by taking the child for regular check-ups twice a year. Establishing healthy oral hygiene habits early lays the foundation for a lifetime of optimal oral health.
Unfortunately, many children in the United States do not receive adequate preventive dental care, which can lead to poor oral health. Why is this so common? Dental services have often been regarded as separate from essential medical care, making them significantly less affordable and accessible for many. In fact, oral healthcare has greater financial barriers than any other healthcare service in the U.S., which is true regardless of income, age, or source of dental benefits. Despite Medicaid benefits, less than half of all Medicaid-eligible children receive preventive dental services. Parents' and caregivers' lack of education about the importance of oral health contributes to the problem of children not receiving the benefits entitled to them.
Oral health disparities affect millions of children in America. The U.S. Centers for Disease Control and Prevention (CDC) offers data stating that for children ages 2 to 5, about 33% of Mexican American and 28% of non-Hispanic Black children have had caries in their primary teeth, compared with 18% of non-Hispanic white children. Among those ages 12 to 19, nearly 70% of Mexican American children have had caries in their permanent teeth, compared with 54% of non-Hispanic white children.
The CDC also highlights the link between untreated caries and family income. For children ages 2 to 5, 17% of children from low-income households have untreated caries—three times the percentage of children from higher-income households. By ages 12 to 19, 23% of children from low-income families have untreated caries in their permanent teeth—twice that of children from higher-income households.
OVERCOMING HURDLES AND EXPANDING ACCESS TO CARE
In the last 20 years, public health infrastructure for oral health has struggled to address the dental needs of underserved populations. For example, insurance coverage for dental care lags behind medical insurance, and for every child under 18 without medical insurance, at least two lack dental coverage. At the same time, eligibility for Medicaid does not ensure enrollment.
The most current data suggest that less than half of Medicaid-eligible children receive the preventive dental services they need. Fortunately, a promising new method of geographical analysis developed by the American Dental Association's Health Policy Institute allows policymakers to identify state-by-state "hotspots" with insufficient access to dental services by isolating the Medicaid population with the goal of driving targeted reforms.
Another milestone for oral health was reached in 2021 when the Centers for Medicare and Medicaid Services appointed Natalia Chalmers, DDS, PhD, as the agency's first chief dental officer. Previously serving as a pediatric dentist, Chalmers has already made strides to improve dental health equity and access to care. However, despite advances in public health coverage, gaps in insurance, access, and education continue for the disadvantaged.
EDUCATING FAMILIES ON HEALTHY HABITS AND DRIVING RESOURCE AWARENESS
This Children's Dental Health Month, let us make it a priority to educate our children, family, friends, and neighbors about the importance of oral health, and encourage them to find a dental home for routine and ongoing care. After all, better oral healthcare begins with better access to essential dental services.
Children enrolled in Medicaid and the Children's Health Insurance Program have coverage for dental services, including check-ups, radiographs, fluoride treatments, dental sealants, restorations, and more. Families can find information on health insurance programs and dental providers in their state by visiting InsuranceKidsNow.gov through the interactive map.
For 2023, let's collectively help improve the oral health of every child by providing them with greater access to high-quality dental care.