Ultradent Introduces J-Temp — A Light-Cured, Premixed Temporary Resin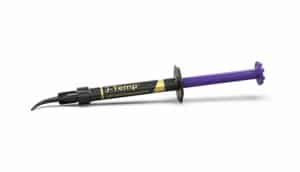 Ultradent (800-552-5512; ultradent.com), a leading developer and manufacturer of high-tech dental materials, has announced its newest offering, J-Temp Temporary Resin, a premixed, light-cured temporary resin designed for multiple applications and ease of use.
Engineered for maximum usability — offering four solutions in just one syringe — dentists can utilize J-Temp Temporary Resin for everything from bite ramps and temporary occlusal buildups to temporary restorations and even splinting between implant copings.
J-Temp Temporary Resin features a consistency that's viscous enough that it won't run, but fluid enough to be self-leveling and easy to manipulate in the operatory. Ultradent recommends using J-Temp Temporary Resin with its Black Mini tip for simple, precise placement. When it comes to removal, the resin's light purple color allows for easy identification — making for a seamless experience for the clinician.