American Academy of Cosmetic Dentistry Hosts Celebration of Excellence Awards
Nominate Outstanding Colleagues for the AACD Evy Awards
Since 1988, the American Academy of Cosmetic Dentistry (AACD) has publicly recognized dental professionals who make a difference to the academy, profession and their communities. The AACD's Evy award categories include:
Membership-wide awards
Excellence in Cosmetic Dentistry Education Award
AACD Humanitarian Award
Lifetime Achievement Award
Outstanding Service to the Academy Award
Dr. Nathaniel D. Hill Rising Star Award
Industry-wide award:
Journal of Cosmetic Dentistry Award
Learn more about each of these award categories at aacd.com/evy-awards. If you know of colleagues who are making significant contributions to the field of cosmetic dentistry and/or to the academy itself, please nominate them for one of these distinguished awards. The AACD would like to thank and recognize these outstanding individuals who have made a tremendous impact.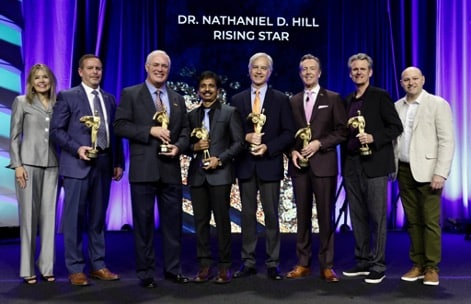 The Evy Awards will be presented during the Celebration of Excellence closing reception at the AACD 2023 Texas Scientific Session. Nominations are due by December 16 at 11:59 p.m. CT.
For more information and to complete a nomination form, please visit aacd.com/evy-awards.
About the American Academy of Cosmetic Dentistry: The AACD is the world's largest nonprofit member organization dedicated to advancing excellence in comprehensive oral care, combining art and science to optimally improve dental health, esthetics, and function. Comprised of nearly 4000 cosmetic dental professionals in 70 countries worldwide, the AACD fulfills its mission by offering superior educational opportunities, promoting and supporting the respected accreditation and fellowship credentials, serving as a user-friendly and inviting forum for the creative exchange of knowledge and ideas, and providing accurate and useful information to the public and the profession.