Inaugural AMPLIFY Conference for Practice Growth Through Innovation Scheduled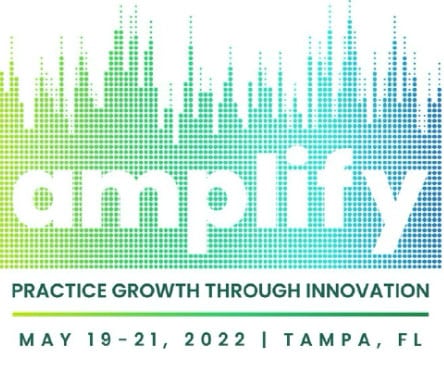 Simplifeye, a leading provider of patient communication and dental practice workflow solutions, has announced that it will host its inaugural AMPLIFY conference, scheduled May 19 to 21 in Tampa. The conference is designed to help dental professionals understand and navigate the fast-changing dental technology landscape and make better investments to grow their practices.
"We created the AMPLIFY conference because simply hearing a great sales pitch is no basis for making critical technology platform decisions," states Ryan Hungate, DDS, founder of Simplifeye. Hungate's experience as an orthodontist and as a former retail workflow designer for Apple stores gives him a unique perspective on the intersection of dentistry and technology. "In this era of transformation that includes potentially staggering innovations like AI, blockchain and Web 3.0, technology decisions will separate practices that thrive from those that merely survive. We're providing a slate of technology experts, and a comfortable environment for dentists to explore and learn, sending them home with a playbook of options designed to immediately improve operations and increase profitability."
The conference, "AMPLIFY: Practice Growth Through Innovation," features thought leaders from the industry, dental practices, DSOs, and practice management consulting ranks to provide a range of perspectives on using technology to achieve dental practice excellence. For the complete list of speakers visit amplifycon.com.
Topics include:
What types of AI and other technology are dental practices using today?
Which innovations will be transformative versus those that are passing fads?
What practices really need to know about blockchain, cryptocurrency and Web 3.0.
How teams can work smarter, not harder.
Strategies to pay for the tech you need and want.
Getting the dental team to embrace technology and maximize ROI.
Knowing if a technology investment will benefit your growth and/or exit strategy.
"Technology is changing consumer behavior globally, and healthcare practices — including dental offices — need to adapt to stay competitive," says Cindy Roark, DMD, chief clinical officer and senior vice president for Sage Dental, a DSO with 76 practices. Under Roark's direction, Sage Dental is deploying AI-driven solutions to improve the quality of care, accuracy of diagnosis, and overall patient experience. "Providing a forum like AMPLIFY is valuable in demystifying tech and providing a level of comfort for dentists in charting a path for growth," notes Roark, who will be among the featured speakers.
Dentists, DSO executives, operations managers and practice managers are encouraged to register for the conference at amplifycon.com with the promo code AMP22 to receive a $100 discount.
About Simplifeye: Simplifeye provides software solutions that digitize and improve existing processes that are core to many healthcare practices. The company currently serves 8000 practices and has facilitated more than 600,000 patient appointments. For more information or a Simplifeye demo, visit simplifeye.com.