BIOLASE and EdgeEndo Announce FDA 510(k) Clearance for the New EdgePRO Laser-Assisted Microfluidic Irrigation Device for Endodontists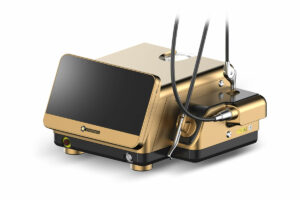 BIOLASE, a leading provider of dental lasers, and EdgeEndo, a global leader in commercializing endodontic products, have announced receiving U.S. Food and Drug Administration 510(k) clearance for the EdgePRO system for clinicians seeking a more effective cleaning and disinfection alternative for root canal procedures. The new laser-assisted microfluidic irrigation device offers an advanced solution to current cleaning and disinfection techniques, without disrupting procedural workflows or adding substantial cost on a per-procedure basis.
The EdgePRO laser-assisted microfluidic irrigation device is built upon BIOLASE's patented and proven Er,Cr:YSGG 2780-nm wavelength laser technology that has been shown to provide outstanding debridement, cleaning and disinfection by removing infected tissue, biofilms and smear layer. It also kills up to 99% of bacteria commonly found in the root canal through the combination of advanced laser light-sound technology with traditional irrigation solutions.
BIOLASE will manufacture the EdgePRO system, consumable procedure tips, and accompanying accessories for EdgeEndo, which will capitalize on its unique ability to commercialize high-quality, innovative products within the endodontic specialty. 
EdgeEndo will begin selling the EdgePRO system and related products immediately within the United States, and will work closely with BIOLASE to ensure the needs of the endodontic community are satisfied with this enabling technology platform.
"This clearance allows clinicians to access state-of-the-art technology that has the potential to improve clinical outcomes and patient experiences. We remain committed to offering products and solutions that may enhance specialist skills in providing the highest quality of care for their patients, while producing streamlined efficiencies for practices in a cost-effective manner," notes Charles Goodis, DDS, EdgeEndo founder and CEO. "We are proud to partner with BIOLASE in our combined effort to service and support the specialty with innovative and effective technologies that may elevate the quality of dental care." 
"We're very pleased to complete our first OEM project, receive FDA 510(k) clearance, and deliver EdgePRO units to EdgeEndo in only 12 months," adds BIOLASE President and CEO John Beaver. "This achievement is an excellent example of cross-functional teamwork between our two market-leading companies, and we look forward to a long and valuable relationship ahead."
To learn more about the new EdgePRO laser-assisted microfluidic irrigation device, visit edgeproendo.com  To learn more about the benefits of Waterlase technology in endodontics, visit biolase.com/betterendo.
Note: References on file with the respective companies.