Henry Schein Chairman and CEO Stanley M. Bergman Honored by National Hispanic Health Foundation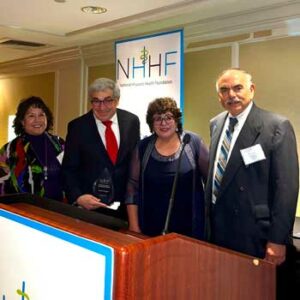 Stanley M. Bergman, chairman of the board and CEO of Henry Schein, Inc., was recognized by the National Hispanic Health Foundation (NHHF) for his leadership in helping to improve health equity and supporting the needs of Hispanic communities and healthcare professionals. The NHHF, which is the philanthropic arm of the National Hispanic Medical Association (NHMA), honored Bergman at its 18th Annual New York Hispanic Health Professional Student Scholarship Gala.
During his address, Bergman thanked Dr. Elena Rios, president and CEO of NHMA, and president of the NHHF, and recognized three other distinguished Hispanic Health Leadership Award honorees, including Dr. Erica Friedman of the City College of New York School of Medicine, Sylvia Puente of the Latino Policy Forum, and Dr. Chinyere Anyaogu of North Central Bronx Hospital.
Over the years, Henry Schein has supported the mission of NHHF and NHMA to recruit more members of the Hispanic community into healthcare careers, advocate for increased Hispanic faculty at dental and medical schools, and improve access and equity in care. Most recently, the Henry Schein Cares Foundation has supported the efforts of NHHF and NHMA to reduce vaccine hesitancy and bridge cultural barriers to vaccine access in Latino communities.
"I am honored to receive this wonderful award on behalf of Team Schein, and recognize the critical role NHMA plays in fostering positive and progressive change in the U.S. healthcare system," said Bergman. "We are deeply committed to the mission of the NHHF and NHMA and celebrate the critical impact of their scholarship programs, mentorship of aspiring Hispanic clinicians, and advocacy, education and career development programs in cultivating and inspiring a new generation of Hispanic healthcare leaders."