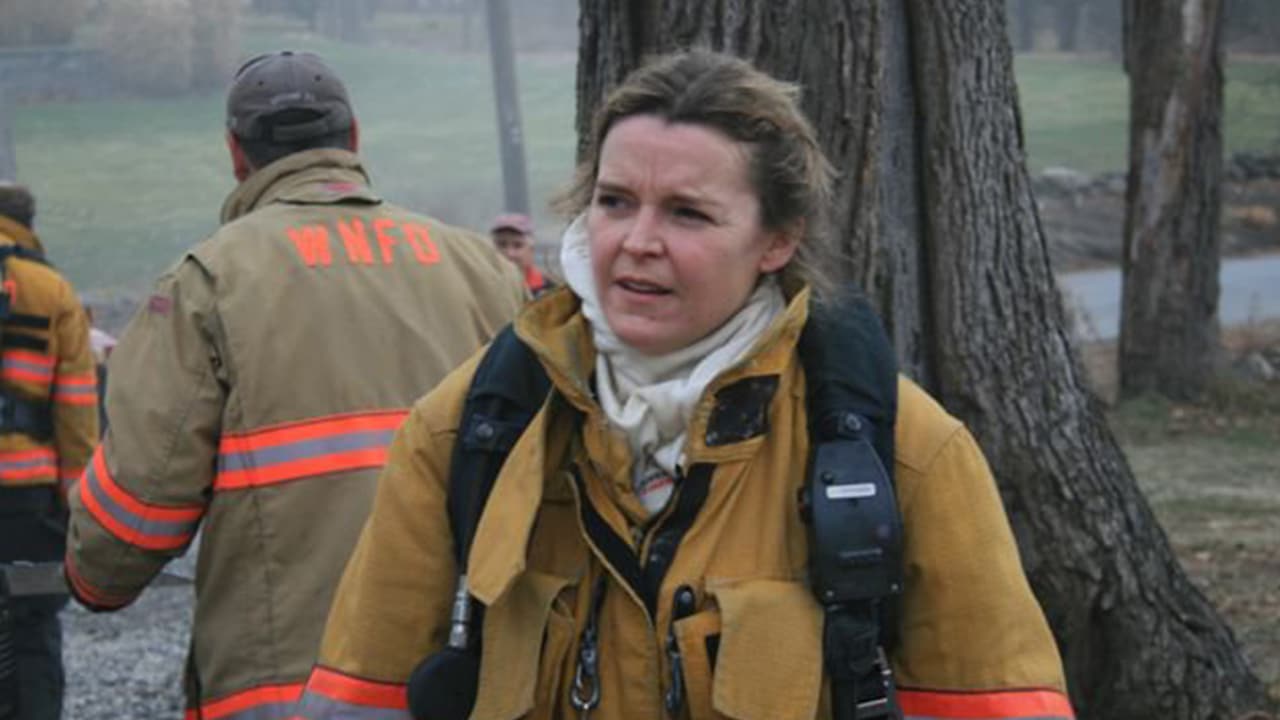 Dental Hygienist/Firefighter Focuses on Oral Cancer Prevention
Promoting overall health has fueled Firefighter Lisa Evans, RDH, BA, EMT, throughout her 16-year dental hygiene career, as she opted to build on that passion by transitioning from hygienist to nationally certified call/volunteer firefighter. This new role allows her to spread the word about how firefighters are at increased risk for oral cancer and how clinicians can support the earliest diagnosis possible.
Inspired by her husband, David Evans', work as a deputy chief on the West Newbury Fire Department, Evans asked to join the department to help with community medical calls. When the chief asked if she'd also be willing to be trained for firefighting, Evans enrolled in the Massachusetts Firefighter Academy to become a firefighter for her town, and nearby Groveland.
For 6 months, Evans participated in the 240-hour program that consisted of academic and physical strength tests, with the latter being the most daunting. Every test was done while wearing heavy equipment, such as a 35-lb self-contained breathing apparatus (SCBA) that was worn while completing a two-level maze that simulates a home fire in smoke conditions with no visibility.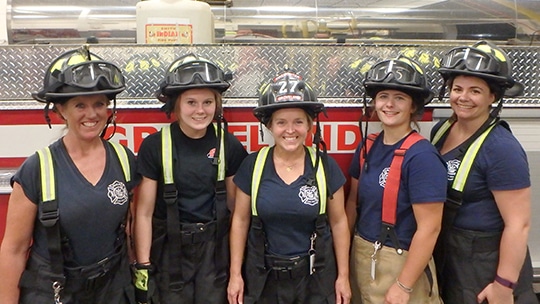 "We had to wear bunker gear and the SCBA during most hands-on testing, which adds an additional degree of difficulty especially when trying to find your way through the maze," she says. " It is a two-level maze that you go through in the dark and feel your way, going over, under, and through all different types of firefighter obstacles."
Several aspects of the academy's training were new to Evans as she developed new skills, such as finding the strength to throw a 24-ft. ladder. However, she was able to rely on her years of dental hygiene experience of reviewing a patient's pertinent medical history, and her knowledge of anatomy, biology, and pathology, during her training to become a Nationally Registered Emergency Medical Technician.
As part of her ongoing firefighting continuing education, Evans attends several conferences and seminars, including the Massachusetts Fire Academy Cancer Awareness class. It was there where she learned firefighters are at increased risk of cancer, particularly oral cancer.
A US Centers for Disease Control and Prevention (CDC) and National Institute for Occupational Safety and Health (NIOSH ) study published in 2013 found that firefighters from three large cities—Chicago, Philadelphia, and San Francisco—showed higher than average rates of certain cancers then the general population: digestive, oral, respiratory, and urinary cancers.1 After receiving her National I/II Firefighter Certification from the Massachusetts Fire Academy in 2011, the mother of two began educating oral health professionals on the importance of providing firefighters with oral cancer screenings every 6 months. According to NIOSH, firefighters have a 9% higher risk of being diagnosed with cancer and a 14% percent higher risk of dying from cancer than the general US population. The CDC and NIOSH established the Firefighter Cancer Registry to track the link between workplace exposures and cancer.
These numbers are a call to action for Evans who spreads the word about early oral cancer detection on social media, at dental conferences, and through daily encounters with fellow firefighters.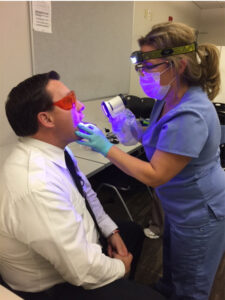 The practicing hygienist assists with on-site oral cancer screenings during firefighter trainings. With the most recent screenings held at the Massachusetts Department of Fire Services in Stow and the Massachusetts Fire Academy in Springfield.
"I provided oral cancer screening to 50 firefighters in the first day. I sent three for evaluations and those were sent back clear," she says. "I tell them they should be asking their dental hygienist for oral cancer screenings, and remind them cancer doesn't always hurt when it first starts."
It's during these evaluations when Evans educates patients on the importance of screenings and what to watch out for, such as mouth wounds that do not heal within 2 weeks and suspicious lesions. How to conduct self-oral cancer exams is also taught.
"I try to raise their awareness about things in their mouth, and increase their dental knowledge," Evans explains.
She also educates firefighters on what to expect during an oral cancer screening and reminds them early detection is paramount. For this reason, firefighters are encouraged to schedule regular dental appointments, annual physical exams, and let medical providers know that their line of work puts them at increased risk for cancer.
"Dental hygienists need to talk about the importance of screenings with patients and those who are predisposed to oral cancer," she says. " Talk about it and emphasize the need to perform at-home cancer screenings."
Evans, who currently serves as the Massachusetts Call/Volunteer Firefighters Association Region 2 Coordinator, was one of five women to join the Groveland Fire Department's team of call firefighters in July 2016. She now splits her time between practicing dental hygiene in Haverhill, Massachusetts, and firefighting, responding to calls in the towns of West Newbury and Groveland in her spare time.
REFERENCE
Daniels RD, Kubale TL, Yin, JH, et al. Mortality and cancer incidence in a pooled cohort of US firefighters from San Francisco, Chicago and Philadelphia (1950–2009). Occup Environ Med. 2013;1–10.