Straumann Partners With Lucy Hobbs Project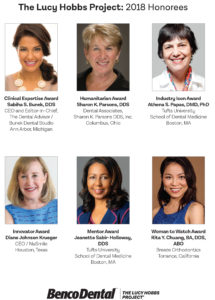 Straumann, a global leader in implant, restorative and regenerative dentistry, will present the Digital Dentistry Symposium: The Time Is Now during Benco Dental's The Lucy Hobbs Project 6th Annual Celebration, September 13–15 at The Westin St. Francis in San Francisco. Sponsored by Midmark, the three-day event celebrates women in dentistry.
Opinion leaders and experts in digital dentistry will lead the symposium. Topics will include: pretreatment planning, guided surgery, final restoration design, delivery, and practice management information for making digital dentistry workflows simple, efficient and profitable.
Six women will be honored for their accomplishments at a ceremony on opening day.
Sabiha S. Bunek, DDS, recipient of the Clinical Expertise Award
Sharon K. Parsons, DDS, recipient of the Humanitarian Award
Athena S. Papas, DMD, PhD, recipient of the Industry Icon Award
Diane Johnson Krueger, CEO, recipient of the Innovator Award
Jeanette Sabir-Holloway, DDS, recipient of the Mentor Award
Rita Y. Chuang, BA, DDS, ABO, recipient of the Woman to Watch Award
To register for the symposium, or for more information, visit: https://bit.ly/2NTW95q