ADA Foundation Rallies Dental Community to Improve Access to Oral Health Care for People with Special Needs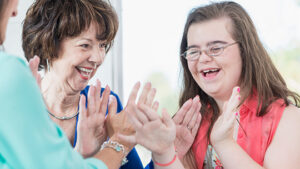 This August, the American Dental Association (ADA) Foundation is rallying the dental community to raise at least $125,000 to improve access to oral health care for people with special needs. Funds raised during the ADA Foundation Challenge will be matched dollar for dollar up to $125,000 by Henry Schein Cares. The goal of the campaign is to secure at least $250,000.
The funding will enable the ADA Foundation to provide grants to nonprofit organizations working to increase access to care for patients who, due to physical, medical, developmental or cognitive disabilities, require special consideration when receiving dental treatment. These patients may include people with autism, Alzheimer's disease, Down syndrome, spinal cord injuries and countless other disabilities or injuries that can make standard dental procedures more difficult.
To make a donation to the ADA Foundation or to learn more about this and other programs, visit ADAFoundation.org.