Kettenbach Named TOP 100 Innovator for 2018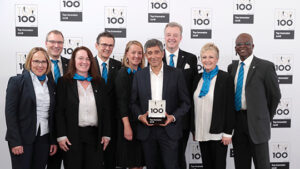 At the fifth German Mittelstands-Summit on June 29 in Ludwigsburg, Germany, Kettenbach was recognized as a TOP 100 innovator for 2018.
The TOP 100 seal is awarded by compamedia to small and medium-sized enterprises for exceptional innovation and innovative success. The businesses that receive awards have undergone an independent scientific analysis with about 100 parameters that are used as test criteria, divided into assessment categories such as "Innovative Processes and Organization," "Innovation Environment," "Top Management Fostering, Innovation," "External Orientation / Open Innovation," and "Innovative Success, " according to the company.
A company that has been active in the dental sector for more than 70 years, Kettenbach's company's portfolio includes modern materials for impression taking and bite registration and  composites for restorations.