Introducing LISTERINE's Latest Mouthwash for Sensitive Teeth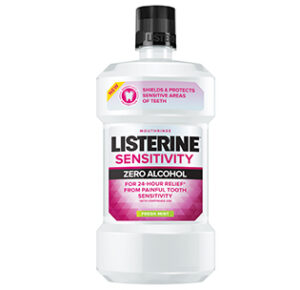 LISTERINE®'s newest mouthwash, LISTERINE® SENSITIVITY, is now available. It features a patented CRYSTAL BLOCK™ Technology that provides daily repair of damage by creating a powerful barrier for continuous sensitivity protection for 24 hours,* and it reaches virtually 100% of sensitive areas.1,3 
Most oral care sensitivity products either numb the nerve endings or create a thin protective layer on the exposed dentin.3,4 LISTERINE® SENSITIVITY blocks open tubules by depositing stable crystals both on the surface of the dentin and deep inside the tubules.1,3 It's clinically proven to give lasting relief*, and it's U.S. Food and Drug Administration-cleared for its sensitivity benefit.
Achieves 99% occlusion after 12 rinses

3
Maintains 92% tubule blockage even after challenge1*
Occlusion from competitive toothpastes erodes by as much as 50% after mechanical and acid challenge1,3†
---
*With continued use.
†In laboratory studies
References
Sharma D, Hong CX, Heipp PS. A novel potassium oxalate-containing tooth-desensitizing mouthrinse: A comparative in vitro study. J Dent. 2013;41(Suppl 4):S18-S27.
Sharma D, McGuire JA, Gallob JT, Amini P. Randomized clinical efficacy trial of potassium oxalate mouthrinse in relieving dentinal sensitivity. J Dent. 2013;41(Suppl 4):S40-S48.
Data on file, Johnson & Johnson Consumer Inc.
Canadian Advisory Board on Dentine Hypersensitivity. Consensus-based recommendations for the diagnosis and management of dentin hypersensitivity. J Can Dent Assoc. 2003;69:221-226.