AADR and Dentsply Sirona present 2018 SCADA awards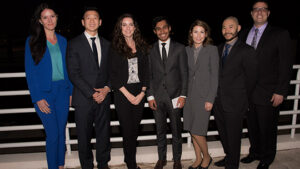 Dentsply Sirona and the American Association for Dental Research  presented awards to the winners of the 58th annual Student Competition for Advancing Dental Research and Its Application (SCADA). The award ceremony and reception took place at the Panorama Ballroom of the Pier Sixty-Six Hotel in Fort Lauderdale, Florida. The 79 participants included 61 student clinicians from the US and 18 from international programs, all of whom are winners from programs in their respective countries.
The Student Competition for Advancing Dental Research and Its Application (SCADA) program began in 1959 as a joint venture between Dentsply Sirona (then DENTSPLY International) and the American Dental Association during its centennial session in New York City. Henry M. Thornton, then president of DENTSPLY International andHarold Hillenbrand, then Executive Director of the American Dental Association (ADA), initiated the first program in New York City to promote student research and participation in organized dentistry.
Nearly 60 years later, more than 7,500 students participate in this program, including students in programs across 39 countries. In 2017, the American Association for Dental Research (AADR) joined Dentsply Sirona to co-sponsor the SCADA program. As the program has grown over the years, so too has the breadth of the research with students presenting the results of their clinical, basic and translational science or public health research.
Award categories
Three awards are presented in each category for first, second and third place. The scientific presentations are divided into two categories: Basic and Translational Science Research and Clinical Science/Public Health Research. First place recipients in both categories receive $1,000. Second place winners receive $750 and third place winners receive $500.
The 2018 AADR/Dentsply Sirona SCADA Program winners are:
Category I: Clinical Science / Public Health Research
First place: 

Nisarg Patel (Harvard School of Dental Medicine)

Second place: Galina Yakovlev (University of Minnesota School of Dentistry)
Third place: 

Viktoriya Kuchuk (University at Buffalo School of Dental Medicine)
 Category II: Basic and Translational Science Research
First place: 

Ke'ale Louie (University of Michigan School of Dentistry)

Second place: 

Timothy Yu (University of California Los Angeles School of Dentistry)

Third place: 

Bronwyn Hagen (University of California San Francisco School of Dentistry) and 

Michael Eskander (University of Texas Health Science Center at San Antonio)
"The competition provides such a fantastic opportunity to meet peers from other schools and learn more about different research endeavors taking place internationally. I feel so blessed to have met such a brilliant and driven group of people. Conducting research has brought me more fulfillment than I ever anticipated, and I'm honored to be a part of SCADA," remarked Karen Ben-Elazar from Nova Southeastern University College of Dental Medicine.
Students who have presented their research to their respective national programs become members of the SCADA alumni association. Alumni serve as judges in future competitions and benefit from networking within a global community of professionals. These connections encourage ongoing opportunities among students, dental schools, researchers and clinicians.
Teresa A. Dolan, vice president and chief clinical officer with Dentsply Sirona, is a strong advocate of the importance of supporting student research noting that, "These students are without a doubt the next generation of leaders in dentistry. It's inspiring to see the intellectual curiosity of each student and the level of research that this group has performed as a whole. It represents the spirit and purpose of the SCADA program. Congratulations to the participants and award winners in this outstanding group."
In addition to the student awards, SCADA grants fellowship funding to qualified members to help support their graduate education. SCADA also presents a faculty advisor award annually to honor the efforts of faculty in their mentoring of student research and an achievement award for outstanding dedication to the profession. To learn more about SCADA and other awards granted, visit http://www.scadaresearch.org.