Dentsply Sirona supports the Every Smile Counts Day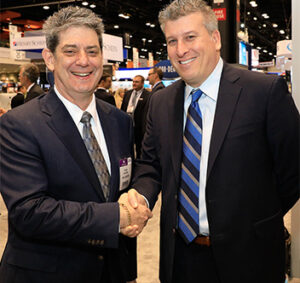 York, PA, February 26, 2018 — As an organization committed to bringing out the best in dental professionals and to the principles of Corporate Social Responsibility, Dentsply Sirona is proud to make a donation to support the dental community on February 22, 2018, the Every Smile Counts Day.
"Dentsply Sirona cares deeply about the dental community," remarks Gregory Sheehan, MBA, group vice president Dentsply Sirona Americas during the presentation of the gift on the Chicago Midwinter Meeting, "I´m really pleased that Dentsply Sirona's gift of $20,000 will enable people all over the country to receive essential dental care who otherwise couldn't afford it."
Dental professionals who purchase office supplies and dental equipment from participating companies on this day can help save a life. With every dollar raised nearly $9 in care will be generated to those who desperately need comprehensive, and oftentimes, life-saving dental treatment.
Millions of people throughout the United States with disabilities, or who are elderly or medically fragile don't have the ability to pay for vital dental care. Through Donated Dental Services (DDS), DLN's flagship program, 15,000 volunteer dentists and 3,500 dental labs donate their time and talent and serve more than 16,000 people each year who desperately need life-changing and life-saving dental care.
Since its inception in 1985, the DDS program has surpassed $365 million in donated dental therapies, transforming the lives of 118,000 people.
"Thanks to participating companies, this day supported thousands of volunteer dentists and labs nationwide in their work to help people with special needs address seriously-neglected problems," says Fred Leviton, MSHA, president and CEO of Dental Lifeline Network. "Simply put, DLN will change more lives."