New PennSmiles Mobile Clinic Expands Dental Care for Philadelphia Children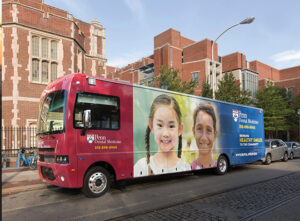 University of Pennsylvania School of Dental Medicine, with a $650,000 grant from Delta Dental of Pennsylvania, has added a new 40-foot bus to its mobile dental clinic, PennSmiles, to help serve more children in Philadelphia schools.
PennSmiles has provided preventive and restorative dental care and oral health education to more than 50,000 area children since the program's launch. The program will continue to operate the old bus along with the new one, helping expand service offerings to about 5,000 children over the course of the upcoming year, according to an original story published in PennCurrent,written by Katherine Unger Baillie.
The program works with 24 preschool, elementary and middle public and charter schools in the greater Philadelphia area.
The new high-tech, PennSmiles mobile clinic has two dental operatories outfitted with electronic health record and digital radiography capabilities.