Henry Schein Announces Finalists For Third Annual Henry Schein Cares Medal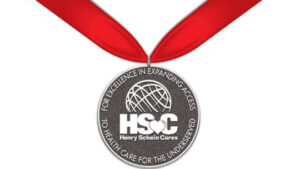 Medal Recognizes Organizations That Reflect Company's Commitment to Expanding Access to Care for People and Animals in Need 
MELVILLE, NY, Jan. 16, 2018 /PRNewswire/ — Henry Schein Inc. has announced the nine finalists for the third annual Henry Schein Cares Medal, an award given to nonprofit organizations from the fields of oral health, animal health, and medicine that demonstrate excellence in expanding access to care for the underserved.
The nine finalists (three from each field) were selected by a panel of independent judges comprised of experts from the fields of medicine, philanthropy, social entrepreneurship, and business, as well as previous Henry Schein Cares Gold Medalists. The judges will then choose from those finalists a gold, silver, and bronze medalist for each field. Winners will be announced later this year at Henry Schein's national sales meeting for each respective business unit. In alphabetical order, the finalists are:
Oral health – Community Treatment Inc. (Festus, Missouri); Mary's Center for Maternal and Child Care Inc. (Washington, DC); and My Community Dental Centers Inc. (Boyne City, Michigan).
Animal Health – Animal Refuge League of Greater Portland (Westbrook, Maine); Brooke USA Inc. (Lexington, Kentucky); and the Massachusetts Society for the Prevention of Cruelty to Animals (Boston).
Medicine – Care 2 Communities (St. Paul, Minnesota); Community Volunteers in Medicine Inc. (West Chester, Pennsylvania); and The Night Ministry (Chicago).
Each medalist will receive a cash award, through the support of the Henry Schein Cares Foundation Inc, in the following amounts: $15,000 for gold, $10,000 for silver, and $5,000 for bronze. In addition to the cash awards, each finalist will receive $10,000 worth of product from Henry Schein.