Oral Health America Receives Commitment from Retirement Research Foundation for Tooth Wisdom: Get Smart About Your Mouth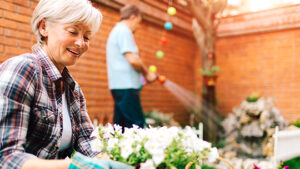 CHICAGO, September 6, 2017 — Oral Health America (OHA) received a commitment from the Retirement Research Foundation (RRF) in support of expanding OHA's Tooth Wisdom: Get Smart About Your Mouth, a part of the Wisdom Tooth Project.
Tooth Wisdom: Get Smart About Your Mouth is the first national oral health curriculum for community-dwelling older adults delivered where older adults naturally congregate, such as senior centers, libraries and places of worship. The workshop, presented by trained dental hygienists and other allied health professionals, empowers participants with knowledge and a sense of self-efficacy to care for their oral health. The grant facilitates the continued development of the course and protocol for national distribution, as well as the piloting at various locations including Meals on Wheels congregate meal sites and Area Agencies on Aging in Illinois, Michigan, Minnesota, Oregon and Tennessee.
The Tooth Wisdom: Get Smart About Your Mouth curriculum includes information on why good oral health is important for older adults; common oral health problems; how to properly brush and floss teeth and care for dentures; and how to prepare for dental visits.
"During our three years of offering Tooth Wisdom: Get Smart About Your Mouth, we have learned that older adults are energized by realizing that prevention is appropriate at every age. New knowledge is leading to wonderful changes in the quality of people's lives, like feeling more confident about kissing their grandchildren," said Beth Truett, President & CEO of Oral Health America. "Thanks to the generosity of the Retirement Research Foundation, together we are making a difference in oral health, and ultimately the lives of those who need us the most."
Approximately 50 million older adults live in the U.S., 46% of whom are without dental insurance and one in five who have untreated tooth decay. Through the Wisdom Tooth Project, Oral Health America addresses the oral health needs of this rapidly growing, aging population.
In addition to Tooth Wisdom: Get Smart About Your Mouth, the Wisdom Tooth Project reaches seniors through toothwisdom.org, an online portal for older adults and their caregivers; A State of Decay, a biennial report that highlights the state of older adults' oral health on a state-by-state basis; professional symposia for healthcare professionals; and advocacy for policies to further America's seniors' access to oral health care.