ADA Foundation, Dentsply Sirona Announce New  Oral Health Research Award for Dual Degree Candidates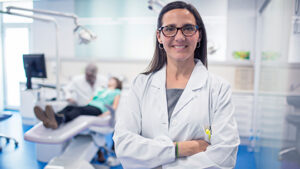 The ADA Foundation (ADAF) is now accepting applications for a new oral health research award: The ADA Foundation Dentsply Sirona Research Award for Dual Degree (DDS/PhD or DMD/PhD) Candidates.
The award recognizes excellence in oral health research as conducted by a dual degree candidate, with the goal of supporting the candidate's pursuit of a career in research that advances the oral health of the public.
The award will provide up to $10,000 in funding, which may be used by the award recipient for expenses related to one or more of the following: developing the approved research project, attending one or more scientific conferences in order to further their knowledge or skills, and/or presenting their findings at such scientific conference.
A portion of the funding will also be used to support the award recipient's required attendance at the American Association for Dental Research (AADR) Student Competition for Advancing Dental Research and its Application (SCADA) in March, 2018, in Fort Lauderdale, Florida.
"Dentsply Sirona is strongly committed to the advancement of science and education to empower dental professionals to provide better, safer, and faster dental care," said Teresa A. Dolan, chief clinical officer for Dentsply Sirona. "This award will fund students pursuing joint dental and Ph.D.-level education, helping to support the next generation of dental scientists and professional leaders. It builds on the long-standing commitment to support dental student research through the Student Clinician Research Program."
To be eligible for the award, the applicant must be engaged in research that has a basic biomedical, clinical, or translational research focus, and he/she must be a U.S. citizen. The applicant must be a dual degree candidate currently enrolled in a program at a U.S. public, nonprofit, or privately owned college or university accredited by the ADA Commission on Dental Accreditation (CODA). A dual degree student is defined as an individual pursuing both a D.M.D./D.D.S. degree and a Ph.D. degree either simultaneously, or in sequence within a period of two years from the completion of the first degree and the start of the second.
The application deadline is November 3, 2017. To apply for this award visit the ADA Foundation's website. To make a tax-deductible donation to the ADA Foundation, visit www.adafoundation.org or call 312-440-2547.