OHA Acknowledges Pulpdent's 10 Year's of Support During Share & Learn Conference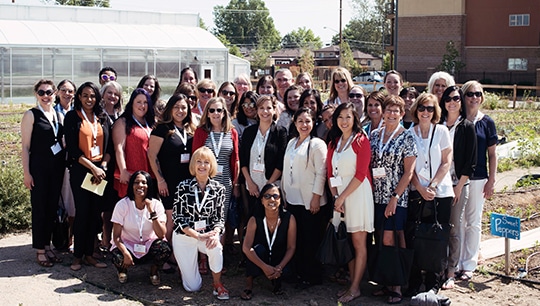 Thirty-five partners of Oral Health America's (OHA) Smiles Across America® program convened from across the country for the fourth Biennial Share and Learn Conference in Denver, Colorado in June 2017. The conference was sponsored by Crest + Oral-B, Ronald McDonald House Charities, Henry Schein Dental, Dentsply Sirona, Patterson Companies and Kids In Need of Dentistry.
This year's conference commenced with a welcome reception where Pulpdent Corporation was honored for 10 years of partnership and service to Smiles Across America. Attendees began the following morning with a site visit to Kids In Need of Dentistry (KIND), the host program partner for the conference. Located on the Dahlia Campus for Health and Well-Being—Mental Health Center of Denver, the visit to KIND also included a tour of the greenhouse and garden on the grounds.
The remainder of activities for the conference were held at Metro Dental Denver Society | Mountain West Dental Institute. Several program partners shared their specific endeavors, including: Dental Product Innovation, Human Centered Design and the Early Childhood Caries Prevention Project; the Children's Dental Health Project: a report on the Sealant Work Group; School Based Oral Health Programs: Impacting Rural/Frontier America; and Dental Schools Impact on Community Based Oral Health and the Future Dental Professional.
Social media use was encouraged through a contest where attendees posted photos of conference events and/or sites visited using the hashtag #SAADenver for a chance at winning an Oral-B Genius Professional Exclusive Power Toothbrush donated by Crest + Oral-B.
The culminating day of the Share and Learn Conference opened with a keynote address by Mary Otto, the author of Teeth: The Story of Beauty, Inequality, and the Struggle for Oral Health in America. Otto, an award-winning health care journalist, was the Washington Post reporter that broke the 2007 story of Deamonte Driver, a 12-year-old boy whose lack of basic dental care led to his death from an abscessed tooth. The conference came to a close with a tour of the manufacturing facilities at Crown Seating/DNTLWorks Equipment Corporation headquarters.