American Health Council Names Elsbeth Kalenderian, DDS, MPH, PHD to Education Board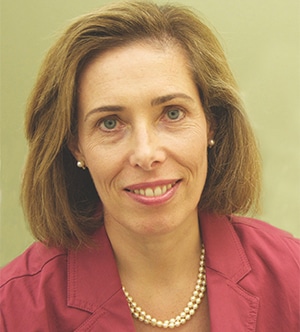 NEW YORK, Aug. 28, 2017 (GLOBE NEWSWIRE) —  Elsbeth Kalenderian, DDS, MPH, PhD, chair of the Department of Preventive and Restorative Dental Sciences at UCSF School of Dentistry has been selected to join the Education Board at the American Health Council. She will be sharing her knowledge and expertise on Healthcare Management, Quality Improvement and Patient Safety in Dentistry.
With over three decades of experience in the field of Dentistry, Kalenderian offers valuable insight in her role as the chair of the Department of Preventive and Restorative Dental Sciences at UCSF School of Dentistry. Additionally, she serves as a Leland A. & Gladys K. Barber Distinguished Professor in Dentistry at UCSF School of Dentistry and a Principle Investigator on four NIH Funded R01 grants. Her day-to-day responsibilities include overseeing seven divisions employing two hundred fifty plus faculty members in the Preventive/Restorative Dental Science Department.
In 1983, Kalenderian earned her Doctor of Dental Surgery degree from Rijks Universiteit Groningen, The Netherlands. To further her professional development, she completed her residency as a Fulbright Scholar in Oral and Maxillofacial Surgery from Boston University in 1986. In 1989, Kalenderian earned her Master of Public Health from Harvard University School of Public Health and a PhD from the University of Amsterdam in 2013.
 Kalenderian has held various notable appointments such as: Administrator at Children's Medical Center, Boston (1990-95); Director of Strategic Planning and Provider Relations, and Vice President, Medical Management and Patient Care Services at North Shore Medical Center, Salem, Mass. (1995-2001); Executive Director of Transition House, Cambridge, Mass. (2001-04); and Vice President for Quality Improvement Initiatives and Senior Vice President for Health Strategies at the American Heart Association (2004-07).
Kalenderian maintains affiliation with a number of professional organizations, including the American Association for Dental Research (AADR), Institute for Healthcare Improvement (IHI), American Dental Education Association (ADEA), and American Dental Association (ADA). She is an inductee of the Omicron Kappa Upsilon Society (Honorary Dental Society).
 Kalenderian's credits her involvement in the field Dentistry to persuasion from family members and friends. Looking back, she attributes her success to her dedication, discipline, mentors, and her very supportive husband.
Among her many professional accolades, Kalenderian is most proud to have been able to develop and effectively implement a novel dental diagnostic terminology and make strides in dental patient safety. She is a featured speaker for many different conferences annually covering Quality Improvement, Dental Diagnostic Terminologies, Meaningful Use, Leadership, and Patient Safety. Dr. Kalenderian's commitment has led to over fifty peer-reviewed publications.
Born in the Netherlands, Kalenderian is fluent in Dutch and English. In her spare time, she enjoys reading, music, walking on the beach and spending time with her family.
Considering the future, Dr. Kalenderian hopes to continue working on quality improvement and patient safety, a goal being the development of a learning oral health care organization.