Dental Outreach Scholars look to their next steps in providing care for the underserved
LOUISVILLE. Ky. – As dental students prepare to launch clinical careers or take the next step in their educational journey, a select group will carry with them unique insights gained through work in underserved areas throughout Kentucky.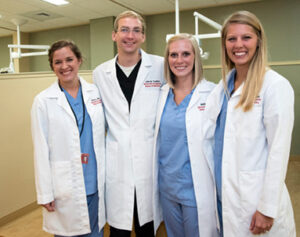 During the academic year, the School of Dentistry Outreach Scholars rotated to clinics in Henderson, Owensboro, Elizabethtown, Bowling Green, Paducah and Beverly. Fourth-year dental students Holly Bradford, Beth Bailey, Robbie Troehler and Cierra Sapp were selected for the competitive scholarships, based in part on their demonstrated community service.
Since September, the four have honed their general dentistry skills at dental offices operating within a variety of practice models. The clinics in Paducah and Henderson, for example are operated by the Kentucky Area Health Education Centers program, while other clinics are non-profit, reduced fee facilities providing general dentistry.
Sapp said her experience at the Red Bird Clinic in Beverly, Ky., helped her build confidence and gave her a better understanding of life in private practice.
In addition to learning about clinical practice, the Outreach Scholar experience encourages students to continue giving back as they begin their own careers.
In addition to the Outreach Scholar efforts, the UofL School of Dentistry has a long history of helping serve the people in the rural part of the state, having participated in multiple Remote Area Medical events in Pikeville, Ky., where students and faculty provided free dental care to hundreds during each event.