Cindy Lyon Named New Associate Dean for Oral Health Education at University of the Pacific, Arthur A. Dugoni School of Dentistry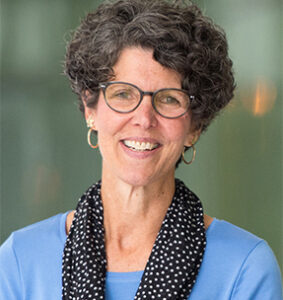 SAN FRANCISCO (May 15, 2017) – Following a national search, University of the Pacific, Arthur A. Dugoni School of Dentistry has announced the selection of Cindy Lyon, DDS, EdD, '86,  to serve as the school's new associate dean for Oral Health Education, effective July 1, 2017.  Lyon currently serves as the school's chair of the Department of Diagnostic Sciences.
The new, expanded leadership position will play a key role in the Dugoni School's future success. Lyon will provide oversight of all educational programs at the Dugoni School. She and the leadership team will support the excellence of the school's curricula, faculty, students and residents, research, Continuing Dental Education, and associated outcomes.
Lyon will also be deeply involved in faculty recruitment, appointment and promotion, as well as the school's faculty development programs as chairperson of the Faculty Development Oversight Committee. She also will serve as chairperson of the Faculty Appointment, Promotion, and Tenure Committee; the Student Academic Performance and Promotion Committee; and the Curriculum Committee.
Lyon brings outstanding knowledge, skill, experience, and personal and professional qualities to the role. She began her career at the Dugoni School in 2001, when she was asked to create a dental hygiene program on the university's main campus in Stockton. She was instrumental in developing the innovative curriculum and obtaining accreditation for the nation's first three-year baccalaureate dental hygiene program.
Lyon earned her bachelor's degree in dental hygiene from USC in 1978 and her DDS degree from University of the Pacific in 1986. In 2009, she earned her doctorate in education from Pacific's Benerd School of Education. Prior to joining the dental school,  Lyon and her husband John Muller , DDS, '85, owned and operated a private practice and worked for a private practice management firm. She also was the founding director of the Calaveras County Children's Dental Program, a grant-funded school-based care program. Lyon also gives back to our profession in so many ways. She has served the California Dental Association as Chair of the CDA Foundation and a member of the Foundation's CDA Cares steering committee. She is the recipient of the Omicron Kappa Upsilon Charles Craig Teaching Award and is a fellow of the American Dental Education Association Leadership Institute and Drexel University's Hedwig van Ameringen Executive Leadership in Academic Medicine program.
After Lyon assumes her new responsibilities on July 1, 2017, Alan Budenz, MS, DDS, MBA,  currently vice chair of the Department of Diagnostic Sciences, will act as interim chair of the department until a search can be completed.