Penn Dental Medicine Students Raise $18K for Oral Cancer Foundation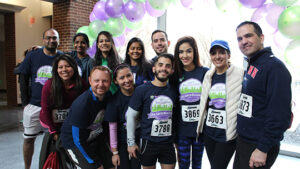 Penn Dental Medicine students and Temple University students helped raise awareness about oral cancer as part of National Oral Cancer Awareness Month during the Philadelphia Oral Cancer Walk and 5K Run on April 1. This was the ninth year that students in Penn Dental Medicine's Oral Cancer Awareness Society organized the event, which this year raised $18,000 in support of the Oral Cancer Foundation.
According to Penn Dental Medicine, free oral cancer screenings conducted by Penn Dental Medicine faculty and residents in the school's postdoctoral oral medicine program were part of the event.
This year's event drew 474 participants ­— 358 runners and walkers, 81 volunteers, and 35 patients who took advantage of oral cancer screenings.