Oral Health Leaders Celebrate at Oral Health America's 27th Annual Gala & Benefit
27th Annual Event Raises Funds for Vulnerable Americans
CHICAGO, April 5, 2017 – Oral Health America (OHA) announced that its 27th Annual Gala & Benefit raised more than $563,000 for OHA's programs and campaigns that support oral health for all Americans. OHA hosted over 700 people at Chicago's iconic Navy Pier on February 22, 2017. Guests from the dental industry enjoyed dinner, dancing and networking, helping to raise critically needed funds to support programming.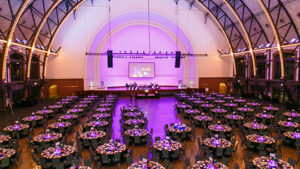 "This year's Gala theme, 'Broadway: Oral Health Takes Centerstage,' helped shine a spotlight on the work OHA does for Americans across the lifespan," stated Beth Truett, President and CEO for Oral Health America. "The funds raised will allow OHA to continue its mission of improving access to care, educating the public about oral health issues and advocating for oral health legislation."
The Annual Gala & Benefit provides crucial and principal support which drives oral health programs that increase access to care, internship and fellowship opportunities as well as advocacy for vulnerable populations of all ages.
During the event, OHA recognized Ms. Milly Goldstein for her dedication to the dental industry. Ms. Goldstein changed the landscape of the dental industry serving as a woman president of a dental organization, the Harry J. Bosworth Company. She also had the honor of serving as the first woman Chair of the American Dental Trade Association (ADTA). Ms. Goldstein was presented with the Gala Tribute Award during the ceremony and a tribute booklet was given to attendees with heartwarming comments from many of her friends in her honor.
The 27th Annual Gala & Benefit was generously supported by Presenting Sponsor – KaVo Kerr; Technology Sponsors – Ivoclar Vivadent and Patterson Dental; Entertainment Sponsor – Henry Schein Dental; Plantinum Sponsors – A-dec Inc., Colgate Palmolive Company, Dentsply Sirona, Philips Oral Healthcare and Septodont; Bid Card Sponsor – SciCan; Raffle Sponsor – Darby Dental Supply; Dessert Sponsor – Midmark Corporation; Diamond Sponsors – Chicago Dental Society and DentaQuest; Quick Raffle Sponsor – Aspen Dental; Wine Draw Sponsor – DentalEZ Integrated Solutions; and Gold Sponsors – Aurelia Gloves, BISCO, Inc., Burkhart Dental and University of Pittsburgh Medical Center Health Plan.