Ribbon Cutting Ceremony Celebrates Opening of the Dentsply Sirona Endodontic Suite at NYU College of Dentistry
Clinical suite features a fully integrated computer network with best–practice case management software; a fully equipped, state-of-the art surgical suite with 37 new treatment units; intraoral digital X-ray stations; state-of-the-art endodontic motors; ultrasonic units; intraoral sensors; and a Cone Beam Computerized Tomography (CBCT) scanner, utilizing state-of-the-art scanning technology to produce 3D images of teeth, soft tissue, nerve pathways, and bone in a single scan.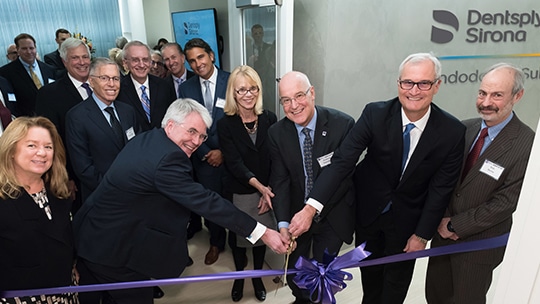 On Thursday, November 17, 2016, NYU College of Dentistry (NYU Dentistry) celebrated the culmination of a goal set years earlier with a ribbon cutting ceremony for the opening of the Dentsply Sirona Endodontic Suite. The new clinical suite, which employs the most advanced educational and patient care technologies available, was made possible by a partnership between NYU Dentistry and Dentsply Sirona, the world's largest manufacturer of professional dental products and technologies.
"Today," said Charles N. Bertolami, DMedSc, DDS, Herman Robert Fox Dean of NYU Dentistry, "NYU has the most sophisticated endodontic suite in the nation, ensuring our ability to provide the finest endodontic education in an environment that reflects truly patient-centered care. And it could never, ever have happened without Dentsply Sirona."
Asgeir Sigurdsson, MS, DDS, associate professor and chair of NYU's Dr. Ignatius N. and Sally Quartararo Department of Endodontics, expressed his appreciation to both Dentsply Sirona and the College's leadership team for "making possible this outstanding facility." "For an endodontics department chair," he added, "it is a dream come true."
Speaking on behalf of New York University, NYU President Andrew Hamilton, BSc, PhD, said, "Thanks to Dentsply Sirona and its partnership with the College of Dentistry, we have been able to create this beautiful and most advanced facility of its kind. Just one of the new treatment centers would be impressive, that there are 37 of them is remarkable, and that they are all in the same location and interconnected is even more so. NYU thanks Dentsply Sirona from the bottom of our hearts for the remarkable contribution that this new facility makes to the College of Dentistry and to our students' education. It is wonderful to know that the future endodontists we are training will have a positive impact on the lives of our patients and on our community because of the splendid environment they now have in which to learn."
NYU Executive Vice President for Health Robert Berne, BS, MBA, PhD, remarked that "At NYU, the scarcest commodity is space. The Dentsply Sirona Endodontic Suite is a magnificent example of a brilliant use of space. It is the lodestar for future renovation projects at NYU, the one that people will look to again and again, and it is a major contribution to the education of our students."
Prior to the renovation, NYU's endodontic dental units were more than 25 years old, and space limitations meant that there were no chairside radiographic units.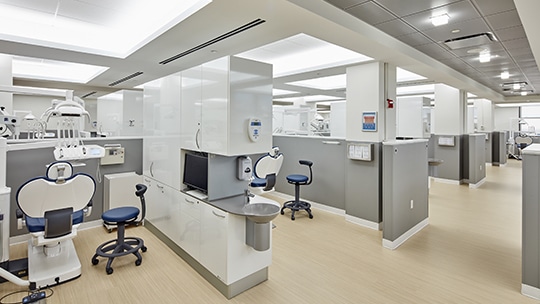 Dean Bertolami expressed both the College's and his personal appreciation to Bret W. Wise, executive chairman of the board of Dentsply Sirona, noting that when the College approached what was then Dentsply International last spring to propose a partnership on behalf of the renovation, the company was in the midst of a complex, international merger with Sirona Dental Systems. Nevertheless, Dean Bertolami said, Mr. Wise immediately indicated his support and as soon as the merger was completed, renovation of the existing clinic began.
Mr. Wise said, "This was the first project undertaken by the newly merged Dentsply Sirona and represents our commitment to research, product development, and clinical education. Now, one of the best departments of endodontics has the most modern clinical suite. With this new facility, the standard has been set, and together we've created an unparalleled environment for research and clinical education. Dentsply Sirona is grateful for this opportunity to collaborate with NYU to advance dentistry and improve oral health."
Mark Wolff, DDS, PhD,  the College's associate dean for development, noted that the effort to renovate the endodontic facility had been years in the making, but once the partnership with Dentsply Sirona was underway, the entire renovation was completed in just three months, calling it "fitting testimony to the powerful synergy that can occur when academia and industry partner on behalf of a shared goal."
To view a video of the ribbon cutting ceremony, please go to https://youtu.be/NhT5UIEJZ60