East Carolina University Celebrates New Dental Research Facility
The School of Dental Medicine at East Carolina University has opened a new research facility to provide students and faculty designated space to build upon the university's research efforts. On Oct. 28, university officials celebrated the completion of nearly 15,000 square feet of lab and support space on the fourth floor of Ledyard E. Ross Hall in Greenville, according to ECU University Communication.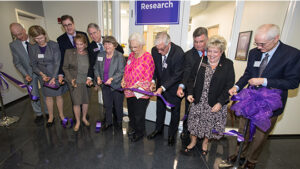 "As we deliver on our promises of evidence-based oral health care to the people of North Carolina, research is essential," Greg Chadwick, DDS, MS, dean of the School of Dental Medicine, told ECU University Communication. Referring to the fact the School of Dental Medicine has clinics in eight underserved communities statewide and at Ross Hall in Greenville, he adds, "We're doing our part to address the state's oral health disparities."
According to Sharon Gordon, DDS, MPH, PhD, associate dean for dental research, research initiatives will be interdisciplinary in nature, with topics ranging from the use of pediatric anesthesia and dental implants to the impact of a new dental school on dental-related emergency visits.