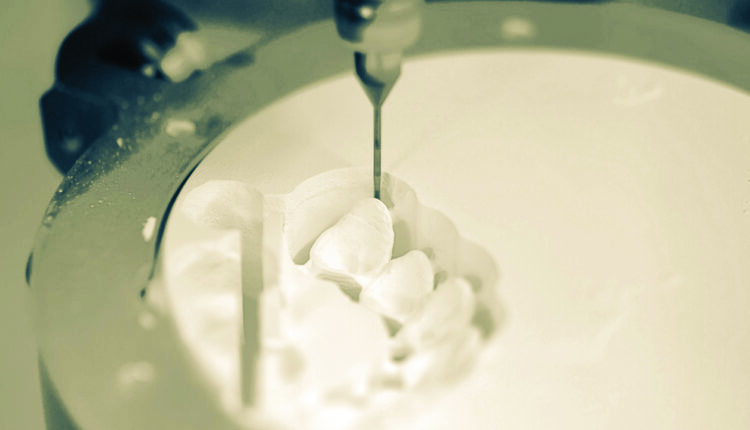 Transforming 
Implant Therapy Through Digital Dentistry
Adam E. Saltz, DMD, MS, MPH, discusses how CAD/CAM technology has impacted implant dentistry, providing advancements in precision, efficiency, and outcomes
The popularity of implant technology continues to grow; in 2022, the worldwide implant market was valued at $4.15 billion with expectations of growth to $6.95 billion by 2030.1
Digital technology has greatly simplified the field of implant dentistry. The utilization of computer-aided design and computer-aided manufacturing (CAD/CAM) has been instrumental in crafting implant abutments, single and multiunit prostheses, and frameworks with unparalleled precision.
While technology provides many advantages to the private practitioner, some dentists remain hesitant. Adam E. Saltz, DMD, MS, MPH, a periodontist in private practice in Maine, is an early adopter and proponent of CAD/CAM .
"Digitized workflows have revolutionized all aspects of the patient experience," Saltz explained. "I was fortunate to have received significant training in surgical guide design and fabrication during residency and felt it was important to join a practice with similar technology and forward thinking."
Saltz continued, "Four main elements are needed for static guides: cone-beam computed tomography (CBCT), intraoral or desktop scanner, planning software, and three-dimensional (3D) printer. We invested in the appropriate equipment for digital impressions, trained our team to capture this information accurately and reliably, and partnered with trusted labs to outsource guide design, fabrication, assembly, and sterilization.
"However, I believe it's important for dentists and surgeons to first learn how to design and manufacture guides on their own. Having built the CAD/CAM component of our residency curriculum, I had to troubleshoot issues in the digital workup, which later helped in the surgical field. Clinicians should never become solely reliant on CAD/CAM systems for implant placement and restoration."
Benefits and Challenges
CAD/CAM benefits a variety of implant workflows from single-unit restorations to full-arch reconstructions. First, a CBCT image is taken to produce a digital imaging and communication in medicine (DICOM) file.2 A virtual rendering or "stereolithography" (.STL) file is then captured intraorally with a digital impression or extraorally on a cast. These files are merged and aligned on an implant planning software to print a static guide. A surgical report is finally provided to the clinician by the planning software, which outlines the appropriate drills, keys, drilling sequence, and implant.
"We place a majority of our implants with CAD/CAM and primarily utilize it for initial implant positioning," Saltz elaborated. " For instance, when dealing with two adjacent implants, a prefabricated printed guide becomes invaluable for establishing parallelism and assessing the need for custom abutments due to anatomical considerations. In cases where simultaneous sinus augmentation is required, we adjust the implant depth to the sinus floor using a different drill sleeve and drilling protocol during the design phase to minimize the risk of membrane perforations and sinus-related complications.
"In another scenario, we employ CAD/CAM during immediate implant therapy, not only to ease placement with a static guide but also to ensure that implant timing aligns seamlessly with the provisional restoration for a smooth chairside delivery," Saltz explained further.
Surgical guides overcome local, patient, and/or esthetic risk factors and reduce the need for timely and expensive site development procedures by maximizing the patient's native ridge dimensions for longer and wider implants. Chiefly, they outline treatment for the surgical and restorative team from its onset. CAD/CAM can then be used to fabricate implant abutments, single and multiunit prostheses, and frameworks using various techniques.3
Tooth-borne, mucosal-borne, and bone-borne surgical guides each have a unique set of advantages and limitations. These guides can be crafted from a variety of materials, such as those employed in 3D printing and milling techniques. Additionally, the use of scan bodies tailored to each implant system plays a crucial role in ensuring precise implant positioning.
"CAD/CAM is especially helpful in planning difficult cases, such as those with multiple implants, adjunctive grafting procedures, or in the esthetic zone. It significantly reduces chairside time and improves implant accuracy," emphasized Saltz.
While CAD/CAM does offer myriad advantages, some dentists may prefer traditional workflows. New technology requires that surgeons be competent in freehand implant placement.
"Complications can arise intraoperatively, where guides do not seat, break, or, worse, lead to implant malpositioning. These result from imaging, planning, or printing errors. Fully guided implant surgery can also be constrained by factors such as limited mouth opening or posterior anatomy. Adopters of CAD/CAM should have a firm understanding of basic flap surgery. Static guides should enhance, not replace, our ability to place implants and perform increasingly complex procedures," noted Saltz.
Barriers to Implementation
Some practitioners have yet to implement this technique, possibly due to the financial investment required.
"While there are significant upfront costs associated with the necessary software and hardware, the overall investment depends on the specific needs and interests of the dentist or surgeon, as well as his or her level of commitment to these workflows," Saltz explained. "For instance, acquiring a CBCT imaging machine can entail initial expenses exceeding $100,000, while intraoral and desktop scanning systems typically range from $10,000 to $20,000 per unit.
"In our practice, our assistants efficiently capture CBCT and intraoral scans, either during the initial examination or in a separate 30-minute appointment scheduled outside of production hours," Saltz continued. "Furthermore, we've chosen to outsource the design and fabrication of our static guides. For instance, for a one-sleeve guide, laboratory fees amount to $125 for design and $200 for materials and assembly. While we absorb these costs, we charge patients $220 for CBCT imaging of both jaws, $75 for digital impressions, and $618 for the printed guide. Additionally, lab fees for provisional restorations are typically around $375 due to material expenses.
"These fees can vary depending on the number of implants planned," Saltz noted. "By partnering with an external service provider, we can easily participate in virtual meetings with the restoring dentist and technician, allowing us to efficiently plan cases."
Dentists interested in CAD/CAM must first master basic flap and implant surgery. CAD/CAM will never replace a strong foundation in hard and soft tissue management. It should be used to save the patient additional surgery, time, and cost, while delivering a better implant experience.
Saltz advised, "Dentists should not cut corners in selecting equipment to sacrifice imaging, planning, or printing quality for costs. The resulting errors are only additive and can be damaging and, sometimes life-altering, for patients. Here, being cheap can be expensive."
Conclusion
Driven by substantial market growth and CAD/CAM technology advancements, implant dentistry has undergone a transformative shift. Dentists like Saltz emphasize that while embracing digital workflows offers numerous benefits, it should complement, not replace a dentist's foundational expertise in surgical techniques. Investing in the right equipment, along with a thorough understanding of implant placement, ensures better patient experiences and reduces the risk of costly mishaps.
---
References
Fortune Business Insights. Dental Implants Market. Available at: fortunebusinessinsights.com/​industry-reports/​dental-implants-market-100443. Accessed September 18, 2023.
Flügge T, Derksen W, Te Poel J, Hassan B, Nelson K, Wismeijer D. Registration of cone beam computed tomography data and intraoral surface scans — a prerequisite for guided implant surgery with CAD/​​​CAM drilling guides. Clin Oral Implants Res. 2017;28:1113‐1118.
Papaspyridakos P, Gallucci GO, Chen CJ, Hanssen S, Naert I, Vandenberghe B. Digital versus conventional implant impressions for edentulous patients: accuracy outcomes. Clin Oral Implants Res. 2016;27:465–472.
From Decisions of Dentistry. October 2023; 9(9):24-26