Tips For Successful Implant Screw Joints
Adopting this clinical approach can minimize challenges with screw loosening in dental implant components.
Uniting a dental implant to an abutment is commonly undertaken with a screw. This can range from the healing abutment (HA) placed at surgery to the final restoration — a screw-retained crown, for example. However, there are issues to consider with screw-retained components, including loosening, which reportedly occurs in 5% to 12% of cases.1–3 This Clinical Insights offers tips to help minimize these kinds of problems in implant therapy.
The majority of HAs are non-engaging and have no anti-rotation component. If not adequately tightened, the HA is susceptible to loosening by action of the tongue. This is undesirable due to uncontrolled soft tissue growth that encroaches on the implant site. To counter this, some implant manufacturers recommend tightening to a minimum torque value of 10 newton centimeter (Ncm). Torque value also impacts the HAs bacterial seal; thus, tightening to 20 Ncm is recommended to prevent contamination from bacterial ingress.4
In implant therapy, components from the same manufacturer should always be paired to ensure compatibilityand a precise fit. This includes HAs, as mixing components from various companies can negatively influence osseo-integration.5 In addition, the implant body should be free from blood and tissue entrapment. On occasion, HAs can be difficult to remove. One tip is to use thermal contraction. Joda et al6 recommend using dry ice (CO2) as a cryo-mechanical technique to aid HA removal. Finally, the reuse of HAs is not recommended for biological reasons.7
ENSURE PROPER TORQUE VALUES
The use of a torque wrench is essential in dental implant therapy (Figure 1). Generally, manual wrenches are preferred over electric devices due to consistency and accuracy.8 The cantilever beam type features a simple design and requires very little maintenance, but is subject to measurement read error.9 In use, the operator must be in a position to look at the beam and marker arm at exactly 90 degrees — if not, the clinician is likely to overread or underread, resulting in inaccurate torque values.
While not subject to this type of operator error, toggle-style torque wrenches require a higher level of maintenance. They must be cleaned and stored correctly, and should be activated over a two- to four-second duration.10
Both types require regular calibration to ensure accuracy11 and long-term success.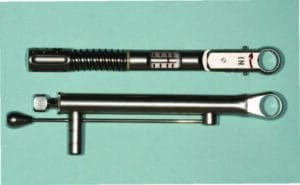 SCREW TIGHTENING TIPS
Always follow the manufacturer's recommendations when tightening an implant abutment screw. Clinically, under-tightening can be just as catastrophic as overtightening, as both can lead to premature screw loosening and failure.
Screws can be reused when two conditions are met:12 First, the screw must not be deformed (which can be difficult to discern); second, the screw must not contain surface materials that are altered during use (e.g., gold screws cannot be reused).13 In general, if a screw is tight prior to removal, it can be safely reused; however, if it is loose, it is most likely deformed and should be replaced.
It is important to realize the screw is only one part of the system, and the way components match is vital to how the screw joint works. Loose connecting parts with poor tolerances will fail sooner than components that are specifically designed as a complementary system.14
Finally, post restoration, clinicians are encouraged to provide a retainer or bite appliance to minimize tooth movement and lateral loading of the restoration, as this will help support successful implant outcomes.
References
Goodacre BJ, Goodacre SE, Goodacre CJ. Prosthetic complications with implant prostheses (2001–2017).
Eur J Oral Implantol. 2018;11(Suppl 1):S27–S36.
Katsavochristou A, Koumoulis D. Incidence of abutment screw failure of single or splinted implant prostheses: A review and
update on current clinical status. J Oral Rehabil. 2019;46:776–786.
Alsubaiy EF. Abutment screw loosening in implants: A literature review. J Family Med Prim Care. 2020;9:5490–5494.
Bousquet P, Bennasar IC, Tramini P, Jacquemot M, Cuisinier F. Tightening of healing abutments: influence of torque on bacterial
proliferation risk, an in vitro investigation. Biomed Tech (Berl). 2014;59:495–500.
Shahdad S, Bosshardt D, Patel M, Razaghi N, Patankar A, Roccuzzo M. Benchmark performance of anodized vs. sandblasted
implant surfaces in an acute dehiscence type defect animal model. Clin Oral Implants Res. 2022;33:1135–1146.
Joda T, Wittneben JG, Brägger U. A novel cryo-mechanical approach for the removal of blocked nonretrievable implant
components. Int J Oral Maxillofac Implants. 2013;28:e45–e47.
Wadhwani C, Schonnenbaum TR, Audia F, Chung KH. In-vitro study of the contamination remaining on used healing abutments
after cleaning and sterilizing in dental practice. Clin Implant Dent Relat Res. 2016;18:1069–1074.
Albayrak H, Gumus HO, Tursun F, Kocaagaoglu H, Kilinc HI. Accuracy of torque-limiting devices: A comparative evaluation.
J Prosthet Dent. 2017;117:81–86.
Wadhwani CPK, O'Brien R, Rosen PS, Chung KH. Effect of viewing angles on measurement errors when using an implant cantilever beam torque-limiting device. J Prosthet Dent. January 4, 2022. Online ahead of print.
Wadhwani CPK, Frantz WT, Schoenbaum TR, Rosen PS, Nhan D, Chung KH. Effect of activation rate on output torque values from a dental implant toggle-style torque wrench. J Prosthet Dent. September 2, 2021. Online ahead of print.
Understanding ISO 6789 — The New Standard for Hand Torque Tools. Available at:https://www.norbarusa.com/News-
Events/Blog/ArticleID/66/Understanding-ISO-6789-The-New-Standard-for-Hand-Torque-Tools. Accessed February 13, 2023.
Xiao H, Yang Y, Liu Z, Taylor TD. Opinions regarding reuse or replacement of implant prosthesis retaining screws: A systematic
review. Int J Oral Maxillofac Implants. 2017;32:985–991.
Alnasser A, Wadhwani CPK, Schoenbaum TD, Kattadiyil MT. Evaluation of implant abutment screw tightening protocols on reverse tightening values: An in vitro study. J Prosthet Dent. 2021;125:486–490.
Karl M, Irastorza-Landa A. In vitro characterization of original and nonoriginal implant abutments. Int J Oral Maxillofac Implants.
2018;33:1229–1239.
From Decisions in Dentistry. March 2023;9(3)20.