New Indications for Dental 3D Printing
Like all cutting-edge technologies, three-dimensional (3D) printing is evolving rapidly thanks to ongoing advances in printers, software, and especially the resins used in what's known as additive manufacturing.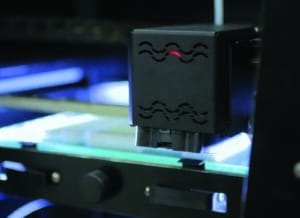 Like all cutting-edge technologies, three-dimensional (3D) printing is evolving rapidly thanks to ongoing advances in printers, software, and especially the resins used in what's known as additive manufacturing. Nowhere is this truer than in dentistry, where smaller, faster desktop printers and the latest biocompatible resins are opening up new indications for in-house printing. To gain perspective on the state of today's technology, we asked early adopter Chris Griffin, DDS, FAGD, FIDIA, to share the lessons he's learned along his decade-long 3D printing journey.
An educator, lecturer and private practitioner based in Ripley, Mississippi, Griffin recalls that when he first started 3D printing in 2013, there were very few dental applications and resins he could use on patients. "Back then, one of the few things I could do was duplicate a denture to help the lab understand how I wanted a new appliance to look," he says. "Nowadays, the number of resins that can be used in dentistry is astounding. We can print dentures, nightguards, surgical guides and even permanent crowns. The software and hardware have also improved. In 2013, a duplicate denture took me six hours to design and print. The same procedure now takes less than an hour — and we can deliver it at the same visit."
In addition to patient convenience, Griffin says the biggest advantage of bringing 3D printing in-house is the ability to control the workflow and cost. "Besides reducing lab bills, one of the most positive surprises I saw in our practice was how case acceptance increased — both because I could start cases more quickly than when I was outsourcing, and also due to the fact I could reduce my fees since our overhead costs were lower," he notes. "The downside is that training is required. The dentist or someone on the team must learn how to create 3D-printable files and then process them into physical, clinical items."
For providers who are interested in adopting in-house 3D printing, he says that most printer companies offer a starter package that includes everything needed to begin printing. "This typically includes a 3D printer, curing unit, and a wash station that cleans a freshly printed appliance or model with alcohol," he says. "Beyond that, a dentist needs the ability to create a file to print, and this requires a digital scanner, along with a computer that's capable of running the 3D design software."
Addressing the daily use of an in-office printer, Griffin reports that "models are a staple of 3D-printed dentistry. These printed models will replace those previously poured in stone. You can also create the staging models needed to make clear aligners. Of course, occlusal guards, surgical guides and dentures are commonly produced with 3D printers. Fabricating immediate or interim dentures is a simple task, and creating duplicate dentures is also a straightforward process."
Commenting on one of the newest wrinkles in dental 3D printing, Griffin says the in-office fabrication of permanent dentures, crowns, bridges and implant restorations "is already happening." And because printing permanent prostheses is a new twist, he observes that U.S. Food and Drug Administration-approved resins for these indications have only existed for a few years. Thus, long-term data isn't yet available — although this area is a hotbed of research and development.
When asked for his final thoughts, Griffin predicts that within five years a large percentage of offices will be using 3D printers on a daily basis. "This technology allows dentists to offer great service at lower prices — and with higher profit margins," he notes. "It also provides more options to be charitable with clinical services, because with the advances and cost savings afforded by 3D printing, it's now possible to deliver outstanding final prostheses to those in need for free or very low cost." And these are all great reasons to add 3D printing to your clinical repertoire.ax
Chris Griffin, DDS, FAGD, FIDIA, is in private practice in Ripley, Mississippi. A lecturer on clinical topics and practice management, he also serves as president of Effective Dentistry, a continuing education provider. A fellow of the Academy of General Dentistry, Griffin received the 2010 Humanitarian of the Year award from the Mississippi Dental Society. He can be reached at drchrisgriffin@gmail.com.
From Decisions in Dentistry. March 2023;9(3)46.