Product Profile: TheraCal LC, All-Bond Universal and Duo-Link Universal
Calcium silicate liner and universal materials are ideal for restorative cases.
FEATURES AND BENEFITS

THERACAL LC
A light-cured, resin-modified calcium silicate material, TheraCal LC is ideal for direct and indirect pulp capping.
This versatile product can also be used as a protective base or liner.
TheraCal LC's significant calcium release stimulates*1 hydroxyapatite and secondary dentin bridge formation;2,3 it also promotes healing and apatite formation.2,4
In addition, it protects and insulates the pulp.5,6
Moisture tolerant1 and radiopaque, it can be placed under restorative materials and cements.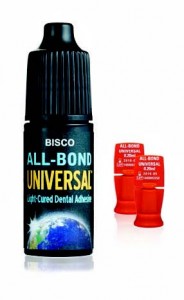 ALL-BOND UNIVERSAL
Indicated for total-, self- and selective-etch techniques, Bisco's All-Bond Universal allows clinicians the versatility to simplify their adhesion protocols.
Offering the convenience of single-bottle application, the product can be used on wet, moist or dry tooth structure.
It's designed to provide strong, dependable bonds to all substrates.
All-Bond Universal virtually eliminates postoperative sensitivity.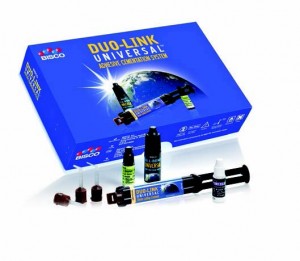 DUO-LINK UNIVERSAL
Specially formulated for cementing indirect restorations, this adhesive resin cement is highly radiopaque and offers easy cleanup.
Ideal for all CAD/CAM restorative materials, the Duo-Link Universal system kit contains all the components needed for cementation, including primers.
This material provides predictable curing in either light-cure or self-cure modes, thus ensuring strong, long-lasting restorations.
BOTTOM LINE
Indicated for pulp capping or use as a base or liner, TheraCal LC is formulated to encourage healing2,4 and promote apatite formation.2,3 This versatile material is complemented by Bisco's All-Bond Universal and Duo-Link Universal systems, which offer predictable, long-lasting adhesion in direct or indirect restorative procedures.
REFERENCES
* Calcium release data for Theracal LC on file at Bisco.
Gandolfi MG, Siboni F, Prati C. Chemical-physical properties of TheraCal, a novel light-curable MTA-like material for pulp capping. Int Endod J. 2012;45(6):571–579.
ADA definitions for direct and indirect pulp capping. Available at: www.ada.org/en/publications/cdt/glossaryof- dental-clinical-and-administrative-ter. Accessed August 31, 2015.
Gandolfi MG, Siboni F, Taddei P, Modena E, Prati C. Apatite-forming ability of TheraCal pulp-capping material. J Dent Res 90 (Spec Iss A):abstract number 2520, 2011 (www.dentalresearch.org).
Okabe T, Sakamoto M, Takeuchi H, Matsushima K (2006) Effects of pH on mineralization ability of human dental pulp cells. J Endod. 2006;32:198–201.
Sangwan P, Sangwan A, Duhan J, Rohilla A. Tertiary dentinogenesis with calcium hydroxide: a review of proposed mechanisms. Int Endod J. 2013;46(1):3–19.
Savas S, Botsali MS, Kucukyilmaz E, Sari T. Evaluation of temperature changes in the pulp chamber during polymerization of light-cured pulpcapping materials by using a VALO LED light curing unit at different curing distances. Dent Mater J. 2014;33(6):764–769.